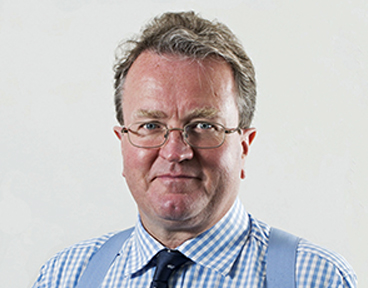 No recommendation
No news or research item is a personal recommendation to deal. All investments can fall as well as rise in value so you could get back less than you invest.
Sunday Times columnist Ian Cowie looks at the benefits of a long-term approach to stock market investing.
Political shocks gave stock market investors and pension savers a roller-coaster ride over the last year but, despite all the drama about Brexit and Donald Trump's triumph in America, the financial facts of life remain much the same. It pays to take a medium-to-long-term view when planning for a better retirement. For example, volatility – or the tendency for share prices to fluctuate without warning – is not the same thing as risk for investors who are willing and able to ride out short-term setbacks. Those who resisted the temptation to panic sell when markets fell in 2016 avoided turning paper losses into real ones and were often rewarded when prices recovered.
The danger of knee-jerk reactions to short-term fluctuations was demonstrated most dramatically when the UK voted to leave the European Union. Various experts had predicted dire consequences if the Brexit campaign won and the FTSE 100 did indeed fall sharply when the referendum result was announced on 24 June. However, this benchmark index soon bounced back when markets realised that weaker sterling would make exports more competitive – and most FTSE 100 revenues are earned overseas. As a result, the index increased by more than 10% from its low-point in June to trade above 7,000 in October, having started the year just above 6,000.
So those who remained invested throughout the Brexit vote drama of last spring, summer and autumn tended to end that period better off than they started. By contrast, those who sold when the short-term outlook seemed bleak may have suffered substantial losses. Many shares and stock market-based funds aim to reward medium-to-long-term investors with income in addition to any returns generated by an increase in capital values. The average dividend paid by FTSE 100 companies is 3.7% of their purchase price at the time of writing.
Unfortunately, many risk-averse savers settle for less than 1% return from their money in bank or building society deposits rather than trebling their income by investing in the stock market. They fear volatility and the fact that share prices can fall. Worse still for income-seekers, equity dividends can be cut or cancelled without warning. As 2016 reminded us, that's more excitement than many people want from their hard-earned cash.
The benefits of diversification
Fortunately, funds can help – they offer tried-and-tested ways to diminish the risk inherent in stock markets through diversification.
Funds spread individual investors' money over dozens of different shares, bonds and other assets to reduce their exposure to the risk of setbacks or failure at any one company – or, in the case of international funds, any one country. In plain English, the principle is not putting all your eggs in one basket.
Funds also enable individual investors to share the cost of professional fund management. An income fund manager's duties will include assessing whether dividends are sufficiently covered by corporate earnings to reduce the risk that income distributions might be cut or cancelled in future. It is a remarkable fact that some pooled funds have maintained or increased income distributions to investors for several decades, though of course there are no guarantees they can keep this up.
The importance of income
While most media coverage focuses on share prices and the capital value of stock market indices, such as the FTSE 100 or the S&P 500 in America, the importance of income should not be overlooked. For example, not many people know that dividends have delivered most of the real returns – that is, in excess of inflation – from shares over the long term.
Barclays conducts one of the most comprehensive annual analyses of returns from assets including bank deposits, gilts and shares with data stretching back more than a century. The Barclays Equity Gilt Study 2016 showed that £100 invested in shares reflecting the changing composition of the London Stock Exchange since 1899 would have grown into just £177 after adjusting for inflation if dividends had been spent when they were distributed.
By contrast, the real return from shares soared to £28,232 if dividends were reinvested. Put another way, Barclays calculates that the real annualised average returns with dividends reinvested were 5%. But only a tenth of that – or 0.5% per year - came from rising share prices.
Interestingly, this comprehensive analysis also demonstrates the importance of investors taking a long-term approach to maximise returns from the stock market and minimise their exposure to short-term setbacks or volatility. For example, investments in shares over any period of just two consecutive years since 1899 had a 68% probability of beating returns from cash or gilts.
Put another way, if investors in shares sold up after two years, there was a risk of nearly one-in-three that they would be worse off than if they had kept their cash in the bank or gilts. However, shares delivered bigger returns than bank deposits over 75% of all the periods of five consecutive years since 1899. The probability of shares beating deposits was even higher if you invested for 10 years or more, rising to 91%.
While the past is not a guide to the future, it can help us understand our options here in the present. Whether we consider just the extraordinary events of the last year or the last century and more, it makes sense to take a long-term view of investment and to diminish the risks inherent in stock markets by diversification. Funds provide a tried-and-tested way to do so.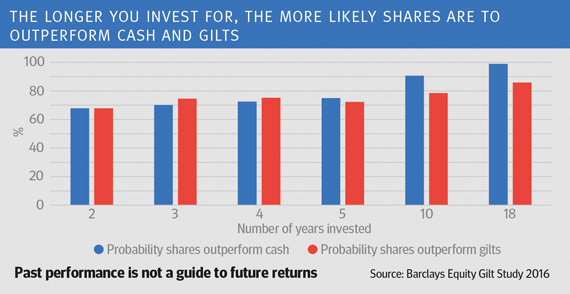 Barclays analysed returns from shares, gilts and cash since 1899. The chart above shows the percentage of periods of differing lengths in which shares outperformed. The stock market has historically been the better performer and the longer the investment period, the higher the probability of the stock market beating cash. That is not to say money cannot be made in the short term, but the probability increases significantly over the longer term, as the chart shows. Of course, there are no guarantees. Cash offers security of capital, whereas stock market investments can fall in value as well as rise so investors could get back less than they invested, no matter how long they invest for.
Editor's choice: our new weekly email
Sign up to receive the week's top investment stories from Hargreaves Lansdown
Hargreaves Lansdown PLC group companies will usually send you further information by post and/or email about our products and services. If you would prefer not to receive this, please do let us know. We will not sell or trade your personal data.
The value of investments can go down in value as well as up, so you could get back less than you invest. It is therefore important that you understand the risks and commitments. This website is not personal advice based on your circumstances. So you can make informed decisions for yourself we aim to provide you with the best information, best service and best prices. If you are unsure about the suitability of an investment please contact us for advice.