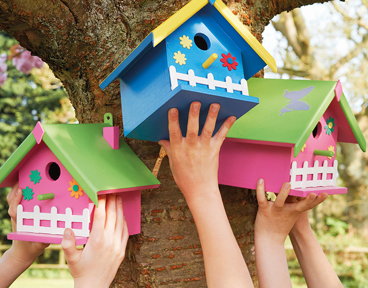 No recommendation
No news or research item is a personal recommendation to deal. All investments can fall as well as rise in value so you could get back less than you invest.
Each stage of an investor's lifecycle brings different priorities. The pursuit of long-term growth, a decent income, or capital preservation each requires a different investment approach. However one area which remains perennially popular with investors, regardless of their financial stage of life, is investments which generate income.
The appeal is clear for those who rely on their capital for income – in retirement, for example. Yet income investments can be just as valuable to investors seeking long-term growth. Reinvesting income compounds your returns, and repeating this process over a long period is a tried-and-tested way to grow wealth.
The income dilemma
In our low interest rate world, generating an attractive income from savings and investments is a challenge. Traditional sources have evaporated. Cash deposit accounts offer little in the way of interest and the yield on government bonds has also fallen dramatically in recent years.
Shares and higher-risk high-yield bonds offer more attractive yields, as do some alternative investment areas such as infrastructure or emerging market debt. In these areas balancing a high income and not taking too much risk becomes a challenge. We suggest holding a range of assets to avoid reliance on too few investments.
Furthermore, while it's important to hold enough high-yielding investments to generate an income now, it is vital to hold some with the scope for capital growth, which provides a base for income to grow in future. Here we highlight three of our favourite funds which pay an attractive income now, with the potential for income and capital to grow. Remember the value of investments can fall as well as rise, so you could get back less than you invest.
All the funds listed take their charges from capital which can increase the yield, but reduces the potential for capital growth.
---
Yield 4.2%
(not a reliable indicator of future income)
Fund management is awash with star names, but a closer look reveals unsung heroes who deserve the same recognition. Robin Hepworth, manager of the EdenTree Higher Income fund, is a prime example.
He focuses on out-of-favour areas of the market and aims to identify companies undervalued by other investors. He targets businesses with strong balance sheets and good cash flows, which could help support regular dividend payments.
This multi-asset portfolio typically holds around 70% in shares and the rest across other investments such as bonds and cash. The fund is generally biased towards the UK, but diversification is achieved via exposure to Europe, Japan and the US, while the manager also has the flexibility to invest in higher-risk emerging markets. In addition to more traditional corporate bonds, the bond portion of the portfolio invests in preference shares, which are often overlooked by other multi-asset investors.
Since launch in 1994 the fund has delivered a total return of 586%, against 300% for the average fund in its sector. Please remember past performance is not a guide to the future. We feel the fund could provide a balanced and diversified element to a wide range of portfolios.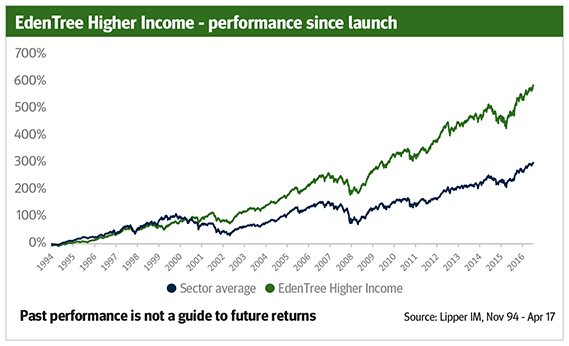 Annual percentage growth
Apr 12 -
Apr 13
Apr 13 -
Apr 14
Apr 14 -
Apr 15
Apr 15 -
Apr 16
Apr 16 -
Apr 17
EdenTree Higher Income
20.9%
3.1%
8.0%
-3.5%
14.9%
Sector average
14.5%
5.0%
10.5%
-2.7%
17.2%
More information on EdenTree Higher Income and how to invest
EdenTree Higher Income Key Investor Information Document
---
Yield 4.1%
(not a reliable indicator of future income)
The HL Multi-Manager High Income Fund aims to deliver a high and sustainable monthly income, with the potential to grow over the long term. The fund is managed by Lee Gardhouse and Ellen Powley, with the support of our in-house team of investment experts.
Run by our sister company HL Fund Managers Ltd, the fund harnesses what the managers believe are the best income-producing equity and bond funds, and the portfolio is currently split roughly 60/40 between the two. It is designed to provide investors with the best of both worlds. The equities provide a good starting income, plus the potential for both income and capital growth over the long term. This includes exposure to smaller companies, which have excellent growth potential but carry higher risks.
The bond exposure aims to provide a high income, including from higher-risk high yield bonds, and dampens some of the volatility associated with pure stock market investing. Together the portfolio invests in a range of global and UK equity income, fixed-interest, and mixed-asset funds.
The managers have flexibility to invest in other asset classes too. As the investment world constantly evolves, the right mix of assets now won't necessarily be the right mix in the future. The asset allocation will therefore change over time depending on where they identify the best income prospects from across the globe.
The managers make these difficult decisions on investors' behalf, and we believe the results will more than justify the extra costs of a multi-manager approach.
More information on HL Multi-Manager High Income and how to invest
HL Multi-Manager High Income Fund Key Features
---
Yield 3.5%
(not a reliable indicator of future income)
Ben Whitmore, manager of the Jupiter Income Trust, adopts a value-focused, contrarian investment approach. He seeks the shares of UK companies that have fallen out of favour and been neglected by other investors, which are nevertheless supported by healthy balance sheets and disciplined management teams and demonstrate recovery potential. Once the longer-term potential is recognised by other investors, their share prices could benefit.
Ben Whitmore is steadfast in his investment process and rigorous in his analysis of individual companies. We like his clarity of thought and ability to see through the market noise that often clouds investors' judgment. This has led to a current bias to more economically sensitive areas of the market, such as financials and consumer services.
The manager has an exemplary track record spanning 20 years, with a long history of outperforming the UK stock market. Our analysis suggests a combination of strong stock selection and shrewd sector allocation has added value for investors over the long term, although past performance is not a guide to future returns.
We recently negotiated a reduced fee on this fund for Hargreaves Lansdown clients. The new discounted ongoing fund charge of 0.60% is reduced from the standard ongoing charge of 0.94%. This is in addition to the Vantage charge of up to 0.45% per year.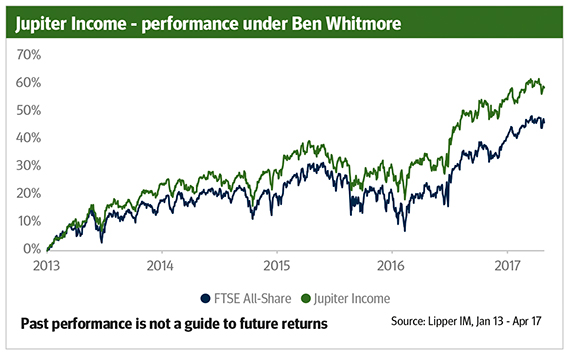 Annual percentage growth
Apr 12 -
Apr 13
Apr 13 -
Apr 14
Apr 14 -
Apr 15
Apr 15 -
Apr 16
Apr 16 -
Apr 17
Jupiter Income Trust
15.6%
14.1%
7.2%
-1.9%
19.7%
FTSE All-Share
17.8%
10.5%
7.5%
-5.7%
20.1%
More information on Jupiter Income and how to invest
Jupiter Income Key Investor Information Document
The value of investments can go down in value as well as up, so you could get back less than you invest. It is therefore important that you understand the risks and commitments. This website is not personal advice based on your circumstances. So you can make informed decisions for yourself we aim to provide you with the best information, best service and best prices. If you are unsure about the suitability of an investment please contact us for advice.