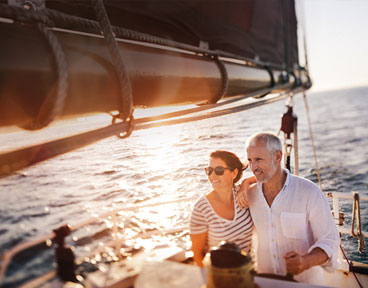 No recommendation
No news or research item is a personal recommendation to deal. All investments can fall as well as rise in value so you could get back less than you invest.
Decisions taken about retirement can have a huge impact on the rest of your life. Here are some common and costly pitfalls.
The most basic mistake people make is simply not planning for retirement in the first place. With fewer people than ever in final salary schemes there's far more onus on you to provide for yourself once you stop working.
Make a bucket list
Rather than making retirement planning feel a trudge, perhaps something that focuses the mind more might help. For me it's having a bucket list of things I want to do later in life.
My list includes spending more time skiing, sailing, shooting and fishing, plus seeing my first granddaughter more often. Whatever it might be for you, you'll need enough income to achieve these goals.
It's seldom too late to get your plan in order and it doesn't always have to involve working for longer. You might decide to put more money in your pension, either in one go or by saving more each month. Or you might feel a change in your investment strategy is needed.
Whatever your current situation there will be steps you can take so you can have real choices in retirement, and hopefully make your bucket list happen.
Finding the right balance in retirement
Drawdown, where you can leave your pension invested after you retire, can cause sleepless nights. That's why you need to fully understand the risks and choose a strategy that's right for you.
The first mistake is drawing too much too early. I'm not talking about people cashing in their pension at 55 to buy a supercar – this is more a tabloid tale than reality.
But if you take out too much, too soon, a stock market fall in the early years of retirement can mean your retirement fund won't last the distance.
Think about how long you need your pot to last. It's changed a lot in my lifetime. When I was born in the 1950s, a man retiring at age 65 was only expected to live to around 76, with women living about three years longer. Today most can expect to live to their mid-80s. And that's just an average. More and more are living into their 90s and beyond.
Life expectancy at age 65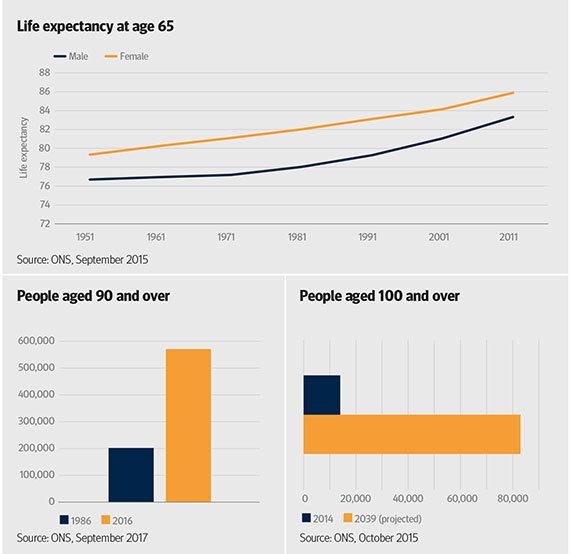 Source: ONS, September 2015
---
People aged 90 and over
Source: ONS, September 2017
People aged 100 and over
Source: ONS, October 2015
One way you can navigate through falls in the stock market is to have a cash buffer you can use to supplement your income in the more difficult times. If your retirement might last 20 or 30 years you'll almost certainly have to navigate some difficult periods in the stock market. Some cash kept in reserve could help you sleep at night.
The next mistake is the polar opposite of the last one. Not having the confidence to draw the money you need is just as big a mistake. Withdrawing money if you are constantly worried about it running out or being restricted to an austere diet of bread and water is no way to live your retirement.
A strategy that might help is to just withdraw the 'natural yield'. This means you take out the income your investments produce, without touching the capital. The amount of income and value of your investments will still go up and down but it reduces the chance of you running out of money.
If this won't give you enough income, or you're worried about your money running out, it's worth thinking about an annuity. Many are reluctant to consider it, but an annuity could give you peace of mind that essential spending is covered.
Planning later life - an adviser's approach
Closing thoughts
I'll finish by going back to my initial point about having enough money to give you real choices. The earlier you make a start on this the better and the greater choice you will have.
Whatever you do though, don't bury your head in the sand. This is the worst mistake of all. Make some small changes and you could be ticking off items on that bucket list.
The article isn't advice - if you're at all unsure you should seek advice.
The value of investments can go down in value as well as up, so you could get back less than you invest. It is therefore important that you understand the risks and commitments. This website is not personal advice based on your circumstances. So you can make informed decisions for yourself we aim to provide you with the best information, best service and best prices. If you are unsure about the suitability of an investment please contact us for advice.