No recommendation
No news or research item is a personal recommendation to deal. All investments can fall as well as rise in value so you could get back less than you invest.
Investing can be a risky business, and risk should be one of your primary considerations when investing for the future. But deciding how much risk to take is tricky.
If you take too much risk, and have a short investment horizon, you could leave yourself vulnerable if the market falls just before you need the money.
Not taking enough risk can also be a mistake. Although a low-risk portfolio might help you sleep more comfortably, it could mean your investments don't grow fast enough to achieve your goals – whether that's buying a house or enjoying a comfortable retirement.
You therefore need to consider whether you have enough money invested. Conventional wisdom says you should hold around six months' living expenses in cash, to meet any short-term spending needs. You can then consider investing the remainder – provided you're comfortable with the risk.
The first rule of investing
Timeframe is key. A long investment horizon gives you a better chance of weathering any market storm - that's why we always say you should only invest for five years or longer. For example, if you had invested £10,000 in the UK stock market 10 years ago, when the global financial crisis was just beginning, your investment would be worth almost £17,100 today with dividends reinvested. This compares with just over £11,000 if you'd left your money in cash.
So even investing before a big market fall can bring superior returns, provided your timeframe is long enough.
Cash has the undeniable advantage of security – whereas stock market investments can fall in value, bringing the possibility of losing money.
The longer you invest for, the greater the chance that the stock market is the right place to be. Research from Barclays shows that since 1899, shares have done better than cash in 70% of three year periods. But increase that to five years and the chance of beating cash improves to 75%. Invest for ten years and you'd have done better in shares 91% of the time.
As always though, remember there are no guarantees. Past performance isn't a guide to the future.
How much risk should I take?
This is a big question, and there's no right answer. Your tolerance to risk is unique, and the best person to decide how much risk to take is you. (Though if you need help, a financial adviser can help you decide.)
If you're a more conservative investor, or if you have a slightly shorter time horizon, you might consider spreading your money across shares and bonds. Bonds are generally less volatile than shares and can therefore help smooth out the ups and downs of your investment pot. Alternatively, you can leave the asset allocation decisions to an expert by investing in a multi-asset fund.
If you're a more adventurous investor, or have a longer timeframe, you might consider investing more in shares. You could think about higher risk areas with greater long-term growth potential, like smaller companies, and emerging markets.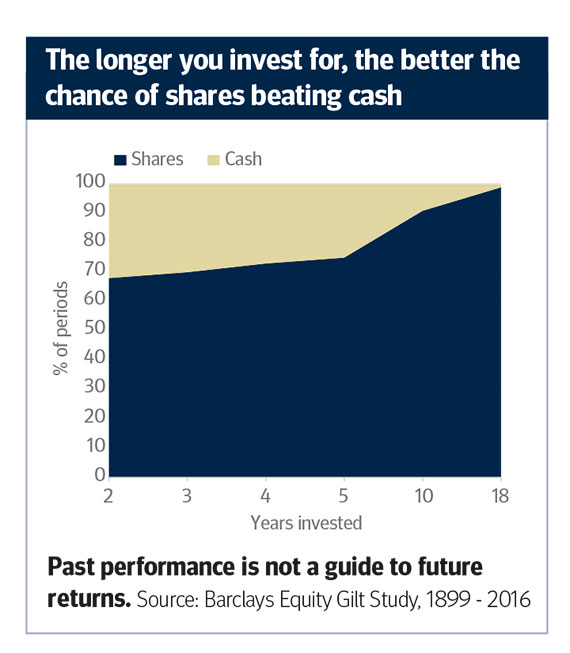 Read the next article for our latest investment ideas
Editor's choice: our weekly email
Sign up to receive the week's top investment stories from Hargreaves Lansdown
Please correct the following errors before you continue:
Hargreaves Lansdown PLC group companies will usually send you further information by post and/or email about our products and services. If you would prefer not to receive this, please do let us know. We will not sell or trade your personal data.
The value of investments can go down in value as well as up, so you could get back less than you invest. It is therefore important that you understand the risks and commitments. This website is not personal advice based on your circumstances. So you can make informed decisions for yourself we aim to provide you with the best information, best service and best prices. If you are unsure about the suitability of an investment please contact us for advice.