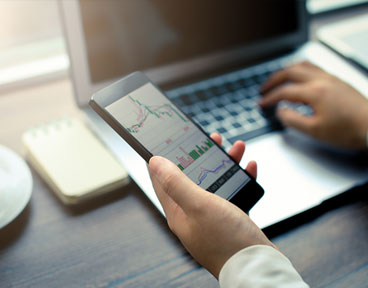 No recommendation
No news or research item is a personal recommendation to deal. All investments can fall as well as rise in value so you could get back less than you invest.
The investor's chief problem - and even his worst enemy - is likely to be himself.
Benjamin Graham
The sentiment behind this 1949 quote from the father of value investing was ahead of its time. Behavioural finance is now one of the hottest topics in investing. Here I explore how keeping a cool head can help you make better investment decisions.
Riding winners isn't just for jockeys
There are a couple of reasons why the phrase 'buy low, sell high' annoys me. The first is that it's too obvious – you'd do well to make money doing the opposite. The second is that it encourages the common investing mistake of selling too early.
There's a raft of academic research showing that investors are prone to bank a profit too early, meaning they miss out on any future gains. Of course, investors should always remember that conditions can change and what goes up can come down.
It's worth taking a step back and remembering why you invested in the first place.
If it was to capitalise on a short-term opportunity, then by all means stick to the strategy and sell up. However, as a buy-and-hold investor, I never invest in something I anticipate selling in the near future. Choosing what to buy is hard enough, without immediately thinking about when to sell.
Instead, I only invest in companies I believe can sustainably grow their earnings over time. For a company that can do this, a rising share price is what I was looking for all along.
Provided I'm still confident in the long-term prospects of the business, nine times out of ten I'll remain a happy holder rather than cash in.
Loss aversion
On the other side of this coin is another classic behavioural bias: holding a bad investment in the vain hope it'll bounce back one day.
Following up a section on selling too early with one that bemoans investors' tendency to not sell soon enough might seem a bit odd. However, the lesson here is more about not being afraid to take a loss on holdings you've lost confidence in, regardless of whether the prevailing price is above or below what you paid.
A good way to think about things is to try and separate hope and expectation. If the share price of one of my holdings has taken a hit but I still believe in the long-term future, I'll have no problem continuing to hold. It might even be an opportunity to top up.
But if I think the share price decline reflects wider issues, such as a major new competitor or poor management decisions, I might hope for a recovery, but I wouldn't necessarily expect one. In this case I might sell and move on.
While Warren Buffett's rule number one is 'never lose money', even the best get it wrong sometimes. In reality taking a loss is part of investing. Burying your head in the sand when things go wrong shouldn't be.
Lessons for investors
The short answer to the question 'how long should I hold my investment for?' is 'as long as you think it's a good idea'. In investing terms, a good idea is something that will make money, either through a rising share price or a rich stream of dividends.
So, the next time you're considering selling an investment, ask yourself: 'is holding this still a good idea?'. The answer is usually found by thinking about the company's future prospects, not thinking about the price you bought at.
Weekly share insight emails
Sign up to receive our experts' latest views and opinion direct to your inbox, including:
Key share research updates
Our latest stock market and share based articles
Please correct the following errors before you continue:
Hargreaves Lansdown PLC group companies will usually send you further information by post and/or email about our products and services. If you would prefer not to receive this, please do let us know. We will not sell or trade your personal data.
The value of investments can go down in value as well as up, so you could get back less than you invest. It is therefore important that you understand the risks and commitments. This website is not personal advice based on your circumstances. So you can make informed decisions for yourself we aim to provide you with the best information, best service and best prices. If you are unsure about the suitability of an investment please contact us for advice.