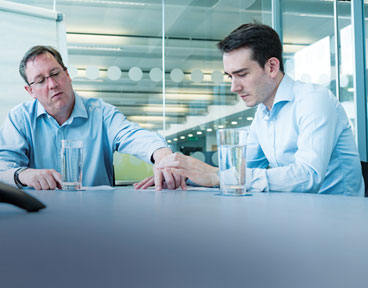 No recommendation
No news or research item is a personal recommendation to deal. All investments can fall as well as rise in value so you could get back less than you invest.
Trading is an art when done to perfection. The trader whose intuition and grasp of data is so precise that they consistently make money by dipping in and out of markets is a lucky person indeed.
Few exist. We think in practice, short-term market movements are almost impossible to predict. That's why we manage both our HL Multi-Manager and HL Select fund ranges with a long-term approach, and try to avoid frequent trading.
Even the best companies can have a tough quarter, or make mistakes. Fund managers deal with uncertainties every day. No surprise then that none get it right all the time. But back a good business, or a talented manager over the long run and the benefits can add up.
Taking the long view can help because the costs of trading are certain, but the benefits aren't. Tax, commission and the difference between the buy and sell prices can all detract from returns. We'd rather try and spot stocks or managers that are going to succeed in the long run and benefit from that. If we bought and sold frequently, we could end up diluting the funds' returns in the long run.
Sorry, but buy and hold has served us perfectly well. For the last eight hundred years.
Buy and hold can be a great strategy. I recall a story where the investment committee of an Oxbridge college were being urged by an adviser to adopt a trading strategy. Their response above was short and to the point.
With a scattering of professors and possibly a Nobel laureate or two sitting across the table, the adviser gathered his papers and went. Fifteen years on, the college is still doing very nicely.
We wouldn't go so far as to suggest choosing shares or funds with an eye on future millennia, as things do change over time. But in the short term, things rarely change that much.
When Charlie Huggins and I are looking at holdings for the HL Select funds, we always try to pick for the long run. In our income fund we look for a sustainable dividend, first and foremost. Here are a few of the stocks currently held for the long term in the funds.
Burford Capital is one of our largest positions in our growth fund. It's a unique business that provides capital to law firms and their clients, to enable commercial disputes to be pursued.
Burford doesn't fight the cases, it just pays the bills. When a settlement is reached, Burford gets a cut, so long as the case was won. The skill is choosing which cases to back. With hundreds of millions of dollars invested in disputes, Burford's portfolio could generate great returns.
So far, the company has achieved doubledigit returns and is the clear leader in its field globally. But because lawsuits can take years to reach settlement, investing in Burford is very much for the longer term.
RELX provides business information and analytics services. We hold the shares in both our funds because of the company's ability to deliver consistent growth in profits and dividends.
Markets covered range from scientific and medical academia through legal databases and insurance risk management advice. RELX is a major organiser of trade fairs and exhibitions globally and with listings in both London and Amsterdam, it's one of the leading global business-to-business media players. Many of its services are sold on a subscription basis, leading to high quality, repeating revenues.
Lloyds Banking Group is a big holding in our income fund because of its robust dividend paying ability. The business has slimmed itself down to be a low-cost retail bank and is generating a lot of cash.
Recent results showed strong capital generation, boding well for future dividends. Banks are cyclical animals, but Lloyds' focus on retail banking should make it more resilient than others when the inevitable tougher years do come along.
Lloyds Banking Group share price
What is HL Select?
Our HL Select Fund range aims to offer a new type of investor experience. It offers two portfolios of high quality UK shares, chosen and managed by our experts.
Concentrated portfolios
We hold around 30 stocks in each fund, so each one can make a real difference to returns, though it's a higher-risk approach.
Long-term focus on quality companies
We think long-term, and focus on companies that are both financially strong and deliver exceptional products or services.
Superior insight
We show every significant holding, explain why they're held and provide regular updates on what's happening.
Find out more about the HL Select service
The value of investments can go down in value as well as up, so you could get back less than you invest. It is therefore important that you understand the risks and commitments. This website is not personal advice based on your circumstances. So you can make informed decisions for yourself we aim to provide you with the best information, best service and best prices. If you are unsure about the suitability of an investment please contact us for advice.