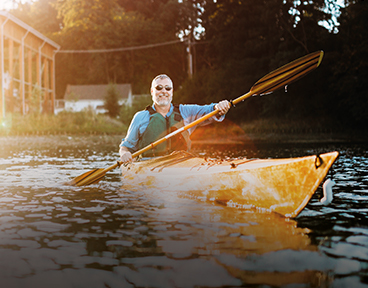 No recommendation
No news or research item is a personal recommendation to deal. All investments can fall as well as rise in value so you could get back less than you invest.
Whether you've built up a pot of £30,000 or £300,000, your pension will mean a lot to you.
But make the wrong choices and you could find it doesn't give you the income you need in retirement. This could mean beans on toast for tea more often than you'd like.
When to take your pension
Gone are the days when you reached 65 and automatically retired.
Lots of our clients dip into their pension early so they can work part time or start a business. Others hold off because they still love working or have other income.
The earliest you can take your pension is 55 (57 from 2028). After this you have the option to take your tax-free cash (usually up to 25% of your pot) and an income from the rest.
What are your options?
There are three main options. Which one you choose will depend on whether you want secure income and how you want to take your tax-free cash. You don't have to just choose one – you can choose a mix to match your needs. Tax rules can change and benefits depend on individual circumstances.
Annuities – a secure income for life
Some bills, like your groceries, heating and healthcare, never stop. So for peace of mind, you could make sure your essentials are covered with secure income.
The state pension, and maybe final salary pensions from work, could give you a good base of secure income. But if you want more, you can always convert some or all of your pension into an annuity, where you buy a fixed income for life.
Think carefully about your options before you go ahead, because the trade-off for security is a lack of flexibility. At the start, you can choose options like inflation protection, or continuing income for your spouse or partner after your death. But once you've made your choice, you usually can't change your mind.
If you decide an annuity is right for you, it's important you do everything you can to boost your income. This means shopping around for the best rate, because the most competitive provider changes all the time. It also means confirming your health details. Even confirming your height, weight and alcohol intake can increase your income.
Annuity rates change regularly and may go up or down in the future. Quotes are guaranteed for a limited time only.
Drawdown – a flexible income
If you're looking for flexibility, you could consider drawdown. With drawdown, you leave your pension invested. You can invest it wherever you like and draw an income whenever you need to.
If your investments do well and you don't take too much out, you could get a rising income. It could mean you're better placed to change your plans if your circumstances change.
But the danger is you could run out of money if your investments perform poorly, you withdraw too much too soon or you live longer than expected. This makes it a higher-risk option than an annuity so it isn't for everyone.
To give you the best chance of making drawdown a success for you, it's important you plan carefully. This includes choosing a strategy for taking an income, and then choosing investments that fit that strategy.
Mark Dampier's views on drawdown
One-off lump sums - UFPLS
With annuities and drawdown, you take your tax-free cash at the start. Lump sums (or its full name, Uncrystallised Funds Pension Lump Sums - UFPLS) are different.
25% of each lump sum is usually tax-free and the rest is taxable. Your remaining pension stays invested. This means the risks are similar to drawdown so it's a higher risk option than an annuity.
To avoid any nasty surprises you should check what income tax you're going to pay before you make a withdrawal from your pension. Our income tax calculator could help.
| | Secure income - annuities | Flexible income - drawdown and lump sums |
| --- | --- | --- |
| Tax-free cash | Take up to 25% at the start | Drawdown: take up to 25% at the start. Lump sums: take 25% from each lump sum |
| Security | Secure income for life – no matter how long you live or what happens on the stock market | Not secure – you could run out of money if you take too much out, live longer than expected or your investments perform poorly |
| Flexibility | Once set up you can't change your mind or cash it in | You choose where to invest and how much to withdraw |
| Passing money on | Will stop when you die unless you choose options at the start | Money left can be passed to your loved ones, it's easy to make a nomination and you can update it whenever you want to |
Tax rules can change and benefits depend on your individual circumstances.
Where can you get help?
What you do with your pension is an important decision. We strongly recommend you understand your options and check your chosen option is right for your circumstances. Take advice or guidance if you're unsure.
The government provides a free and impartial service to help you understand your retirement options. Go to Pension Wise to find out more.
You can find out more about your retirement options here. If you'd prefer to speak to one of our retirement specialists, feel free to get in touch on 0117 980 9940. (Mon-Thur 8am-7pm, Fri 8am-6pm, Sat 9:30am-12:30pm)
Mark Dampier's views on drawdown
Back to the Investment Times homepage
The value of investments can go down in value as well as up, so you could get back less than you invest. It is therefore important that you understand the risks and commitments. This website is not personal advice based on your circumstances. So you can make informed decisions for yourself we aim to provide you with the best information, best service and best prices. If you are unsure about the suitability of an investment please contact us for advice.