No recommendation
No news or research item is a personal recommendation to deal. All investments can fall as well as rise in value so you could get back less than you invest.
Run by an experienced manager with over 30 years' experience
A focus on large, more stable UK businesses
Yield of 3.9% (not a reliable indicator of future income)
'Equity income' means dividends paid by companies, and equity income investing can be a powerful tool.
It's a style we've liked for a long time. Part of the attraction is its simplicity – to invest in companies that aim to pay investors a steadily growing income year after year.
Companies that do this are likely to be popular with investors. If that's the case, their share price normally goes up over time. So as well as giving you income, equity income investing can grow the value of your portfolio over the long term, though there aren't any guarantees.
It really does give you the best of both worlds. Rather than choosing whether to invest for income or growth, you can have both. And if you don't need the income right away, you can use it to buy more investments, which could lead to more growth and more income in the future.
That's effective investing.
Home grown opportunity
The UK's one of the most unloved places to invest at the moment, which means a lot of shares are valued lower than we think they're really worth.
But it's also one of the best places in the world for companies that pay dividends. We think the combination of undervalued shares which aim to pay an attractive level of income is a great investment opportunity.
Lots of investors are worried how Brexit could affect the stock market. While the future is uncertain, dividend income has normally been less affected by market turbulence than share prices.
A lot of companies have kept paying dividends, even when the stock markets were volatile. Nothing's guaranteed though, and you could see swings in the value of your investments in the short term.
But equity income investing's about more than just finding companies paying dividends. It's seeking out the good ones – those paying an attractive income today, with good growth prospects for tomorrow.
You'll also need a balanced mix of companies. Even if one or two do badly, others might not be. This should help keep your portfolio on the right track.
That's a lot of things to keep in mind. Here's where the knowledge and skill of an equity income fund manager comes in.
Adrian Frost is one of the UK's most experienced income fund managers. He's got well over three decades in the industry and has run the Artemis Income Fund fund since 2002. We think Frost is a superb manager. That's why Artemis Income has been one of our favourite equity income funds since the start of the Wealth 150, the list of our favourite funds.
One reason we like the fund is Frost has consistently grown investors' income over the years. For a manager to do this over a long period of time is impressive.
Artemis income - performance and dividends under Adrian Frost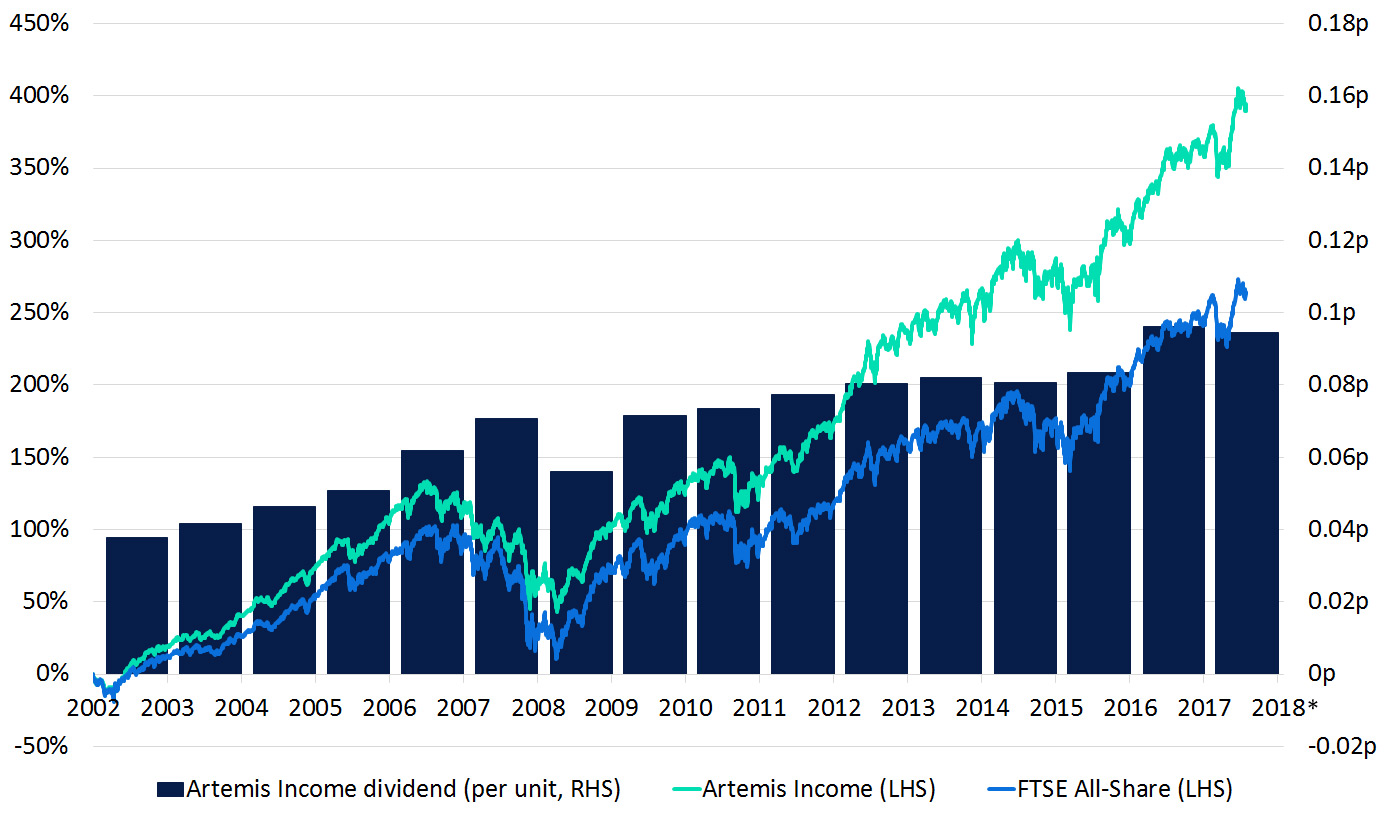 Past performance isn't a guide to the future. Source: Lipper IM to 31/07/18
*estimate
In the past 12 months, the fund's offered a 3.9% yield. That's attractive compared to interest rates offered on cash.
These figures don't indicate future returns though – dividends are variable and not guaranteed. The fund's charges can be taken from capital, which increases its yield but reduces the potential for long-term capital growth.
Large companies make up most of the fund's portfolio. They normally pay more reliable, steady income than higher-risk smaller companies. Regardless of size though, Frost, along with co-managers Nick Shenton and Andy Marsh, focus mainly on how much cash a company can keep earning. Ultimately, it's cash that pays the dividends.
The managers have consistently done much better than the broader UK stock market. Since Frost took over the fund, it's grown 387.4%*, compared to 284.7% for the FTSE All-Share Index. Remember past performance isn't a guide to the future.
We're confident Frost, Shenton and Marsh can keep providing investors with attractive returns.
Annual percentage growth
July 13 -
July 14
July 14 -
July 15
July 15 -
July 16
July 16 -
July 17
July 17 -
July 18
Artemis Income
6.1%
9.4%
2.9%
14.6%
9.1%
FTSE All-Share
5.6%
5.4%
3.8%
14.9%
9.2%
Past performance isn't a guide to the future. Source: *Lipper IM to 31/07/2018
More about Artemis Income including charges and how to invest
View Artemis Income key investor information
Read on - a fairer deal on your savings
Back to the Investment Times homepage
The value of investments can go down in value as well as up, so you could get back less than you invest. It is therefore important that you understand the risks and commitments. This website is not personal advice based on your circumstances. So you can make informed decisions for yourself we aim to provide you with the best information, best service and best prices. If you are unsure about the suitability of an investment please contact us for advice.