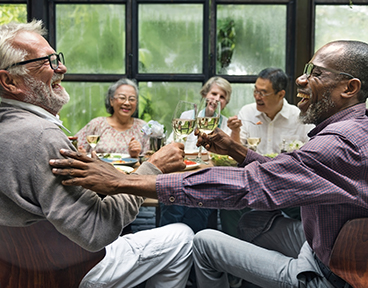 No recommendation
No news or research item is a personal recommendation to deal. All investments can fall as well as rise in value so you could get back less than you invest.
Invests broadly seeking high and sustainable yields
Yield of 4.2% (not a reliable indicator of future income)
Managed by our in-house experts
You've reached retirement and worked hard to get here. Now you can kick back, relax, and maybe start some of those hobbies you've been meaning to try.
It's not always as simple as it sounds though. You need money put aside to make the most of your retirement.
Many people start their investing life aiming for long-term growth. Retirement needs a different approach. It's about making the most of the nest egg you've built over the years, and making sure you get the income you need.
Income has become much harder to seek as interest rates have been so low for so long.
They recently rose from 0.5% to 0.75%, but we think further rises will be few and far between. Making enough income from your savings and investments could be more challenging than ever.
Company shares and higher-yielding areas of the bond markets offer more attractive yields. If you invest across different types of asset, it helps reduce risk and gives you a better chance of getting a sustainable income.
It's also a good idea to combine investments which offer a high income today with some that offer potential for income growth in future. This way your income should be high enough to meet your current needs, but can also grow over time to keep pace with inflation.
Managing the mix
Putting together the right mix of investments isn't easy. This is where the HL Multi-Manager High Income Fund could help.
It's run by our sister company HL Fund Managers Ltd. Managers Lee Gardhouse and Ellen Powley choose the underlying investments and they both have plenty of experience investing for income.
They look far and wide for the most attractive yields. They consider whether the income on offer is sustainable, rather than simply targeting the highest yielding areas today. It's still important to remember that like any investment the value and income will fall as well as rise, so you could get back less than you invest.
At the moment around 60% of the fund is invested in shares. A large part of this is focused on the UK. Some investors are worried about the impact Brexit might have on the UK market, but it's still home to some of the world's best businesses. There are also some investments in overseas companies, which provide useful diversification and have the potential for both income and value growth. The fund can also invest in higher-risk smaller companies.
| Yields of various asset classes (%) | |
| --- | --- |
| UK shares | 3.6 |
| Global shares | 2.3 |
| Asian shares | 2.9 |
| UK government bonds | 1.3 |
| High quality corporate bonds | 2.8 |
| European high yield bonds | 3.6 |
| High yield bonds | 6.0 |
| Emerging market bonds | 6.2 |
Yields are based on past income, which means they aren't a reliable guide to the income you'll get in the future. Source: QlikView as at 31/07/18
The rest of the fund is invested in corporate bonds – these are loans made to companies in exchange for a regular income payment. Bonds provide an income and diversification, and they also help reduce the volatility that normally comes with investing in just shares. The fund can also invest in higher-risk, higher-yielding bonds.
The right mix of assets will change over time though, so the managers are always on the lookout and are prepared to change the way the fund is invested. We think the results more than justify the additional cost of a multi-manager approach.
How it's performed
It currently yields 4.2% (variable and not a reliable guide to the income you'll get in future).
It pays income monthly. So far, on a £100,000 investment made when the fund launched in April 2016, we've paid consistent monthly dividends of £377.10 and grown the final October payment in both years, £423.40 and £484.40 respectively.
The fund's grown in value too. £100,000 invested at launch would now be worth £110,950.* Past performance isn't a guide to the future.
We think it's a great choice for those who need an income from their investments but want to leave the day-to-day decisions to the experts. With your money in safe hands, you're free to enjoy your retirement.
Please note the fund takes its charges from capital which can increase the yield but reduce the potential for capital growth.
Annual percentage growth
Jul 2013 -
Jul 2014
Jul 2014 -
Jul 2015
Jul 2015 -
Jul 2016
Jul 2016 -
Jul 2017
Jul 2017 -
Jul 2018
HL Multi-Manager High Income
n/a**
n/a**
n/a**
11.6%
3.9%
Past performance isn't a guide to future returns. Source: *Lipper IM to 31/07/18
**Full year performance not available
More about HL Multi-Manager High Income fund including charges and how to invest
View HL Multi-Manager High Income fund key investor information
HL Multi-Manager High Income
Read on - investing in tomorrow's leaders
Back to Investment Times homepage
The value of investments can go down in value as well as up, so you could get back less than you invest. It is therefore important that you understand the risks and commitments. This website is not personal advice based on your circumstances. So you can make informed decisions for yourself we aim to provide you with the best information, best service and best prices. If you are unsure about the suitability of an investment please contact us for advice.