No recommendation
No news or research item is a personal recommendation to deal. Hargreaves Lansdown may not share ShareCast's (powered by Digital Look) views.
Market latest
FTSE 100 | FTSE 250 | Paris CAC 40 | Dow Jones | NASDAQ
7208.81
|

188.36
(2.68%)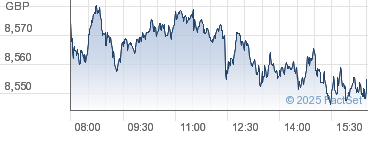 Prices delayed by at least 15 minutes
(Sharecast News) - Wall Street stocks were firmly in the green by the close on Thursday, as corporate earnings continued to stream in and investors digested an unexpected decline in first-quarter gross domestic product.
At the close, the Dow Jones Industrial Average was up 1.85% at 33,916.39, as the S&P 500 added 3.47% to 4,287.50 and the Nasdaq Composite was 3.06% higher at 12,871.53.
The Dow closed 614.46 points higher on Thursday, extending gains recorded in the previous session.
"The Nasdaq has seesawed its way through earnings season, ultimately ending 10% down in the last month," said Hargreaves Lansdown lead equity analyst Sophie Lund-Yates.
"Huge insecurities around the long-term attractions of growth stocks in a high inflationary environment have sent jitters through global markets.
"Long seen as the untouchables of the investing universe, big tech has had a rude awakening - there have been times in recent weeks when some big tech names have come within a whisker of being considered truly valuable."
Lund-Yates said belt-tightening had caused the investment cases of some huge names to be called into question, with "sticky" subscription-based revenues not proving as reliable as once thought.
"The spate of volatility is unlikely over for growth names, but for those with a long-term investing horizon there are some diamonds among this rough.
"With Apple and Amazon the latest in the spotlight, it has been a very big finish for the end of earnings season, and for very different reasons"
On the data front, US gross domestic product declined at a 1.4% clip in the first quarter, according to the Commerce Department, missing estimates for a 1% increase.
The negative growth marked an abrupt reversal for the US economy that was coming off its best showing in 38 years.
Looking at bonds, the yield on the benchmark 10-year Treasury note was trading slightly higher at 2.852% following the GDP reading.
In other macro news, the US personal consumption expenditure price index increased 6.4% year-on-year in February, according to the Bureau of Economic Analysis, accelerating from a downwardly revised 6.0% increase in the previous month for the steepest rise since February 1982.
Gains were seen in prices of goods, up 9.6%, while services rose at the same 4.6% pace as in January.
Finally, US initial jobless claims dropped 180,000 in the week ended 23 April, according to the Labor Department, bang in line with analysts' expectations and down from an upwardly revised print of 185,000 a week earlier.
In the corporate space, shares in Facebook parent Meta Platforms rocketed 17.59% after the social media giant reported better than expected quarterly earnings overnight despite posting some disappointing earnings.
Chip behemoth Qualcomm was ahead 9.69%, meanwhile, on the back of some strong quarterly earnings, while PayPal advanced 11.48% despite issuing weak second-quarter guidance.
As far as Thursday's earnings were concerned, Eli Lilly jumped 4.27% after reporting a quarterly earnings beat after Covid-19 antibodies revenue surged 81%, while Merck added 4.94% after its first quarter worldwide sales came in at $15.9bn- an increase of 50% year-on-year.
Fast-food giant McDonald's gained 2.85% after it beat Wall Street expectations with first quarter revenues of $5.67bn, and adjusted earnings per share of $2.28 each.
Mastercard rose 4.77% after its earnings came in ahead of expectations thanks to a heightened level of travel spending, and Twitter, in possibly its last full quarter as a public company, was up 0.97% after it reported declining revenues despite a jump in users.
On the downside, Stanley Black & Decker lost 8.63% after it cut full-year earnings guidance to $9.50 per share, despite posting a 20% jump in first quarter revenues, while Caterpillar slipped 0.71% after earnings topped estimates.
Comcast tumbled 6.19% even after its first quarter figures beat across the board, boosted by both media and theme park revenues.
Dow Jones - Risers
Salesforce.Com Inc. (CRM) $185.74 6.33%
Merck & Co. Inc. (MRK) $88.58 4.94%
Nike Inc. (NKE) $127.05 4.79%
Apple Inc. (AAPL) $163.64 4.52%
Intel Corp. (INTC) $46.84 3.58%
Chevron Corp. (CVX) $161.79 3.55%
Home Depot Inc. (HD) $311.76 3.37%
Visa Inc. (V) $220.66 3.06%
McDonald's Corp. (MCD) $254.19 2.85%
Cisco Systems Inc. (CSCO) $50.63 2.68%
Dow Jones - Fallers
Amgen Inc. (AMGN) $238.13 -4.28%
Caterpillar Inc. (CAT) $212.44 -0.71%
Boeing Co. (BA) $154.22 -0.16%
Verizon Communications Inc. (VZ) $48.40 -0.12%
Dowdupont Inc. (DWDP) $30.52 0.00%
Honeywell International Inc. (HON) $230.94 0.00%
Walt Disney Co. (DIS) $115.29 0.07%
International Business Machines Corporation (CDI) (IBM) $135.74 0.50%
Dow Chemical Co. (DOW) $67.81 0.53%
Travelers Company Inc. (TRV) $174.50 0.55%
S&P 500 - Risers
Meta Platforms Inc. (FB) $205.73 17.59%
Paypal Holdings Inc (PYPL) $92.09 11.48%
Helmerich & Payne Inc. (HP) $47.29 10.67%
QUALCOMM Inc. (QCOM) $148.19 9.69%
Autodesk Inc. (ADSK) $195.84 8.52%
Discover Financial Services (DFS) $115.98 8.38%
Textron Inc. (TXT) $72.05 7.99%
Nvidia Corp. (NVDA) $197.82 7.42%
Thermo Fisher Scientific Inc. (TMO) $558.89 7.38%
CH Robinson Worldwide Inc (CHRW) $110.34 7.30%
S&P 500 - Fallers
Align Technology Inc. (ALGN) $304.66 -15.47%
O'Reilly Automotive Inc. (ORLY) $623.28 -12.62%
Stanley Black & Decker Inc. (SWK) $127.13 -8.63%
AutoZone Inc. (AZO) $2,014.44 -7.65%
Advance Auto Parts (AAP) $209.39 -6.89%
Teleflex Inc. (TFX) $295.50 -6.54%
Comcast Corp. (CMCSA) $41.70 -6.19%
Laboratory Corporation of America Holdings (LH) $240.66 -4.89%
Smith A O Corp. (AOS) $59.87 -4.80%
Amgen Inc. (AMGN) $238.13 -4.28%
Nasdaq 100 - Risers
Meta Platforms Inc. (FB) $205.73 17.59%
Paypal Holdings Inc (PYPL) $92.09 11.48%
QUALCOMM Inc. (QCOM) $148.19 9.69%
Autodesk Inc. (ADSK) $195.84 8.52%
Nvidia Corp. (NVDA) $197.82 7.42%
Intuit Inc. (INTU) $444.58 6.30%
Lam Research Corp. (LRCX) $484.49 6.07%
Asml Holdings N.V. (ASML) $590.54 6.04%
Microchip Technology Inc. (MCHP) $68.18 5.89%
Netflix Inc. (NFLX) $199.52 5.82%
Nasdaq 100 - Fallers
Align Technology Inc. (ALGN) $304.66 -15.47%
O'Reilly Automotive Inc. (ORLY) $623.28 -12.62%
Comcast Corp. (CMCSA) $41.70 -6.19%
Amgen Inc. (AMGN) $238.13 -4.28%
Charter Communications Inc. (CHTR) $461.49 -4.26%
Henry Schein Inc. (HSIC) $83.37 -0.80%
Tesla Inc (TSLA) $877.51 -0.45%
DENTSPLY Sirona Inc. (XRAY) $40.19 -0.25%
Hasbro Inc (HAS) $90.46 -0.15%
Dish Network Corp. (DISH) $30.52 -0.13%
Daily market update emails
FTSE 100 riser and faller updates
Breaking market news, plus the latest share research, tips and broker comments
The value of investments can go down in value as well as up, so you could get back less than you invest. It is therefore important that you understand the risks and commitments. This website is not personal advice based on your circumstances. So you can make informed decisions for yourself we aim to provide you with the best information, best service and best prices. If you are unsure about the suitability of an investment please contact us for advice.