No recommendation
No news or research item is a personal recommendation to deal. Hargreaves Lansdown may not share ShareCast's (powered by Digital Look) views.
Market latest
FTSE 100 | FTSE 250 | Paris CAC 40 | Dow Jones | NASDAQ
6955.42
|

15.17
(0.22%)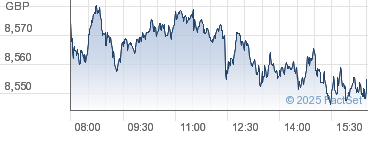 Prices delayed by at least 15 minutes
(Sharecast News) - Wall Street stocks opened lower on Friday following the release of some weak Chinese data earlier in the day that spread concerns regarding the state of the world's second-largest economy.
At 1510 GMT, the Dow Jones was 0.88% lower at 24,380.97, while the S&P 500 had lost 0.80% at 2,269.39 and the Nasdaq traded 0.90% weaker at 7,006.49.
Chinese data released earlier showed that industrial production rose 5.4% on the year in November, versus expectations of 5.9% growth. Meanwhile, retail sales were up 8.1%, falling short of expectations for 8.8% growth and marking the weakest pace of growth since 2003.
Joshua Mahony, market analyst at IG, said: "Talk of China resuming purchases of US soybeans has helped provide another element of optimism after the recent trimming of tariffs on US cars."
"However, with Chinese retail sales and industrial production joined by a batch of weaker eurozone PMI surveys, it is easy to see why that's been overshadowed."
Meanwhile, Russ Mould, investment director at AJ Bell, said: "There is some concern that the impact of the US/China trade war has yet to be properly felt, suggesting that China's economic data could be in for more shocks in early 2019 unless the countries secure a permanent truce."
The downbeat tone came even as China confirmed that it would temporarily halt its additional 25% tariffs on US vehicles.
According to a release on the Chinese finance ministry's website, China will suspend 25% tariffs on 144 vehicles and auto parts from the US and 5% on an additional 67 auto items.
The temporary halt - which was part of an agreed truce between the US and China - will kick-off on 1 January and last for three months.
"This is a positive development no doubt, but while the US-China trade tensions are thawing slightly, they still remain frosty and are in danger of freezing back over all together at a moment's notice," said XTB chief market analyst David Cheetham.
The US 10-Year Treasury Note was yielding 2.893%, a 0.021 point decline, while the USD picked up 0.89% against the GBP to 0.7973.
West Texas Crude was down 0.65% to $52.24 and Brent was 0.47% lower at $61.16.
On the US data front, industrial production rose 0.6% last month, the strongest gain this quarter and above Wall Street expectations of a 0.4% increase.
November's rise, driven by strong mining and utility output, means that production has risen 3.9% year-on-year, the Federal Reserve revealed on Friday.
Capacity utilisation rose 0.4% in November to 78.5%, a touch below 80%, where it is expected to put pressure on costs.
Elsewhere, US consumer spending picked up in November, with households purchasing furniture, electronics and a variety of other goods, going a way to allay fears of a significant slowdown in the country's economy.
Retail sales excluding automobiles, gasoline, building materials and food services grew 0.9% last month, according to the Commerce Department, after an upwardly revised 0.7% increase for October.
IHS Markit's manufacturing PMI fell to a 13-month low of 53.9 in December, down from the 55.3 recorded a month earlier due to a decline in new orders and employment.
Lastly, US business inventories climbed 0.6% last month
AMD was 1.14% higher after announcing it would be adding in-home game streaming to its phone chips, while Sealed Air delivered a 7.22% increase at the bell after the packaging specialist unveiled its Reinvent SEE strategy.
Apple shares were down 2.29% as the tech giant tried to find a way around China's recent ban on iPhones, while Cisco slumped 2.72% as analysts became wary of its slowed spending.
Starbucks traded 3.45% lower at the open after announcing a new delivery service overnight.
Daily market update emails
FTSE 100 riser and faller updates
Breaking market news, plus the latest share research, tips and broker comments
The value of investments can go down in value as well as up, so you could get back less than you invest. It is therefore important that you understand the risks and commitments. This website is not personal advice based on your circumstances. So you can make informed decisions for yourself we aim to provide you with the best information, best service and best prices. If you are unsure about the suitability of an investment please contact us for advice.