No recommendation
No news or research item is a personal recommendation to deal. Hargreaves Lansdown may not share ShareCast's (powered by Digital Look) views.
Market latest
FTSE 100 | FTSE 250 | Paris CAC 40 | Dow Jones | NASDAQ
7219.47
|

17.21
(0.24%)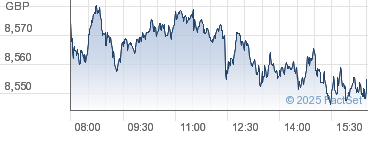 Prices delayed by at least 15 minutes
(Sharecast News) - US stocks continued to push higher on Friday amid hopes of improving relations between the US and China, even as the latest batch of economic data showed that US consumer sentiment was quickly souring.
By 1504 GMT, the Dow Jones Industrial Average was ahead by 0.72% or 171.33 points at 24,542.67, while the S&P 500 was adding 0.75% or 20.34 points to 2,655.96 and the Nasdaq Composite was up 0.55% or 39.02 points to 7,125.35.
In parallel, the yield on the benchmark 10-year US Treasury note was higher by one basis point to 2.76%.
Sentiment was likely to be boosted by a report that the US might consider easing some trade tariffs against China.
According to the Wall Street Journal, US Treasury Secretary Steven Mnuchin discussed lifting some or all tariffs imposed on Chinese imports and suggested offering a tariff roll-back during trade discussions scheduled for 30 January.
However, the Treasury later denied that Mnuchin had made any such recommendation, while US Trade Representative Robert Lighthizer was said to have resisted the idea.
Oanda analyst Craig Erlam said that at the moment, markets appear to be standing up to the challenge which would suggest the rally in stocks has more to run and this may not just be a corrective move in a bearish market.
"Earnings season will likely have a big say in whether the rally is sustained, as will the Trump administration which always has an eye on the stock market."
In corporate news, Tesla shares skidded 7% after founder Elon Musk said the company would cut its workforce by 7% and that fourth quarter profits would be down on the prior three-month stretch.
Musk also said the company had to make its cars, batteries and solar products competitive with fossil fuels.
Elsewhere, Eli Lilly was 3.3% weaker in pre-market trade after the pharmaceutical group reported disappointing results for a phase 3 trial of its Lartruvo treatment.
Tiffany shares on the other hand were higher even after the jeweller reported a drop in holiday sales and issued a downbeat outlook for the full year.
Netflix was also in focus. Late on Thursday, the streaming video giant said it added more new subscribers during the holiday season than analysts had expected and beat the Street's forecasts for its bottome line, but its sales fell short of forecasts.
Shares of of American Express were also lower after the financial giant posted fourth quarter revenues of $10.5bn, which was a shade below the consensus estimate for $10.6bn.
Consumer confidence in the dumps
On the data front, the data was decidedly mixed.
According to a preliminary reading, the University of Michigan's US consumer confidence index slid from a reading of 98.3 for December to 90.7 in January (consensus: 96.4).
Americans judged the outlook for the domestic economy to be the worst since mid-2014, citing various sources of uncertainty, including: the partial government shutdown, the impact of tariffs, instabilities in financial markets, the global slowdown, and the lack of clarity about monetary policies.
In parallel, the Federal Reserve reported a slightly better-than-expected increase in US industrial production for the month of December of 0.3% month-on-month (consensus: 0.2%), albeit amid sharp increases in manufacturing and mining output of 1.1% and 1.5%, respectively.
Dow Jones - Risers
Home Depot Inc. (HD) $177.70 1.62%
Chevron Corp. (CVX) $113.57 1.44%
Dowdupont Inc. (DWDP) $57.69 1.14%
International Business Machines Corp. (IBM) $123.34 0.94%
Intel Corp. (INTC) $48.91 0.91%
Nike Inc. (NKE) $79.83 0.88%
Verizon Communications Inc. (VZ) $57.29 0.80%
Boeing Co. (BA) $361.91 0.79%
JP Morgan Chase & Co. (JPM) $103.72 0.78%
Procter & Gamble Co. (PG) $91.32 0.76%
Dow Jones - Fallers
American Express Co. (AXP) $97.98 -1.52%
Visa Inc. (V) $137.01 -0.19%
Caterpillar Inc. (CAT) $134.35 -0.14%
Goldman Sachs Group Inc. (GS) $198.90 -0.10%
Microsoft Corp. (MSFT) $106.15 0.03%
Pfizer Inc. (PFE) $42.55 0.19%
Walgreens Boots Alliance, Inc. (WBA) $72.15 0.22%
McDonald's Corp. (MCD) $181.65 0.30%
Travelers Company Inc. (TRV) $123.31 0.30%
Walmart Inc. (WMT) $97.06 0.33%
Daily market update emails
FTSE 100 riser and faller updates
Breaking market news, plus the latest share research, tips and broker comments
The value of investments can go down in value as well as up, so you could get back less than you invest. It is therefore important that you understand the risks and commitments. This website is not personal advice based on your circumstances. So you can make informed decisions for yourself we aim to provide you with the best information, best service and best prices. If you are unsure about the suitability of an investment please contact us for advice.