Video hub
---
The Big Deal Stock Market Challenge
Published 31/01/2014: The easy-to-play investing game from Hargreaves Lansdown. Hone your investing skills, and take on your fellow investors - with over £30,000 in cash prizes up for grabs.
Transcript
00:01 - If you were given £100,000 to invest in the stock market, what would you choose?
00:07 - The Big Deal Stock Market Challenge from Hargreaves Lansdown is free to play, and really simple to get started.
00:13 - With a chance to win over £30,000 in cash prizes why not give it a shot?
00:19 - Build your own risk-free portfolio of funds, shares or a mixture of both, to outperform your fellow investors for a chance to win.
00:28 - There's monthly cash prizes for the portfolios that perform the best, and a £500 monthly prize draw for investors who invite their friends to join!
00:39 - You can also win awards throughout the game to give your portfolio a boost. There are awards for performance, both good and bad, and awards simply for taking part and playing the game!
00:50 - There's a £10,000 prize for the best performing individual trader and best performing company.
00:56 - Invite your friends to play for a bit of friendly competition, or team up with them to form a company using your collective skills to compete against others.
01:05 - The Big Deal Stock Market Challenge is free to play so why not sign up now?

Free to play and easy to get started
Invite your friends to join and set up your own investment company
Create your own portfolio from thousands of different funds, shares, ETFs and investment trusts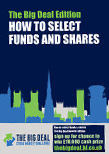 Whether you are a first-time investor, or a more experienced investor looking to find out more about investing in funds and shares, this guide is for you.
What to watch next