How are pension withdrawals taxed?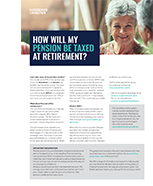 Request your free factsheet: How will my pension be taxed at retirement?
Find out how pension withdrawals might be taxed, and how with a little planning, investors can reduce the amount of tax they pay on pension withdrawals. Please note, this guide is not personal advice.
The information on our website is not personal advice but we can offer advice if specifically requested. What you do with your pension is an important decision, which could be irreversible. Make sure you understand your options and check they are suitable for your circumstances: take appropriate advice or guidance if you are unsure. The Government's free Pension Wise service can help. It provides impartial guidance face-to-face, online or by phone - more on Pension Wise.
Most people can usually take up to 25% of their pension tax free at retirement. The rest of their withdrawals will be taxable.
Request your free factsheet to find out:
How much might be tax free
How tax could be deducted
What tax codes mean and how they might be applied
How to claim back overpaid tax
This factsheet explains how tax could be deducted from personal pensions. This may be more or less than the tax you owe. Request your copy today by completing your details.
This guide is not personal advice. Tax and pension rules can change and the value of any benefits will depend on individual circumstances. If you are at all uncertain about the suitability of an option for your circumstances please seek advice.

Verified by VeriSign
VeriSign has verified the rightful owner and operator of this web page. The seal verification also shows that this page has passed a daily malware scan.