The UK's
No.1

platform for private investors
The UK's No.1 platform for private investors
Below is an extract from the Platforum July 2020 UK Direct to Consumer Market Report. It shows Hargreaves Lansdown as the UK's No.1 Direct Investment Platform for net flows, total number of clients and growth in clients in the six months to 31 March 2020.
We've also recently been voted Best Investment ISA (The Personal Finance Awards), Best Customer Service and Best For Share Dealing (Boring Money Consumer Investment Awards).
"Direct platforms reported new money coming in from both new and existing customers despite the market downturn triggered by COVID-19. Figure 2 shows the net flows on direct platforms in the six months to 31 March 2020, excluding any market movements."
Figure 2: top five UK direct investment platforms Oct 19 – Mar 20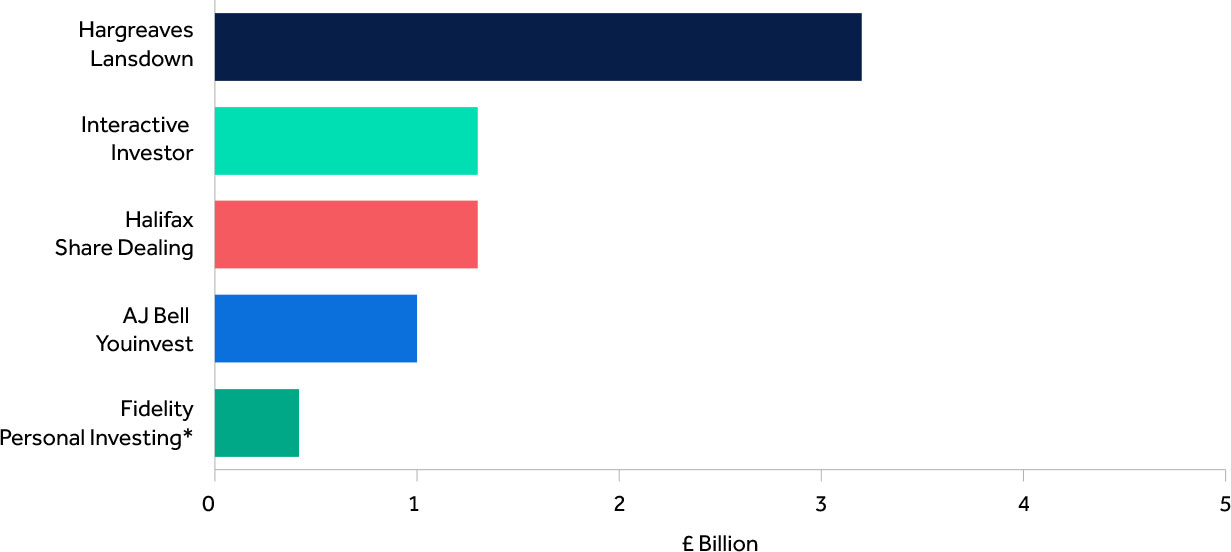 Source: Platforum, July 2020. Interactive Investor includes Alliance Trust Savings net flows
*Apportioned equally between the two six-month periods based on reported twelve-month net flow data.
Hargreaves Lansdown continues to have the highest net flows.
Customer base characteristics
Table 2 presents the number of clients of direct platforms as at 31 March 2020. Despite decreases in AUA, many gained a significant number of new clients in the market downturn.
Table 2: Number of direct platform clients as at 31 March 2020*
| Direct platform | Number of clients (Mar-20) | Change in number of clients (from Sep-19) |
| --- | --- | --- |
| Hargreaves Lansdown | 1,318,100 | 58,100 |
| Halifax Share Dealing | XXXXXX | XXXXX |
| HSBC Global Investor Centre/Invest Direct | XXXXXX | No data |
| Interactive Investor | XXXXXX | XXXX |
| Barclays Smart Investor | XXXXXX | -XXXX |
Source: Platforum, July 2020
*Only data for HL shown. Full report can be purchased at www.platforum.co.uk
Hargreaves Lansdown has the largest client base with over 1.3 million customers and the largest net growth (+58,100) over the six months to 31 March 2020. According to the company, the "Switch your money ON" marketing campaign and direct digital marketing expertise resulted in substantial numbers of net new clients in the period.
"Many of these clients are relatively new to investing and over the coming months, we will be focused on how we can support them through a lifetime of investing to meet their long-term desired outcomes beyond the near term investment opportunities resulting from COVID-19."
Trading update, Hargreaves Lansdown, May 2020