Find out how to maximise the income you receive from your pension fund with this comprehensive guide to your options at retirement.
If you're planning to retire in the next few years you're no doubt thinking about how to take an income from your hard-earned pension fund. At one end of the scale is the dependable secure income for life that comes with conventional annuities; at the other is the much more flexible but riskier drawdown.
Our guide could prove invaluable in helping you understand:
Your options
The pros and cons
How to maximise your pension fund income
What happens to your pension when you die
This guide is not advice. The value of investments can fall as well as rise so you could get back less than you invest.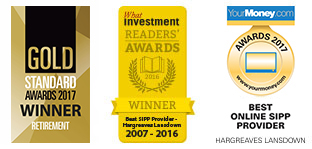 The information on our website is not personal advice but we can offer advice if specifically requested. What you do with your pension is an important decision, which could be irreversible. Make sure you understand your options and check they are suitable for your circumstances: take appropriate advice or guidance if you are unsure. The Government's free Pension Wise service can help. It provides impartial guidance face-to-face, online or by phone - more on Pension Wise.
Verified by VeriSign
VeriSign has verified the rightful owner and operator of this web page. The seal verification also shows that this page has passed a daily malware scan.