Investments can go down as well as up so there is always a danger that you could get back less than you invest. Nothing here is personalised advice, if unsure you should seek advice.
Latin America's favourable demographics could help drive long-term stock market returns
Fund outperformed its benchmark over the past year, although markets were volatile
We continue to regard Aberdeen's emerging markets team highly and the fund retains its place on our Wealth 150+
Our view
Latin America benefits from a young, energetic workforce, improving infrastructure and a growing middle class that continues to drive consumer spending. We are optimistic about the region's long-term prospects, although investing in emerging markets is higher risk. Volatile commodity prices and political instability led to short-term periods of market weakness over the past year, although overall performance was good but this is not a guide to future returns.
We feel the choppy waters of Latin America are best navigated by an experienced management team. The Aberdeen Latin American Equity Fund, run by Aberdeen's talented team of emerging markets investors, is our favoured way to gain exposure and currently features on the Wealth 150+. The team seeks companies with sustainable business models, high standards of corporate governance and high-quality management teams, which trade on attractive valuations. This approach has tended to provide some resilience during periods of volatility.
Presently, Latin American companies look good value compared with some developed countries, according to our analysis. History has shown investing when valuations are lower can lead to good long-term returns, although valuations could fall further yet.
How has the fund performed?
It has been a rollercoaster ride for investors in Latin American markets over the past year. Broader emerging markets, including Latin America, fell sharply in the days following the election of Donald Trump as US President due to fears surrounding his protectionist views. Markets subsequently recovered, but suffered a further setback in May when the Brazilian president, Michel Temer, was accused of corruption.
Despite these issues, Latin American markets grew 18.5% over the past year. The Aberdeen Latin American Equity Fund was stronger still and retuned 21.9%*, although past performance is not a guide to the future.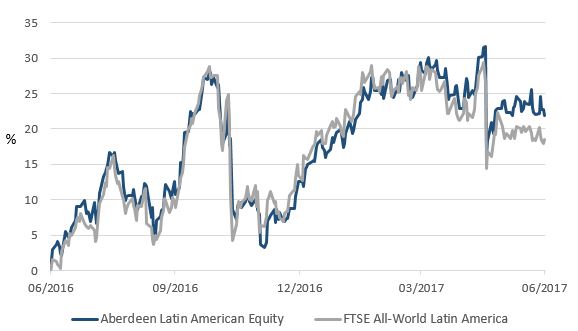 Past performance is not a guide to future returns. Source: Lipper IM* to 30/06/2017.
Annual percentage growth
Jun 12-
Jun 13
Jun 13 -
Jun 14
Jun 14 -
Jun 15
Jun 15 -
Jun 16
Jun 16 -
Jun 17
Aberdeen Latin American Equity
6.7
-6.0
-19.8
17.4
21.9
FTSE All-World Latin America
-4.0
-3.7
-17.0
8.5
18.5
Past performance is not a guide to future returns. Source: Lipper IM* to 30/06/2017.
The high-quality and defensive nature of the companies the fund invests in proved beneficial to performance and provided some resilience during periods of market volatility. Consumer-related companies, to which the fund is biased, were some of the strongest performers. Brazilian retailers Lojas Renner and CIA Hering performed particularly well, as did Mexican beverage manufacturer and distributor Arca Continental.
How is the fund positioned?
Brazil is Latin America's largest economy and comprises the largest part of the fund at 60%. The country is home to a variety of companies that can be invested in at an attractive price, according to the managers. Following a recent period of market volatility, the managers took the opportunity to top up exposure to their favourite companies at depressed prices, including banks Banco Bradesco and Itau Unibanco, as well as retailer Multiplan. They also initiated a new investment in Brazilian software provider Linx.
Around 10% of the fund is also invested in Chilean companies, which the managers believe continue to benefit from the increasing spending power of the country's burgeoning middle class. The fund currently invests in Embotelladora Andina, Chile's leading Coca-Cola bottler. The company has a leading position in some of the world's fastest-growing beverage markets and is supported by a healthy balance sheet, in the managers' view.
Find out more about this fund including how to invest
View the Key Investor Information Document
Important information
-
Please remember the value of investments, and any income from them, can fall as well as rise so you could get back less than you invest. This article is provided to help you make your own investment decisions, it is not advice. If you are unsure of the suitability of an investment for your circumstances please seek advice.
No news or research item is a personal recommendation to deal.
Want our latest research sent direct to your inbox?
Our expert research team provide regular updates on a wide range of funds.
---