Investments can go down as well as up so there is always a danger that you could get back less than you invest. Nothing here is personalised advice, if unsure you should seek advice.
Richard Ford believes interest rates will continue to rise in the US with a knock-on effect to the UK and Europe
He has a preference for bonds issued by banks and insurance companies over governments and government agencies
Performance was subdued over the past year, but the long-term record has been excellent and ongoing charges are low
Our view
There is a lot to like about this fund. It is managed by an experienced and well-resourced team who adopt a relatively conservative approach to bond-market investing. This has served them well over the long run and the performance track record is impressive, although not guaranteed to be repeated. Finally, the fund is available to Hargraves Lansdown clients with low ongoing fund charges of just 0.22% a year (the Vantage charge of up to 0.45% a year also applies). The fund continues to deserve a place on the Wealth 150+ list of our favourite funds across the major sectors.
Performance review & current positioning
Performance has been held back slightly over the past year by the fund's 'duration' being kept relatively short. This affords some protection against rising interest rates because the prices of short-duration bonds do not fall to the same extent as long-duration bonds when interest rates rise, or are expected to rise. In recent years interest rates have stayed lower for longer than expected. Long-dated bonds have therefore delivered strong returns and it has been the wrong call to be short duration.
That said, this is only over a short period and the fund's performance has been much better over the longer term. The manager has delivered a higher return than the peer group average and a broad index of corporate bonds over the past five years, for example. Please remember past performance is not a guide to the future.
Morgan Stanley Sterling Corporate Bond - % growth over five years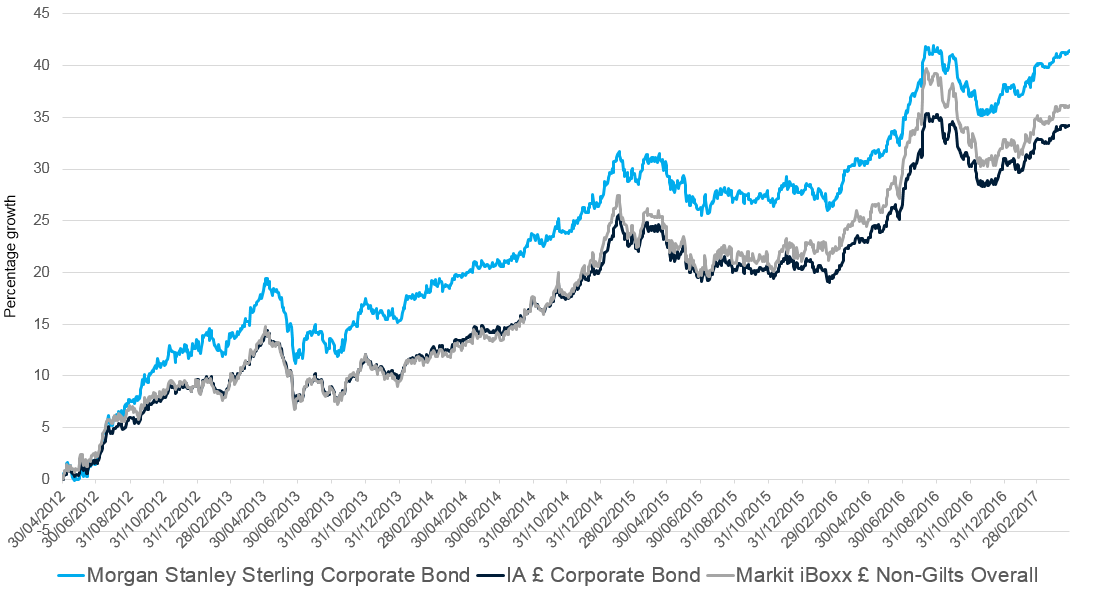 Past performance is not a guide to the future. Source: Lipper IM to 30/04/2017
Annual Percentage Growth
April 12 -
April 13
April 13 -
April 14
April 14 -
April 15
April 15 -
April 16
April 16 -
April 17
Morgan Stanley Sterling Corporate Bond
18.9
0.7
8.1
1.2
8.1
IA £ Corporate Bond
14
-0.5
8
0.7
8.7
Markit iBoxx £ Non-Gilts Overall
14.1
-0.9
8.9
1.6
8.8
Richard Ford and his team are of the view interest rates will continue to rise in the US; and where the US leads, others are often forced to follow. This could lead to interest rate rises in the UK as well. Indeed, the Bank of England only recently hinted that rates might need to rise sooner and faster than many expect. He is therefore happy to maintain the short duration position for now.
Investments in bonds issued by banks and financial companies have performed well recently. The manager is positive on the prospects for banks. He views them as less risky now than they were a few years ago, while rising interest rates are typically positive for banks because they can earn more from the loans they make. A little over a quarter of the fund is invested in banks, with another 8% in bonds issued by insurance companies.
Bonds issued by industrial and utilities companies also feature relatively heavily in the fund, at 28% and 17% respectively. In these areas the manager aims to identify high-quality, cash-generative companies that should be able to easily service their debts. Just over 7% of the portfolio is invested in higher-risk high-yield bonds where performance has been strong recently off the back of investors' demands for higher income. The manager also has the flexibility to use derivatives, which adds risk.
Find out more about this fund including how to invest
Please read the key features/key investor information document in addition to the information above.
Important information
-
Please remember the value of investments, and any income from them, can fall as well as rise so you could get back less than you invest. This article is provided to help you make your own investment decisions, it is not advice. If you are unsure of the suitability of an investment for your circumstances please seek advice.
No news or research item is a personal recommendation to deal.