Investments can go down as well as up so there is always a danger that you could get back less than you invest. Nothing here is personalised advice, if unsure you should seek advice.
Michael Hasenstab has the flexibility to invest globally, but retains his long-term bias to emerging markets
He favours countries with strong growth prospects and without excessive debt
Investments in Mexico and Brazil currently account for a significant proportion of the fund
Our view on this fund
We view this as a higher-risk, higher-return global bond fund. While the managers have the flexibility to adopt a 'go anywhere' approach and invest worldwide, they retain a bias to emerging markets. This means the fund has tended to perform well when emerging markets have been in favour and vice versa.
Michael Hasenstab and his team are also willing to back their views with high conviction and invest significant proportions of the fund in a concentrated number of countries. This can result in more volatile performance, but overall returns have been good in recent years. Please remember past performance is not a guide to the future.
A combination of the higher-risk approach and relatively high fees means we are not currently considering this fund for a place on the Wealth 150+, which is a list of who we view to be the best fund managers, available at the best prices.
Performance review
An emerging markets bias and the higher-risk approach has typically worked well since the launch of the class A GBP shares in September 2007, although as the chart below shows it has not always been a smooth ride.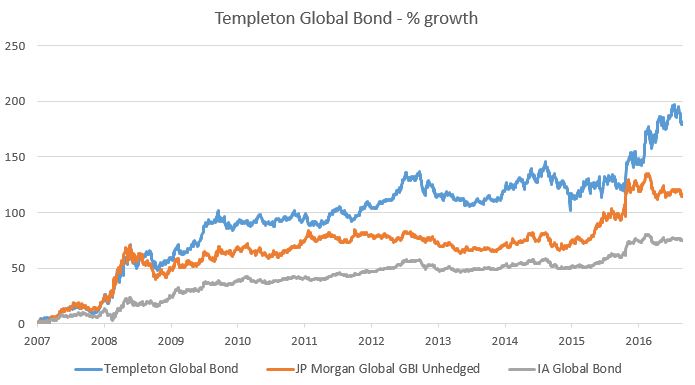 Past performance is not a guide to the future. Source: Lipper IM to 30.04.2017
Annual Percentage Growth
April 12 -
April 13
April 13 -
April 14
April 14 -
April 15
April 15 -
April 16
April 16 -
April 17
Templeton Global Bond
16.5
-9.1
11.7
-3.4
24.3
JP Morgan Global GBI Unhedged
3
-6.9
5.4
11.5
9.4
IA Global Bond
9.8
-4.8
4
3.9
8.6
Source: *Lipper IM to 30/04/2017
UK-based investors received further a boost to performance following last year's EU referendum when sterling weakened significantly against most major currencies. This had a beneficial effect on the value of overseas investments and funds such as this, with virtually no exposure to sterling, reaped the rewards.
More recently, the fund's currency positions have continued to have a positive effect. Exposure to the Mexican peso, Brazilian real and Indian rupee have all contributed to the strong performance. While currencies have been the main driver of performance in recent months exposure to Brazil and Indonesia has also been beneficial, although there are no guarantees this performance will continue.
Positioning and outlook
The fund has significant exposure to Latin America, including countries the manager and his team feel are undergoing a positive turnaround following a difficult few years. This includes Brazil, Argentina and Colombia. He views the latter as in an optimal position for economic expansion as the end to a 50-year civil war hopefully draws to a close and sensible economic policy is allowed to prevail.
As for Argentina, Michael Hasenstab believes its decade-long economic disaster, rapid inflation and high unemployment under the populist Kirchner government are over. The more orthodox policies of President Mauricio Marci have the potential to allow the economy to function properly again by deregulation, opening up trade and ending manipulations of the exchange rate and utility prices, in his view.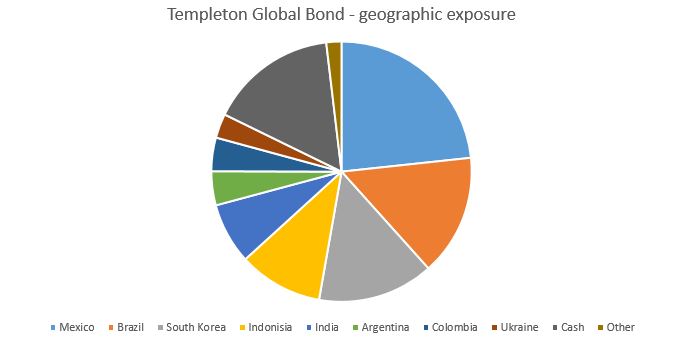 Source: Franklin Templeton as at 31.03.2017
The manager has the flexibility to use derivatives which increases risk. Please note as this is an offshore fund you are not normally entitled to compensation through the UK Financial Services Compensation Scheme.
Find out more about this fund including how to invest
Please read the key features/key investor information document in addition to the information above.
Important information
-
Please remember the value of investments, and any income from them, can fall as well as rise so you could get back less than you invest. This article is provided to help you make your own investment decisions, it is not advice. If you are unsure of the suitability of an investment for your circumstances please seek advice.
No news or research item is a personal recommendation to deal.
Want our latest research sent direct to your inbox?
Our expert research team provide regular updates on a wide range of funds.
---