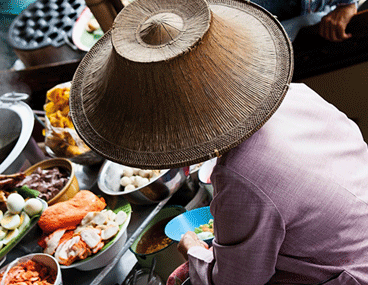 No recommendation
No news or research item is a personal recommendation to deal. All investments can fall as well as rise in value so you could get back less than you invest.
Why Asia?
It's difficult to think of another part of the world quite as diverse as Asia. Filled with different cultures, histories, and languages, the eastern world is full of variety – and this means opportunity for investors.
From Hong Kong and Singapore, already developed into two of the world's leading financial hubs, to the frontier markets of Vietnam and Cambodia, the differences are dramatic.
Investors in Asia can take advantage of this diversity, combining the exciting growth potential of the higher-risk emerging markets with the more established economies.
One thing all these countries share is a focus on prosperity. While stagnating economic growth and unease over globalisation is increasingly seen in the West, Asian countries are improving their trade links and integrating with others. A willingness to work hard and determination to develop a global presence binds these countries together.
A landmark year
June marked 20 years since the Asian financial crisis. The severity of the crisis inspired change and the countries involved worked hard to get back into shape.
Their debt burdens are now typically lower than western counterparts, which means they are better placed to cope with any future setbacks.
Economic and political developments continue across Asia. And in many cases this is great news for those investing in the region's businesses.
For example in India, Prime Minister Narendra Modi has implemented sweeping reforms to stamp out corruption and make it easier for companies to do business. This summer he introduced important tax reform, which is expected to improve efficiency and increase company profits over the long run.
What does the future hold?
The pace of change in Asia has been extraordinary. Rising wealth and consumption, combined with an increase in foreign investment and the spread of technology, has transformed Asia's markets.
Yet I think there's much more to come. Asia stands poised to become the dominant engine of global growth.
It won't happen overnight. Political, economic and social uncertainties affect emerging markets more than most. A long-term outlook is therefore essential as you can expect these markets to be volatile.
In our view, Asia has a place in most long-term investors' portfolios – provided they're happy with the risks involved. But Asia is an intricate and evolving area, and it takes careful analysis and specialised knowledge to find the companies best-placed to thrive.
That's why we think most investors are best-served by entrusting their money to a fund manager who'll pick the companies for them. One of our favourites is reviewed below.
New addition to the Wealth 150+
Wealth and consumption in Asia are rising quickly
This fund invests in companies that can benefit
Exclusive reduction in ongoing fund charge for HL clients
First State has a long and successful history investing in the Asia Pacific region. The First State Asia Focus Fund is a relatively new addition to its range. It's run using a tried-and-tested philosophy.
Manager Martin Lau seeks companies with strong cash flows and an ability to keep costs under control. He also tries to identify companies with a distinct competitive advantage, for example a recognisable brand or a large market share.
High standards of company management are a must. He looks for businesses where the interests of the people in charge are aligned with those of shareholders.
Lau and his experienced team are based in Asia, which lets them visit companies and hear about their plans first-hand. It also gives them an insight into how markets are changing and allows them to spot the companies best-placed to take advantage.
We have long admired the team's disciplined investment approach and hold Martin Lau in high regard. His long-term track record is nothing short of exceptional, though there is of course no guarantee this will continue.
Martin Lau's career track record
Past performance is not a guide to future returns
Source: Lipper IM, 30/11/17
Annual percentage growth
Nov 12-13
Nov 13-14
Nov 14-15
Nov 15-16
Nov 16-17
First State Asia Focus Fund
n/a*
n/a*
n/a*
27.3%
22.4%
FTSE AW Asia Pacific ex Japan
5.5%
9.4%
-7.6%
31.7%
19.6%
*Full year performance not available
Past performance is not a guide to future returns
Source: Lipper IM to 30/11/17
His approach is a conservative one, though Asia remains a higher-risk proposition. He looks for the companies that can prosper over the long term, rather than chasing the latest fad. This means we'd generally expect the fund to hold up well during more turbulent market conditions, although it may also lag behind when markets rise strongly.
Like all stock market investments it can fall in value, so you could make a loss. The fund is small and nimble in size, which means the team can pounce on opportunities quickly, wherever they may lie.
We recently secured a reduced ongoing charge of 0.75% per year for this fund. This is a significant saving over the standard charge of 0.9% and is exclusively available when investing through HL. Our charge to hold funds of up to 0.45% per year also applies.
Low charges and a first-rate management team are exactly what we look for when choosing our Wealth 150+, and this fund is the latest addition to the list.
Fund Information
| | |
| --- | --- |
| Investment goal: | Growth |
| Net initial charge: | 0.00% |
| Ongoing charge (OCF/TER): | 0.90% p.a. |
| Ongoing saving from HL: | 0.15% p.a. |
| Net ongoing charge: | 0.75% p.a. |
| Vantage service charge: | 0.45% p.a. |
| Maximum overall charge: | 1.20% p.a. |
View Fund Key Investor Information document
Invest in First State Asia Focus Fund
Add First State Asia Focus Fund to watchlist
View the First State Asia Focus Fund factsheet
The value of investments can go down in value as well as up, so you could get back less than you invest. It is therefore important that you understand the risks and commitments. This website is not personal advice based on your circumstances. So you can make informed decisions for yourself we aim to provide you with the best information, best service and best prices. If you are unsure about the suitability of an investment please contact us for advice.