Most of the industrialised world is enduring interest rates which are persistently lower than the rate of inflation. This has occurred before - most notably when inflation was running at 25% in the mid-1970s.
There are material implications for savers, and especially for people who depend on their savings for income. The problem is further aggravated for the retired, as their personal rate of inflation is probably greater than the published figure. Official figures take into account many items which have come down in price but which are discretionary purchases. These include consumer durables such as personal computers, cameras and other high-tech gadgetry.
On the other hand staples and essentials - food, power, water, council taxes etc. are all increasing in price, meaning retired people on fixed pensions or dependent on income from their investment capital are the hardest hit by the current situation.
The longer this continues the more people will be disadvantaged. Quite simply the value of your savings, and any fixed income you receive, are being persistently eroded by inflation.
---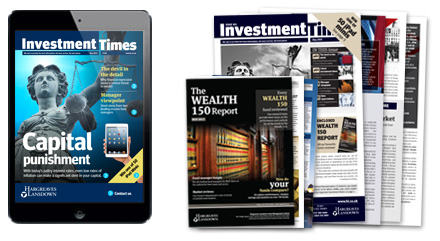 Economic comment from Peter Hargreaves and Mark Dampier, including our latest outlook for interest rates and inflation. PLUS: all Wealth 150 funds reviewed, and statistics on more than 700 others.
Interactive Investment Times app for iPad - download the app now
---
During the 1970s the predominant home for savings was building society deposit which obviously gave the security of capital, but those accounts were ravaged by inflation. Back then the cost of living doubled in a four-year period, but interest rates ran at around 10% per annum. The value of capital, and the income it generated, was effectively halved. There was never any chance for the retired to restore their previous income and the standard of living it afforded. While these figures are undoubtedly more dramatic, the effects today are equivalent.
Back then, as today, the small percentage of the population who held a particular investment fared rather better. Whilst during the 1970s this investment didn't fully keep pace with inflation, it performed better than other major asset classes, and those who continued to hold the investment during the early 1980s found that their buying power was more or less reinstated. The investment in question is one that we still believe is an essential part of almost all portfolios – equity income. In this issue we explore this and other investments which, for those willing to shoulder the risk, could help maintain the long-term purchasing power of capital.
---
This article is taken from the latest Investment Times.
Claim your copy of the Investment Times
The value of investments can go down in value as well as up, so you could get back less than you invest. It is therefore important that you understand the risks and commitments. This website is not personal advice based on your circumstances. So you can make informed decisions for yourself we aim to provide you with the best information, best service and best prices. If you are unsure about the suitability of an investment please contact us for advice.