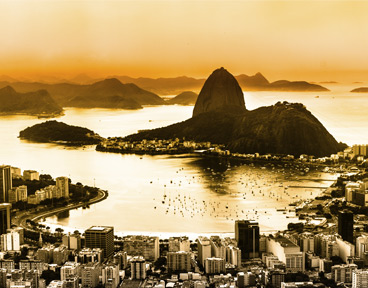 No news or research item is a personal recommendation to deal. All investments can fall as well as rise in value so you could get back less than you invest.
It has been a tale of two halves for emerging markets investors over the past couple of years.
In 2015 sentiment towards these markets was remarkably low, amid fears over slowing growth in China and political unrest in the Middle East. Falling demand for commodities also proved painful for resource-rich economies such as Brazil.
2016 saw a reversal in fortunes as concerns over China subsided and commodity prices recovered. The prospect of political and economic reform in some countries also improved investor sentiment and stock markets rebounded.
We feel Asian and emerging markets offer excellent opportunities for long-term patient investors. As emerging economies mature they have the potential to build some of the world's most successful companies and overtake Western counterparts.
In the late 1970s, developed economies contributed 82% of global growth and 86% of global consumption. Yet from 2010-15 the respective figures were just 30% and 28%, which highlights the growing importance of emerging countries on a global stage. It should not be forgotten they are a higher-risk and more volatile investment proposition, however.
Our investment solution – how has it performed?
Two years ago we launched the HL Multi-Manager Asia & Emerging Markets Fund to harness the long-term growth potential of these markets by investing with some of our favourite fund managers. The fund has delivered growth of 20.9%* over this time and outpaced the broader Asian and emerging stock markets, although it hasn't always been a smooth ride and past performance is not a guide to future returns.
HL Multi-Manager Asia & Emerging Markets Fund performance since launch
Past performance is not a guide to the future.
Source: Lipper IM to 28/04/2017
| | April 2012 to April 2013 | April 2013 to April 2014 | April 2014 to April 2015 | April 2015 to April 2016 | April 2016 to April 2017 |
| --- | --- | --- | --- | --- | --- |
| HL MM Asia & EM | n/a** | n/a** | n/a** | -7% | 30.1% |
| FTSE Asia Pacific ex Japan | 18.2% | -6.7% | 23% | -11.5% | 36.3% |
| FTSE Emerging | 9.9% | -10.7% | 22.3% | -13.4% | 34.9% |
Past performance is not a guide to the future.
Source: *Lipper IM to 28/04/2017 ** Full year performance before this date is not available
A number of funds in the portfolio are biased towards high-quality companies and adopt a relatively conservative investment approach. They have tended to provide a degree of shelter in weaker market conditions and means the portfolio held up better than the broader Asian and emerging markets in its first year.
In 2016 a change in investor sentiment saw companies in more economically-sensitive areas of the market, such as the financials and resource-related sectors, outperform more defensive areas, including healthcare and consumer goods. The fund's lower exposure to the former sectors held back performance somewhat, although it still delivered a return of 28%.
So far the fund has performed in the way we would expect. The careful nature of some our underlying managers means we expect the fund to underperform a rapidly rising market, but hold up better during times of market weakness, which puts it on the front foot when markets rebound.
More information on the HL Multi-Manager Asia & Emerging Markets Fund
What has impacted performance?
The fund has benefited from investing in a broad spread of funds with different investment approaches. Top performers include the Schroder Asian Alpha Plus and Small Cap Discovery funds. Both funds are managed by Matthew Dobbs, a highly-experienced investor in Asian and emerging markets. While the former fund provides exposure to larger companies across the Asia Pacific region, the latter fund invests in higher-risk smaller companies located in faster-growing regions of the world.
Aberdeen Latin American Equity has been another standout performer. The fund initially struggled as Latin American stock markets fell heavily in 2015, against a backdrop of falling commodity prices and a number of high-profile corruption scandals in Brazil, the region's largest economy. We retained our conviction and felt the region offered compelling value, so we continued to add to the investment at more attractive prices. Investors have since been rewarded.
The Stewart Investors Asia Pacific Leaders Fund has been the weakest performer over the period, but still delivered an attractive return of 17%. The managers seek companies with more defensive characteristics, which they believe will prove resilient throughout a variety of market conditions, although the fund tends to underperform during periods of sharp market rises. Their prudent approach has produced exceptional long-term results and we are happy to maintain the fund as our largest investment. Please remember that past performance is not a guide to the future.
More information on the HL Multi-Manager Asia & Emerging Markets Fund
Portfolio activity – what can investors expect?
We invest in what we believe to be the finest fund managers in the region for the long term. Few significant changes have been made since the fund's launch, although we continue to take profits from stronger-performing areas and rotate the proceeds into those which have done less well.
The key change to the portfolio since launch was the addition of Jupiter Asian Income, managed by Jason Pidcock, a renowned Asian income investor. He previously managed the Newton Asian Income and Newton Emerging Income funds, which were sold from the portfolio after the manager left Newton. We like the Jupiter fund for combining exposure to the growth potential of Asian markets with the region's burgeoning dividend culture, with the support of an experienced stock picker.
More information on the HL Multi-Manager Asia & Emerging Markets Fund
Our verdict
Asian and emerging economies are positioned to be powerful contributors to global economic growth. These markets should not be ignored when constructing a long-term growth portfolio, in our view.
Our analysis suggests these stock markets remain lowly-valued, which presents an opportunity for long-term, patient investors. Share prices could get cheaper still, however, and will rise and fall in value, which means investors could get back less than they invest.
The disparity between countries means we believe a diversified approach is sensible. The HL Multi-Manager Asia & Emerging Markets Fund provides exposure to a multitude of countries and companies. It is managed by our experienced in-house research team, who choose and monitor what they believe to be the best funds in the region. The fund could provide core exposure to some of the fastest-growing regions of the world and we feel the additional costs associated with running a multi-manager approach are justified here.
HL Multi-Manager Asia & Emerging Markets Fund factsheet
HL Multi-Manager Asia & Emerging Markets Fund Key Features
The HL Multi-Manager Asia & Emerging Markets Fund is run by our sister company HL Fund Managers Ltd.
You may also be interested in: