Five traps that could slash your retirement income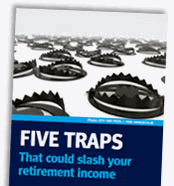 Get your free guide to five traps that could slash your retirement income
Discover the traps that are very easy to avoid and a strategy to sidestep them - simply fill in your details below to request your free guide now.
Hargreaves Lansdown PLC group companies will usually send you further information by post and/or email about our products and services. If you would prefer not to receive this, please do let us know. Your personal data will remain confidential, and will never be passed to any other company, unless required by law.
A strategy to safeguard your hard earned retirement income
Before you breathe a sigh of relief at retirement there are five traps to watch out for that could slash your hard earned income. Some are perilously easy to fall into, but all are easy to avoid.
This guide explains each of the five traps including:
The signature that could cost you £20,000
Why being frank about your health could mean a lifelong pay rise
How inflation could halve your income and what you can do to guard against it
It takes just a minute to request and it could save you thousands – simply fill in your details and request your free guide today.
This guide is not advice. Please remember the value of investments can fall as well as rise so you could get back less than you invest.
Verified by VeriSign
VeriSign has verified the rightful owner and operator of this web page. The seal verification also shows that this page has passed a daily malware scan.