Pension lifetime allowance factsheet - claim a free copy now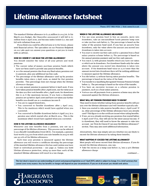 Pension lifetime allowance - will it affect me?
This factsheet explains what the pension lifetime allowance is and how to protect yourself from a 55% tax charge. Enter your details to download your copy.
Hargreaves Lansdown PLC group companies will usually send you further information by post and/or email about our products and services. If you would prefer not to receive this, please do let us know. Your personal data will remain confidential, and will never be passed to any other company, unless required by law.
The pension lifetime allowance has fallen to
£1 million. This may have affected 460,000 investors.
This factsheet reveals:
What the pension lifetime allowance is and when it applies
How to calculate if it could affect you
The mistake which can result in a 55% tax charge
The different types of pension lifetime allowance protection
How to secure an allowance higher than £1 million
The factsheet is based on our understanding of legislation at 6 April 2017, which is subject to change. It is a summary and cannot cover every situation. Any tax benefits depend on your circumstances and tax rules can change in the future.
This information is not personal advice. You should not take, or refrain from taking, any action based on this information. If you are at all unsure, contact us and we can put you in touch with an adviser.

Verified by VeriSign
VeriSign has verified the rightful owner and operator of this web page. The seal verification also shows that this page has passed a daily malware scan.