Guide to Saving Inheritance Tax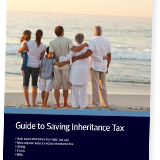 Reduce tax and keep your wealth in your family using our experts' top tips
For your copy of the Investors' Guide to Saving Inheritance Tax simply fill in the form below
Hargreaves Lansdown PLC group companies will usually send you further information by post and/or email about our products and services. If you would prefer not to receive this, please do let us know. Your personal data will remain confidential, and will never be passed to any other company, unless required by law.
Make the most of your investments and cut inheritance tax
Packed full of useful hints and tips this guide is invaluable if you're planning your estate or have benefited from an inheritance.
This guide reveals:
Simple steps to pay less inheritance tax
How you could use an inheritance
Gifting - pros, cons and 'how to'
IHT-free investments
Easy ways to use trusts
Plus - a jargon-free introduction to wills and Lasting Powers of Attorney.
Claim your free copy today to find out more. Simply complete your details to the left to request your guide.

Verified by VeriSign
VeriSign has verified the rightful owner and operator of this web page. The seal verification also shows that this page has passed a daily malware scan.