Investments can go down as well as up so there is always a danger that you could get back less than you invest. Nothing here is personalised advice, if unsure you should seek advice.
We hold the Aberdeen emerging markets team in high regard
Emerging stock markets continue to offer good value, according to our analysis
Fund underperformed peers over the past year, but the team maintains a strong long-term track record
Our view
Emerging markets encompass some of the most diverse economies in the world; from Latin America and Asia, through to Eastern Europe, Africa and the Middle East. Many businesses in these areas benefit from improving infrastructure and a youthful workforce, while the region's swelling and increasingly wealthy middle class population is driving consumer demand.
Emerging stock markets have performed well over the past year, yet still represent good value and could have further to go, in our view. We believe emerging markets are a compelling long-term investment opportunity, although there are no guarantees and these markets are higher risk than their more developed counterparts.
Aberdeen Emerging Markets Equity is managed by a team of talented and experienced investors, who we hold in high regard. We have met a number of senior portfolio managers and analysts from the team over the years and we are confident their disciplined investment approach is instilled throughout the team. They continue to seek companies with sustainable business models, high standards of corporate governance and experienced management teams, which trade on attractive valuations. The high-quality nature of the fund's investments has tended to temper some of the volatility of the broader stock market and led to strong long-term returns. Past performance is not a guide to future returns.
To keep the fund a manageable size and to protect the interests of existing investors, Aberdeen has sought to restrict new money being invested in the fund by applying a 2% initial charge. The fund therefore does not feature on the Wealth 150 list of our favourite funds across the major sectors.
How has fund positioning affected performance?
17% of the fund is currently invested in India, where the managers have found many companies that meet their 'high-quality' criterion. India is currently undergoing significant economic reform and, last year, the government implemented one of its biggest pieces of legislation yet by removing most of the country's cash from circulation. This caused a short-term period of market volatility, which held back the fund's performance. The managers remain positive about the long-term outlook for the businesses in which they invest and used the stock market weakness to add to their favoured investments at reduced prices.
In contrast, the fund has little exposure to China as few Chinese businesses meet basic corporate governance standards or the team's rigorous quality tests. Prior concerns over a slowdown in economic growth subsided over the past year and the Chinese stock market performed strongly. A lack of exposure to Chinese companies therefore proved costly to performance.
The fund retains an outstanding longer-term track record. An investment of £10,000 made 10 years ago would now be worth £24,418, while the average fund in the emerging markets sector would have returned £17,667. Past performance should not be seen as a guide to future returns.
Annual Percentage Growth
June 12 -
June 13
June 13 -
June 14
June 14 -
June 15
June 15 -
June 16
June 16 -
June 17
Aberdeen Emerging Markets Equity
8.6
-2.5
-1.2
10.0
21.8
IA Global Emerging Markets
6.9
1.7
0.4
5.8
27.7
Past performance is not a guide to the future. *Source: Lipper IM to 30/06/2017
The manager has the flexibility to borrow money to invest (gearing) which, if used, adds risk. Potential investors should refer to the latest annual reports and accounts for details of these risks along with the charging structure.
Where is the team finding opportunities?
Many companies in the financials and consumer staples sectors currently meet the team's quality and valuation criteria. They feel many companies in these sectors are also well-placed to benefit from the emerging markets' rising middle class and their increasing disposable incomes. Brazilian banking giant Banco Bradesco and Thai bank Siam Commercial currently feature in the portfolio.
Latin American multinational firm, Falabella, was also recently added to the portfolio. The company runs a combination of department stores and financial services businesses. While it currently operates in Chile, the company also has access to neighbouring Latin American markets which provide further growth potential, in the team's view. The managers also recently invested in Korean cosmetics firm AmorePacific, which benefits from a number of well-established brands and is beginning to strengthen its position overseas, according to the managers.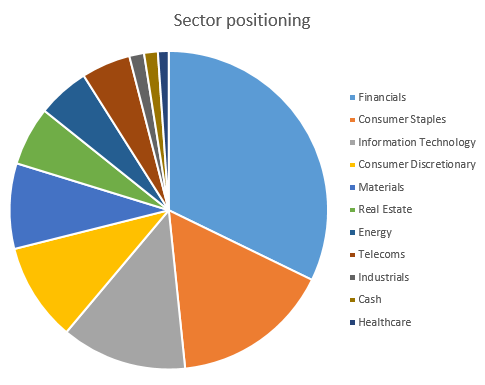 Source: Aberdeen AM to 31/05/2017
Find out more about this fund including how to invest
View the Key Investor Information Document
Important information
-
Please remember the value of investments, and any income from them, can fall as well as rise so you could get back less than you invest. This article is provided to help you make your own investment decisions, it is not advice. If you are unsure of the suitability of an investment for your circumstances please seek advice.
No news or research item is a personal recommendation to deal.