Investments can go down as well as up so there is always a danger that you could get back less than you invest. Nothing here is personalised advice, if unsure you should seek advice.
"Things won't necessarily get better or worse – they will become different."
This is the mantra of Nigel Thomas, manager of the AXA Framlington UK Select Opportunities Fund. During a career spanning over 30 years it has served him well. The ability of a company to respond to change is often far more important than whether the economy will grow at 1.9% or 1.7% a year.
Businesses able to adapt to different environments and evolve with their market will naturally have an advantage over those that stand still. The need to embrace technological change, adopt new working practices, or spot opportunities to expand, should not be underestimated.
Take Auto Trader, for example, which has successfully transitioned into a fully online marketplace for buying and selling vehicles. Significant investment in IT and software has, and continues to, pay off. Private buyers and sellers love the ease and convenience of using the Auto Trader app, while forecourt owners can get access to data management tools. This helps them price their stock and give guidance on when and how prices need to be adjusted to improve sales.
Rightmove has shaken up the property market in a very similar way. Instead of trawling down a damp high street looking in estate agents' windows, buyers can browse hundreds of properties from the comfort of a warm coffee shop. Estate agents can receive data services and premium listing slots to help boost revenues.
The importance of both these companies to the consumers and businesses that use them helps them push through regular price increases, resulting in healthy revenue growth.
Contrast this with the fortunes of a company such as clothing retailer Next. It has struggled to offer customers a slick online and mobile shopping experience, and remains encumbered by lots of leases on retail outlets. It has lost ground to online competitors and its shares have struggled over the past 18 months or so. The company didn't appreciate how different consumer shopping habits had become.
The AXA Framlington UK Select Opportunities Fund has investments in both Auto Trader and Rightmove, but Nigel Thomas sold his investment in Next early in 2016.
Over the years Nigel Thomas has built a formidable track record identifying some of the UK's best companies, whether they be a large, medium-sized or higher-risk smaller firm. Since taking the reins of this fund in September 2002 it has grown by 366% compared with 245% for the FTSE All Share Index*. Past performance is not a guide to the future.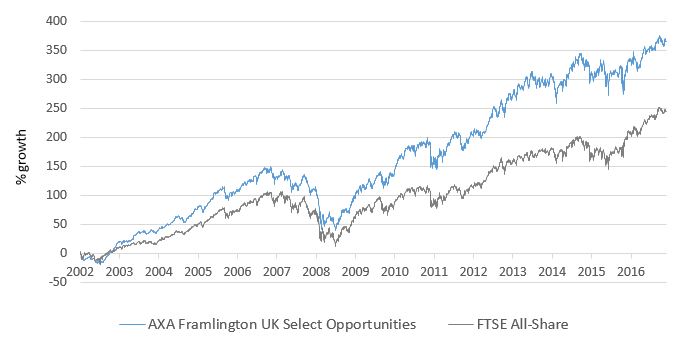 Past performance is not a guide to the future. *Source: Lipper IM to 31/07/2017.
It hasn't always gone his way though, with 2016 and the first half of 2017 being tough performance wise. Some of the fund's UK-focused investments, such as Dixons Carphone, ITV and even Rightmove, suffered in the wake of the EU referendum. Limited exposure to energy and mining companies has also held back performance as these areas enjoyed a strong run, particularly at the beginning of 2016.
Our view on this fund
All fund managers go through periods of poor performance from time to time. While the recent tough spell has had quite an impact on performance, we continue to believe Nigel Thomas is a talented stock picker with the ability to generate excellent long-term performance. He also works with a well-resourced team at AXA Framlington, which includes Chris St. John, manager of AXA WF Framlington UK, a fund that features on our Wealth 150+.
With the UK in negotiation to exit the EU and Donald Trump trying to stamp his mark on the US Presidency, things are certainly set to become different over the next 2-3 years. As ever, there will be growth opportunities thrown up for companies to exploit, and this fund remains one of our favourites for exposure to the UK stock market. It continues to deserve its place on the Wealth 150.
3-year
performance
5-year
performance
10-year
performance
July 14 - July 17
July 12 - July 17
July 07 - July 17
AXA Framlington UK Select Opportunities
18.0
56.7
98.2
FTSE All-Share
25.7
65.0
76.3
Past performance is not a guide to the future. Source: Lipper IM to 31/07/2017
Annual Percentage Growth
June 12 -
June 13
June 13 -
June 14
June 14 -
June 15
June 15 -
June 16
June 16 -
June 17
AXA Framlington UK Select Opportunities
24.6
6.6
8.3
-2.1
11.3
FTSE All-Share
24.3
5.6
5.4
3.8
14.9
Find out more about this fund including how to invest
Please read the key features/key investor information document in addition to the information above.
Important information
-
Please remember the value of investments, and any income from them, can fall as well as rise so you could get back less than you invest. This article is provided to help you make your own investment decisions, it is not advice. If you are unsure of the suitability of an investment for your circumstances please seek advice.
No news or research item is a personal recommendation to deal.
Want our latest research sent direct to your inbox?
Our expert research team provide regular updates on a wide range of funds.
---