Investments can go down as well as up so there is always a danger that you could get back less than you invest. Nothing here is personalised advice, if unsure you should seek advice.
Record levels of debt, aging populations and rising inequality are likely to constrain global economic growth
Interest rates are likely to remain low and investors who seek income need to consider looking beyond the safety of cash deposit to generate an attractive yield
This fund is managed by a team with an excellent track record and it currently yields 3.5% (not a guide to future income)
Our view on this fund
Fidelity Moneybuilder Income remains one of our favourite funds for exposure to corporate bonds. We view Ian Spreadbury and Sajiv Vaid as relatively conservative fund managers. They aim to generate an attractive income from higher-quality investment-grade bonds without taking excessive risks. The fund could be combined with other corporate bonds funds to form a diversified portfolio, or be used to add balance to an income portfolio with a bias to shares and higher-risk high-yield bonds. The fund currently features on the Wealth 150+ list of our favourite funds at the lowest ongoing charge. The Vantage fee of up to 0.45% p.a. also applies.
Performance review
The fund delivered a lower return than the average fund in the IA £ Corporate Bond sector over the past 12 months. Limited exposure to bonds issued by banks held back performance as this area of the bond market performed well towards the end of 2016. Some investments in US government bonds (Treasuries) were also painful as these fell in value, partly because investors started to fear higher inflation in the US in the wake of Donald Trump's election as President.
Long-term performance has been impressive. Since Ian Spreadbury assumed responsibility for this fund in 1995 it has grown by 252% compared with 208% for the sector*. Past performance is not a guide to future returns.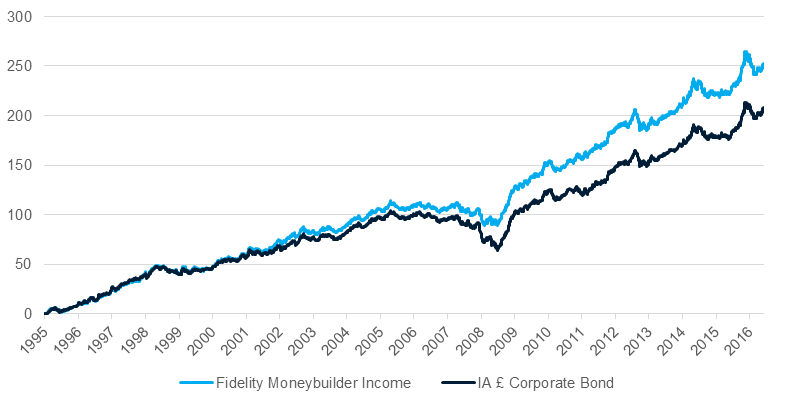 Past performance is not a guide to the future. Source: Lipper IM *to 28/02/2017
Annual Percentage Growth
Feb 12 -
Feb 13
Feb 13 -
Feb 14
Feb 14 -
Feb 15
Feb 15 -
Feb 16
Feb 16 -
Feb 17
Fidelity Moneybuilder Income
8.2
2.2
10.5
-2
9.1
IA £ Corporate Bond
9
2.6
9.5
-2.8
10.9
Outlook
Global economic growth was relatively robust in 2016, but Ian Spreadbury and Sajiv Vaid are not convinced it is sustainable. They believe high debt, aging populations and increasing income inequality will conspire to constrain growth in the coming years. This in turn should make high inflation less likely to materialise and lessen the need for interest rates to rise to any great degree.
In this environment they suggest high-quality investment-grade corporate bonds still have a part to play in a balanced portfolio with the aim to generate income. They keep the fund diversified across different sectors so it is not reliant on just one or two areas. The managers do have the flexibility to use derivatives, which can add risk.
The overriding theme running through the fund is the managers' desire to invest in bonds issued by companies strong enough to ride out tougher economic times. Companies that offer essential goods and services, such as utilities and consumer staples businesses, therefore feature in the portfolio, as do companies where the bonds are secured against physical assets owned by the company, such as property.
Find out more about this fund including how to invest
Please read the key features/key investor information document in addition to the information above.
Important information
-
Please remember the value of investments, and any income from them, can fall as well as rise so you could get back less than you invest. This article is provided to help you make your own investment decisions, it is not advice. If you are unsure of the suitability of an investment for your circumstances please seek advice.
No news or research item is a personal recommendation to deal.
Want our latest research sent direct to your inbox?
Our expert research team provide regular updates on a wide range of funds.
---