Investments can go down as well as up so there is always a danger that you could get back less than you invest. Nothing here is personalised advice, if unsure you should seek advice.
With bonds yields continuing to fall, attractive opportunities are harder to come by, according to Paul Causer and Michael Matthews
They are finding some opportunities among financial bonds, particularly those issued by banks
Performance has been subdued over the past couple of years, but the long-term record is good and we retain faith in the managers
Our view
We rate the managers of this fund highly. Their more conservative approach has not paid off over the past two to three years as bond markets have continued to perform well on the whole. We have some sympathy with their view that the risks in some areas of the bond market outweigh the rewards, and attractive opportunities are few and far between.
Even the best fund managers go through periods of lacklustre performance. We believe Paul Causer and Michael Matthews have the ability to deliver excellent long-term returns and their long-term track record remains impressive. They are willing to take a flexible approach and invest the fund differently to their peers. At times this could cause performance to deviate from the sector average and result in a higher risk portfolio.
For investors comfortable with this approach we continue to believe this is a good fund to consider for exposure to corporate bonds. It remains on the Wealth 150 list of our favourite funds across the major sectors.
Performance Review
The weaker spell of performance over the past three years has partly been caused by the fund's 'duration' being kept relatively short. This affords some shelter against rising interest rates because the prices of short-duration bonds have not fallen to the same extent as long-duration bonds when interest rates rise, or are expected to rise. In recent years interest rates have stayed lower for longer than expected. Long-dated bonds have therefore delivered strong returns and it has been the wrong call to be short-duration.
Even though performance has been subdued relative to peers the fund has still delivered positive returns. The long-term track record is also good and over the past five years the fund has delivered growth of 36.8% compared with 34.8% for the IA £ Corporate Bond sector average* although please remember that past performance is not a guide to the future.
Invesco Perpetual Corporate Bond - performance over five years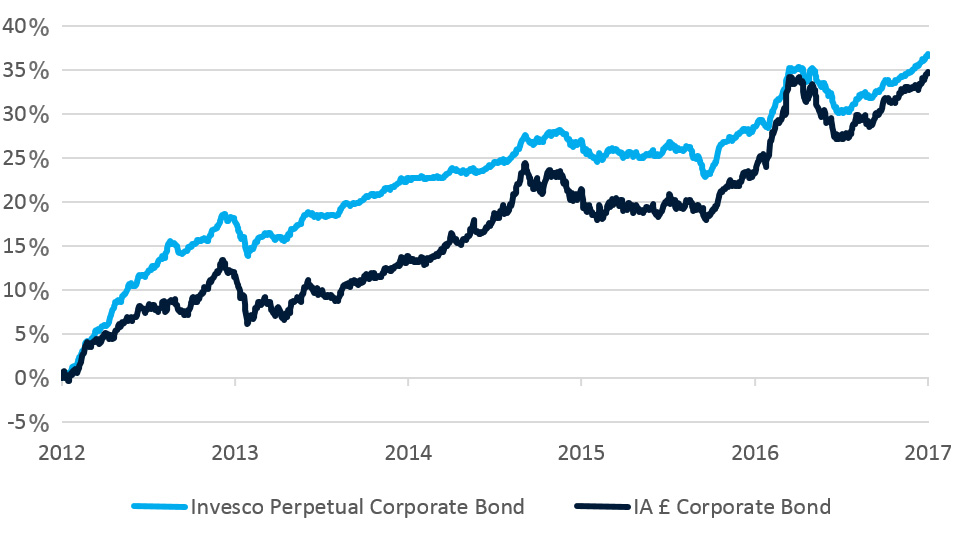 Past performance is not a guide to the future. Source: Lipper IM* to 31/05/2017
Annual Percentage Growth
May 12 -
May 13
May 13 -
May 14
May 14 -
May 15
May 15 -
May 16
May 16 -
May 17
Invesco Perpetual Corporate Bond
17.8
4.2
3.5
1.1
6.4
IA £ Corporate Bond
11.7
2
6.6
1.5
9.3
Source: Lipper IM to 31/05/2017
Fund positioning
Financial bonds, particularly those issued by banks, are the managers' preferred area of opportunity. Over a quarter of the fund is invested in this area, including in bonds issued by Lloyds and Barclays. They view banks as getting stronger, with better finances and more robust regulation than a few years ago. It is also still possible to find relatively attractive yields in this area, according to the managers.
Elsewhere, opportunities have been found among bonds issued by telecoms and utilities companies. The managers have also invested in some bonds issued by US companies, where it is possible to find higher yields than those available on similar bonds in the UK and Europe.
In anticipation of better opportunities being available at a later date, some of the fund is also invested in cash and bonds that can be sold quickly and easily, such as government bonds. This could afford the fund some relative protection should bond markets go through a tough time, and allow the managers to pounce on opportunities thrown up as a result. Investors should note the managers have the flexibility to invest in high-yield bonds and use derivatives, which adds risk.
Find out more about this fund including how to invest
Please read the key features/key investor information document in addition to the information above.
Important information
-
Please remember the value of investments, and any income from them, can fall as well as rise so you could get back less than you invest. This article is provided to help you make your own investment decisions, it is not advice. If you are unsure of the suitability of an investment for your circumstances please seek advice.
No news or research item is a personal recommendation to deal.
Want our latest research sent direct to your inbox?
Our expert research team provide regular updates on a wide range of funds.
---