Investments can go down as well as up so there is always a danger that you could get back less than you invest. Nothing here is personalised advice, if unsure you should seek advice.
Paul Causer and Paul Read maintain a conservative approach
They are finding some opportunities among financial bonds, particularly those issued by banks
Performance has been subdued, but we retain faith in the managers to deliver over the longer term
Our view
Two experienced fund managers and a highly flexible approach is an attractive combination, in our view.
Paul Causer and Paul Read's more conservative approach has not paid off in recent years as bond markets have performed strongly. We have some sympathy with their view that there is little value to be found across bond markets and attractive opportunities are few and far between. We also have faith in them to pounce when better opportunities arise.
We continue to believe the managers have the potential to deliver excellent long-term performance and the fund remains on the Wealth 150+. It could be considered by investors who share the managers' cautious outlook, but are happy with the flexible approach, which lets them make the call over when to take more risk in search of returns, and when to shelter the portfolio if they see tough times ahead.
Outlook
The economic environment for the year ahead looks relatively benign, according to Paul Causer and Paul Read. Economic growth is relatively robust, which should support the ability of companies to pay their debts; and inflation is manageable.
However, because this environment – low interest rates, low inflation, and moderate economic growth – has persisted for so long, bond yields have been driven ever-lower and prices ever higher. This means there is currently very little reward on offer, in the form of yield, for taking the risk of lending money to companies and governments.
For these reasons Paul Causer and Paul Read retain a relatively cautious stance. They believe better opportunities will present themselves if they remain patient. Their primary aim at the moment is to offer some shelter should bond markets go through a difficult period. They also want the flexibility to pounce on opportunities thrown up by any sell-off.
Fund positioning
Around half the fund is invested in government bonds, short-term bonds, and a little cash. Government bonds are deemed to be relatively safe, because there is less chance of a country going bust than a company. Countries such as the UK and US can also print money to repay bond holders, reducing the chance of investors not getting their money back. This 'safe haven' status means they often offer some relative shelter when bond markets fall.
The size of the government bond market also means it is relatively quick and easy to buy and sell. So, by holding these bonds there is the potential for some shelter from bond market falls and the opportunity to pounce on better opportunities when they arise. The short-term bonds and cash fulfil a similar role.
One area where opportunities are to be found, according to Paul Causer and Paul Read, is among bonds issued by financial companies. They view banks as getting stronger, with better finances and more robust regulation than a few years ago. Bonds issues by Barclays, RBS, BNP Paribas and HSBC all feature in the portfolio and financial bonds account for almost 30% of the fund overall.
Performance
The managers' more conservative stance has seen the fund lag modestly behind the IA £ Strategic Bond sector average in recent years. While this is disappointing we believe they have the potential to deliver good long-term returns and the fund still has a place as part of a diversified bond portfolio. The flexible approach does mean the managers can invest in higher risk areas, such as high yield bonds and emerging market debt, and use higher risk instruments such as derivatives.
Invesco Perpetual Tactical Bond - performance since launch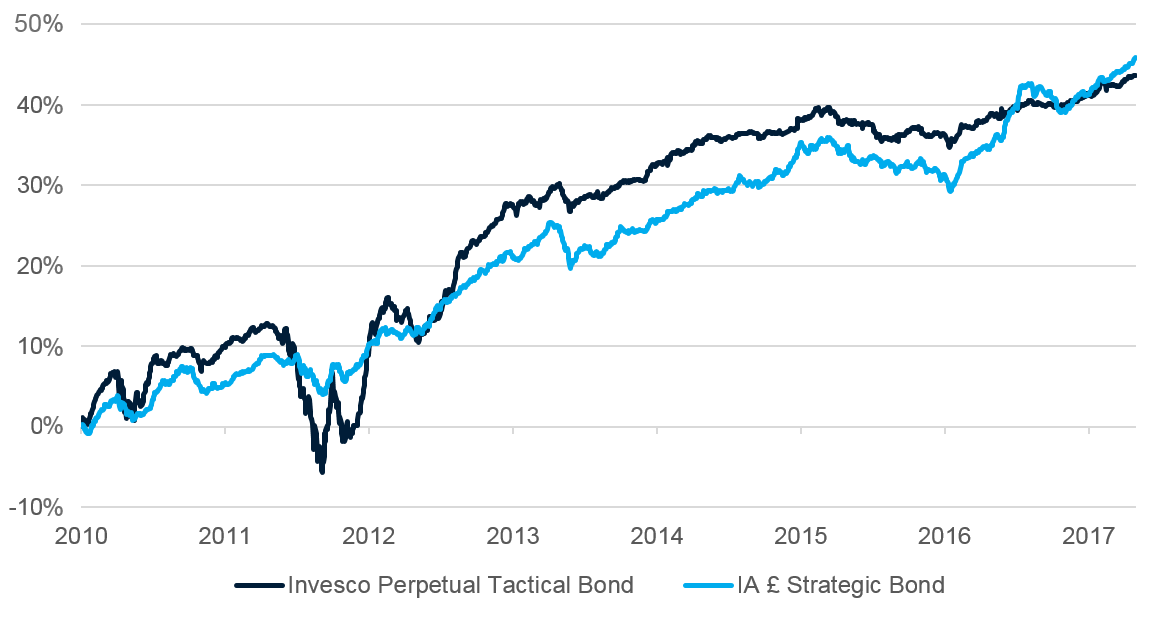 Past performance is not a guide to the future. Source: Lipper IM to 31/05/2017
Annual Percentage Growth
May 12 -
May 13
May 13 -
May 14
May 14 -
May 15
May 15 -
May 16
May 16 -
May 17
Invesco Perpetual Tactical Bond
16.4
4.6
1.7
0.7
3.4
IA £ Strategic Bond
11.2
4
4.3
0.1
8
Source: Lipper IM to 31/05/2017
Find out more about this fund including how to invest
Please read the key features/key investor information document in addition to the information above.
Important information
-
Please remember the value of investments, and any income from them, can fall as well as rise so you could get back less than you invest. This article is provided to help you make your own investment decisions, it is not advice. If you are unsure of the suitability of an investment for your circumstances please seek advice.
No news or research item is a personal recommendation to deal.
Want our latest research sent direct to your inbox?
Our expert research team provide regular updates on a wide range of funds.
---