Investments can go down as well as up so there is always a danger that you could get back less than you invest. Nothing here is personalised advice, if unsure you should seek advice.
Ariel Bezalel is cautious in his outlook for developed markets, and the US in particular
Even against an uncertain backdrop he is finding opportunities, including bonds issued by European banks and in emerging markets
Long-term performance has been excellent and we continue to believe the fund deserves a place on the Wealth 150
Our view
We often comment that some managers of strategic bond funds are not "strategic" enough. This certainly doesn't apply to Ariel Bezalel, manager of Jupiter Strategic Bond. He uses the flexibility afforded to him to good effect in search of the best returns from across global bond markets. He aims to respond rapidly to changes in the investment environment and vary the fund's exposure to different types of bond accordingly. This approach has benefited long-term investors, although past success is not guaranteed to be repeated.
The overall aim is to generate a combination of income and capital growth, with the balance between each shifting based on where the manager sees the best opportunities. He also has a range of options which allow him to try and shelter the portfolio during tougher times. With no specific income target, and a highly flexible approach, the fund could appeal to investors who seek higher returns from bond markets, but are prepared to take on more risk in return.
We continue to hold Ariel Bezalel in high regard and believe the fund deserves its place on the Wealth 150.
Fund manager's views and positioning
Since Donald Trump won the US Presidential election in November 2016 the general consensus has been that his policies will be positive for the US economy. However, it is unlikely they will all pass into law, and those that do will probably take longer than expected to have a beneficial impact. US economic growth is therefore as good as it is likely to get in the near term, according to Ariel Bezalel.
US government bonds (Treasuries) feature in the fund as they tend to be seen as a safe haven in tougher times and could perform well if investors become concerned over economic prospects. Bonds issued by the Australian and New Zealand governments are held for similar reasons, as they currently offer higher yields than the government bonds of many other developed countries.
In contrast, the manager has used derivatives to take a 'short' position on the US high-yield bond market. High-yield bonds are higher-risk because they are typically issued by lower-quality companies and they could come under pressure in a weak economy. The short position is designed to make money if the high-yield bond market falls, although the use of derivatives also adds risk.
Ariel Bezalel is more positive on higher-yielding areas of the European bond market. He has increased exposure to bonds issued by banks, with a focus on higher-risk types of bonds where there is the potential for interest payments to be cancelled if the level of capital held by the bank falls below a certain level (these are known as 'Additional Tier 1' bonds or 'contingent-convertibles'). The manager has targeted bonds issued by banks in a strong financial position and where he believes the interest payments will be maintained, including Lloyds in the UK and UBS in Switzerland.
Country in focus: Certain emerging markets currently have better prospects than many developed markets, according to Ariel Bezalel. India is one example, and the fund has investments in Indian government and corporate bonds. Reforms to reduce corruption and create a more business-friendly environment should have a beneficial effect on the economy over the long-term, although like any higher-risk emerging market there could be volatility in the short term. The manager believes the outlook for inflation is benign and there is scope for further interest rates cuts. This typically makes bonds look more attractive when compared with rates on cash deposit and their prices can rise. A little over 7% of the fund is invested in India.
Performance
The fund has performed in line with the IA £ Strategic Bond sector average over the past year. Exposure to the financial sector, particularly bonds issued by banks, was beneficial. Investments in emerging market debt, which is higher risk, also contributed positively. The fund had exposure to India, Russia and Argentina.
Longer-term performance has been exceptional, although this is not a guide to the future. We believe Ariel Bezalel has added value through an astute reading of the economic and bond market environment, plus an ability to identify bonds that have gone on to perform well. He has historically searched off the beaten track for opportunities, in areas overlooked by other investors. The fund has grown in size in recent years and this might limit his ability to invest significant amounts in niche areas in future. However, he has built a robust team around him and this remains a highly flexible fund. We remain positive on its long-term prospects.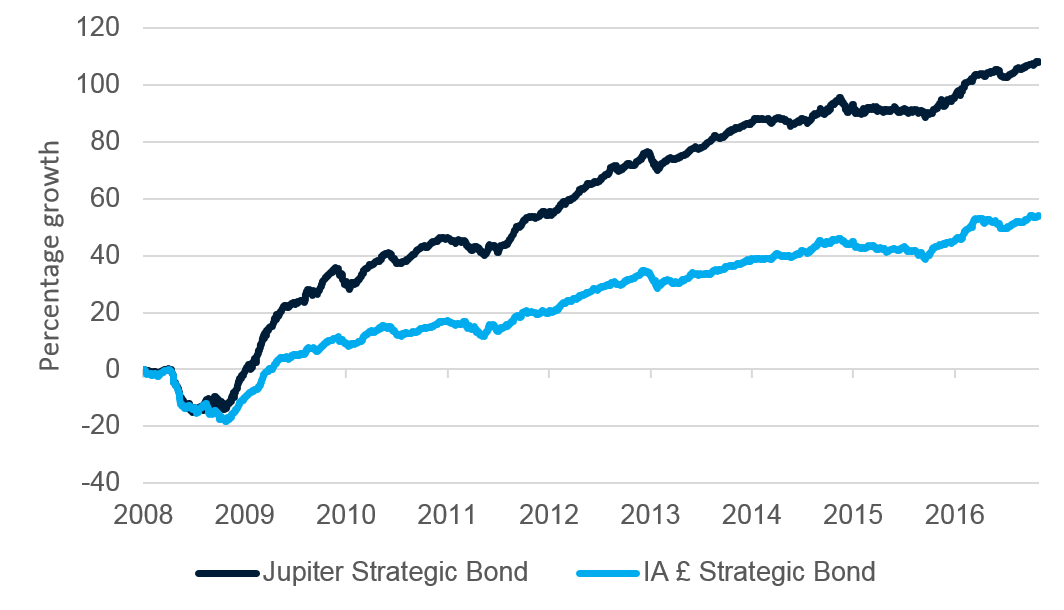 Past performance is not a guide to the future. Source: Lipper IM to 31/03/2017
Annual Percentage Growth
March 12 -
March 13
March 13 -
March 14
March 14 -
March 15
March 15 -
March 16
March 16 -
March 17
Jupiter Strategic Bond
11.6
7.3
5.3
-0.9
8.1
IA £ Strategic Bond
9.7
3.3
6.7
-1.7
7.7
Find out more about this fund including how to invest
Please read the key features/key investor information document in addition to the information above.
Important information
-
Please remember the value of investments, and any income from them, can fall as well as rise so you could get back less than you invest. This article is provided to help you make your own investment decisions, it is not advice. If you are unsure of the suitability of an investment for your circumstances please seek advice.
No news or research item is a personal recommendation to deal.
Want our latest research sent direct to your inbox?
Our expert research team provide regular updates on a wide range of funds.
---