Investments can go down as well as up so there is always a danger that you could get back less than you invest. Nothing here is personalised advice, if unsure you should seek advice.
David Ennett focuses on resilient businesses with strong cash flows
Recent additions include bonds issued by Talk Talk and McLaren Automotive
A conservative approach has held performance back a little recently
Our view
We continue to view this as a well-managed fund and we hold the fixed-interest team at Kames in high regard. In what is a higher-risk market we like the focus on finding individual companies with robust business models, recurring profits, and strong cash flow. It's a slightly more conservative approach that might mean sacrificing some gains when lower-quality bonds lead the way, but could lead to more sustainable returns over the long term. Please remember there are no guarantees and you could get back less than you invest.
This fund remains a good option for investors who specifically seek exposure to high-yield bonds, in our view. That said, yields remain around historically low levels, meaning there is little reward on offer for assuming the risk of lending to less financially secure companies. In this environment it is also increasingly difficult for fund managers to add value after considering the effect of fees and charges. The fund currently yields 3.9%; however, please remember this is variable and not a reliable indicator of future income. The fund has an ongoing charge (OCF) of 0.79%. It does not feature on the Wealth 150+ list of our favourite funds with the most competitive charges.
Performance update
The fund has delivered a marginally lower return than peers in the IA £ High Yield Bond sector over the past five years. In part this reflects a slightly more conservative approach in what has been a very strong market for even the lowest-quality companies with poor credit ratings. With interest rates so low these companies have had little trouble borrowing money and there has been plenty of demand for their bonds from income-hungry investors.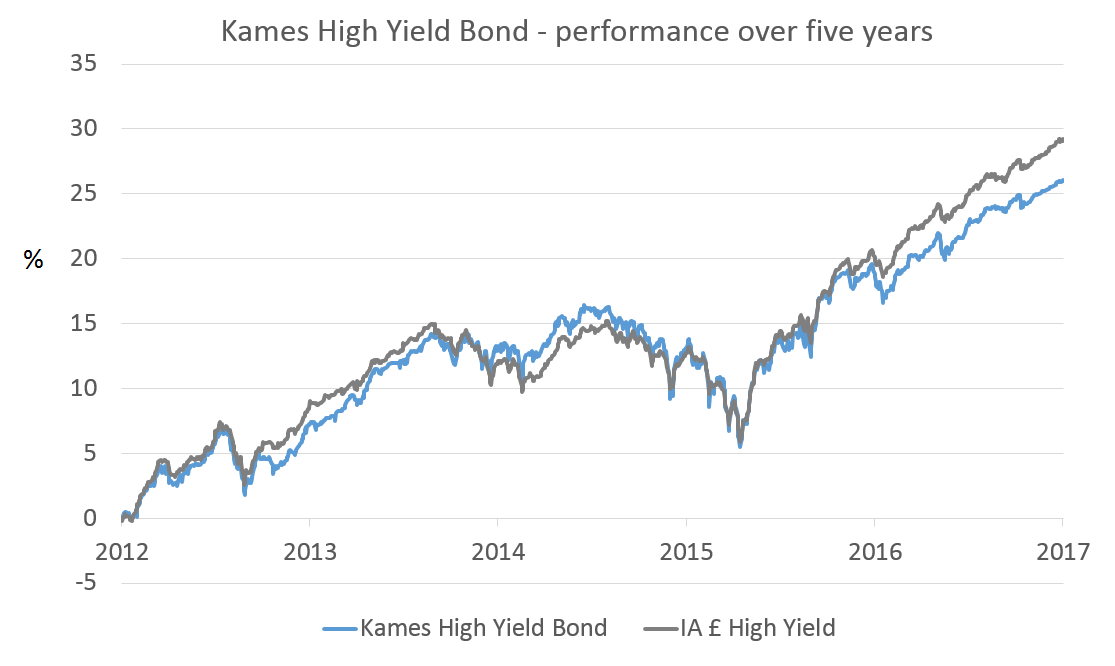 Past performance is not a guide to the future. Source: Lipper IM to 31/10/2017
Annual percentage growth
Oct 12 -
Oct 13
Oct 13 -
Oct 14
Oct 14 -
Oct 15
Oct 15 -
Oct 16
Oct 16 -
Oct 17
Kames High Yield Bond
7.3
5.4
-0.1
5.0
6.1
IA £ High Yield
9.0
2.8
0.5
6.6
7.6
While the economic outlook is benign and interest rates remain relatively low, the status quo might prevail. However, a deterioration in economic prospects, or a sharper rise in interest rates than expected, could put pressure on the ability of weaker companies to service their debts and repay bond holders. In this environment, David Ennett's focus on more resilient companies could be beneficial, although the fund could still fall in value if the prospects for the high-yield markets as a whole deteriorate.
Portfolio overview
The fund has a little over 50% invested in BB-rated bonds, the highest-quality part of the high yield bond market. A further third is invested in B-rated bonds, which are higher-risk than BB, but not as risky as CCC-rated bonds, where just 0.6% of the fund is invested. The remainder is in higher-quality investment grade bonds and cash. The fund also has the ability to use derivatives which adds risk.
David Ennett and the team recently added a new bond issue from Talk Talk to the portfolio. It is a market leader on price in the UK telephone, broadband and pay-TV market, and is putting pressure on other telecoms firms that can't offer such a comprehensive service. They are impressed with the commitment from management to reduce debt and improve cash flow, which should benefit bondholders.
During the summer the team also took the opportunity to invest in bonds issued by McLaren Automotive. They viewed the yield as attractive when compared with bonds issued by other car makers, such as Tesla; and they view McLaren as a higher-quality business with better cash flow.
Team update
In August 2017 it was announced Phil Milburn, who had previously been head of high yield at Kames and manager of this fund, had left, along with head of fixed-interest, David Roberts. The fund has since been in the hands of David Ennett, who joined Kames in September 2016, but has previous experience as a high yield bond fund manager with Standard Life Investments. Stephen Baines joined him as co-manager in August 2017.
While any change can be disruptive we view the team overall as experienced and well-resourced. There have been no changes to the team's approach and the fund is managed along similar lines under the new managers.
Please note charges can be taken from capital which can increase the yield but reduces the potential for capital growth.
Find out more about this fund including how to invest
Please read the key features/ key investor information document in addition to the information above.
Important information
-
Please remember the value of investments, and any income from them, can fall as well as rise so you could get back less than you invest. This article is provided to help you make your own investment decisions, it is not advice. If you are unsure of the suitability of an investment for your circumstances please seek advice.
No news or research item is a personal recommendation to deal.
Want our latest research sent direct to your inbox?
Our expert research team provide regular updates on a wide range of funds.
---