Investments can go down as well as up so there is always a danger that you could get back less than you invest. Nothing here is personalised advice, if unsure you should seek advice.
Giles Hargreave and Guy Feld seek investment opportunities among the UK's very smallest companies
Performance from launch in October 2013 to mid-2016 was lacklustre, but has shown recent signs of improvement
We have faith in the managers to add value for investors over the long term and the fund remains on the Wealth 150+ list of our favourite funds with low ongoing fund charges
Our view
The higher-risk nature of smaller companies means some will inevitably fail. This is why investment in this area is best served by an actively-managed fund, where a diversified and balanced portfolio remains under the watchful eye of an expert in the field. Giles Hargreave and Guy Feld, with the support of their strong and experienced team, are some of best smaller company managers in the UK, in our view.
Giles Hargreave has demonstrated enviable stock picking ability over his career and we are confident in his ability to add value for investors over the long term. The managers invest with a ten year time horizon and we would suggest an investment in the Marlborough Nano-Cap Growth Fund is considered with a similar timeframe in mind. The fund remains on the Wealth 150+ list of our favourite funds with low ongoing fund charges. The Vantage charge of up to 0.45% per annum also applies.
Fund review
Giles Hargreave and Guy Feld aim to discover the successful companies of tomorrow, today. The businesses in which they invest are therefore often in the earliest stages of development. This means they are generally overlooked by other investors, which can present them with the opportunity to invest at a price that does not reflect the company's full potential. However, it also means a company's share price could move very little while the managers wait for this potential to be more widely recognised.
This was the case with a number of investments and the fund's performance following its launch in October 2013 to mid-2016 was lacklustre. Since this time, the UK Smaller Companies market has made strong gains and a number of long standing investments in the portfolio have performed well as their potential has been begun to be recognised by other investors. As such, performance over the past year has been improved and the fund has outperformed both the benchmark and its peer group. Investments that recently contributed positively to performance include DP Poland, Keywords Studios, and Somero – all of which have been held in the fund since launch.
View further information from the fund manager on these investments here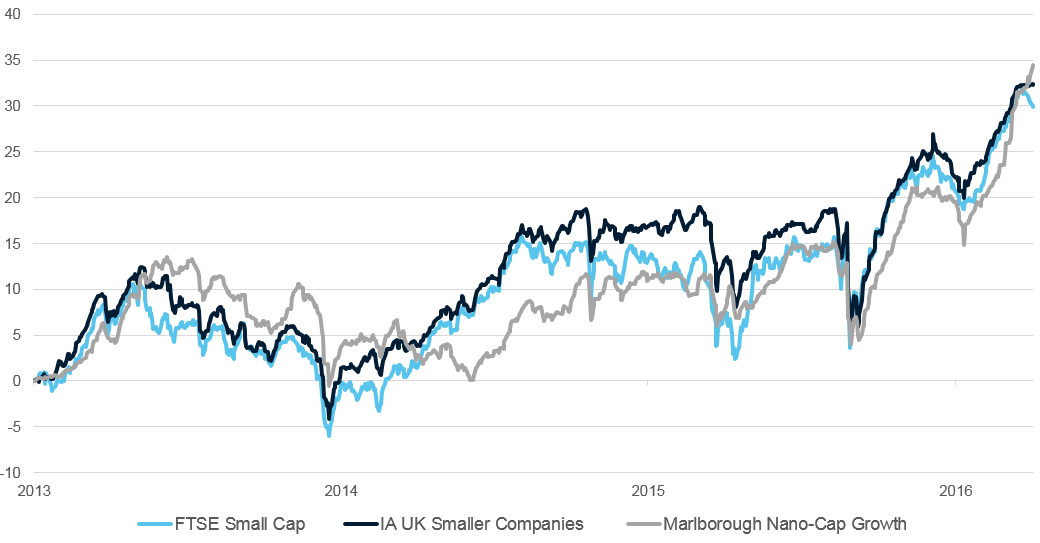 Past performance is not a guide to future returns. Source: Lipper IM to 28/02/17. Full year past performance data before the 01/08/2014 is unavailable.
Annual Percentage Growth
Feb 12 -
Feb 13
Feb 13 -
Feb 14
Feb 14 -
Feb 15
Feb 15 -
Feb 16
Feb 16 -
Feb 17
Marlborough Nano-Cap Growth
N/A
N/A
-5.18
4.32
28.81
IA UK Smaller Companies
17.82
33.02
-3.67
4.26
21.39
FTSE Small Cap
28.38
40.53
-3.38
1.57
21.19
Fund Manager Commentary
DP POLAND
DP Poland owns the master franchise for pizza delivery brand Domino's Pizza in Poland, and currently operates 36 stores across 6 Polish cities. Business was slow when they first purchased sub-franchise rights from Domino's Pizza International in 2011. However a revision to their strategy in late 2014 has worked well and early sites are now generating strong sales growth and profit. Newer stores are also performing ahead of expectations and the business recently raised £3.2m to open a further 75 sites by 2018. As the business gains momentum it accelerates the number of sub-franchisee operators on their books and we are optimistic in our outlook for the company's future.
KEYWORDS
Video games is a substantial and fast-growing market worth around $100bn – more than Hollywood. We bought Keywords Studios, which translates and culturally adapts video games for different geographical regions and genres, at its IPO in July 2013. As an international company with high profile clients such as Sony, Microsoft, Disney and Supercell, it provides the fund with exposure to this growth area without taking the risk of betting directly on individual games and franchises. The business has grown strongly over recent years and completed a string of enhancing acquisitions. We feel the company has a promising future as consolidates its position as one of the top suppliers to the industry.
SOMERO
Somero manufactures laser screed machines which ensures concrete flooring is laid absolutely flat, which is vital for the efficient operation of warehouses and distribution/ retail outlets. It is a leader in this niche market in the US and it is now expanding rapidly in a number of emerging markets. China, for example, has undertaken mass upgrades to their distribution and warehousing facilities to increase productivity and efficiency. We have a high regard for the existing management who continue to expand the Group carefully, monitoring cash flows and working capital carefully. As a result, we think that there is a good possibility that the Group will build a significant global market share over time.
Find out more about this fund including how to invest
Please read the key features/key investor information document in addition to the information above.
Important information
-
Please remember the value of investments, and any income from them, can fall as well as rise so you could get back less than you invest. This article is provided to help you make your own investment decisions, it is not advice. If you are unsure of the suitability of an investment for your circumstances please seek advice.
No news or research item is a personal recommendation to deal.
Want our latest research sent direct to your inbox?
Our expert research team provide regular updates on a wide range of funds.
---