Investments can go down as well as up so there is always a danger that you could get back less than you invest. Nothing here is personalised advice, if unsure you should seek advice.
Crispin Odey is cautious in his outlook for the US economy and expects any slowdown there to have a knock-on effect to the rest of the world
Around two thirds of the portfolio is invested in shares, with the remainder in cash, gold and bonds
Performance has been lacklustre over recent years, but we retain our faith in the manager to deliver good long-term returns
Our view
Crispin Odey is not afraid to make bold investments to reflect his views on the world. What's more, his views are often contrarian in nature. For the past few years he has held concerns over the health of the global economy and the sustainability of stock market growth. He has therefore invested the fund cautiously. Around two thirds of the portfolio is invested in shares, with a focus on companies in robust financial health and the ability to weather economic storms. The balance is in cash, gold and bonds.
Up to 40% of the portfolio has been held in cash at times and the fund has moved from the IA Global Sector to the IA Flexible Sector. This affords Crispin Odey more flexibility to take a conservative approach when he deems it appropriate, but also the option to invest 100% of the fund in shares again should his views change.
So far his cautious views have proven incorrect and the fund has lagged behind a stock market that has delivered strong returns. The manager remains steadfast in his views and the fund continues to be conservatively positioned. Returns are likely to be lacklustre moving forwards if the stock market continues to climb. However, we would expect the fund to offer an element of shelter should global equities encounter a difficult time. This fund offers a different perspective on global markets and could be considered by investors who share the manager's cautious outlook.
The results have been exceptional over the long-term although the manager's contrarian views can lead to periods of weak or lacklustre performance, as seen over the past three years. The manager has a wide investment remit and we have faith in him to utilise this flexibility to add value for investors over the long term. The fund remains on the Wealth 150 list of our favourite funds across the major sectors.
Crispin Odey's outlook and positioning
Donald Trump's protectionist policies, which could include the introduction of a 20% tax on imports, coupled with rising wages, are likely to result in higher inflation in the US. This could force the Federal Reserve to raise interest rates to keep inflation under control, in the manager's view. It is more difficult for companies to grow profits in this environment as their costs often rise faster than their ability to put up prices. This could negatively impact the US economy and as the US is seen as a barometer for economies across the world, Crispin Odey is cautious in his outlook for global equities.
To reflect his cautious outlook the manager's focus is on companies with a strong balance sheet (debt will cost more to service if interest rates rise), low wage bill (as he expects wages growth), and the ability to increase prices faster than the rate of inflation. Gold is also heavily represented in the portfolio as the yellow metal's price has tended to hold up well in an inflationary environment. Approximately 6% is invested in physical gold with a further 10% exposed to the shares of gold mining companies, which should benefit from a higher gold price.
It is not all doom and gloom though. Banks and financial companies can benefit from higher interest rates as it improves the profit margin they are able to earn on loans, for example. Donald Trump's pro-business stance is also likely to lead to reduced regulation and tax breaks, which is positive for businesses in this area, in the manager's view. Exposure to this sector has therefore recently increased to around 16% of the fund, with a focus on US financial businesses such as Bank of America, Goldman Sachs and Schwab (Charles). The manager also increased exposure to Japanese banks, such as Mitsubishi UFJ and Sumitomo, which he feels have been undervalued by other investors.
The fund is concentrated at around 45 holdings, which means each position can have a greater impact on the fund's performance, but is a higher-risk approach. The manager also has the flexibility to use derivatives, which if used, adds risk.
Performance
Since launch the fund has produced spectacular returns, rising 350.1%* compared with 197.2%* for the FTSE World Index. Past performance should not be seen as a guide to future returns. This strong performance has come about as a result of the manager's numerous successful contrarian calls: avoiding technology shares at the height of the dot com bubble; shunning banks and holding cash during the 2007/2008 financial crisis; and reinvesting in financial companies when stock markets recovered in 2009.
More recently performance has been mixed and the fund has underperformed the FTSE World Index over the past three years. This is largely due to the manager's cautious approach through a period of rising stock markets. The fund's large cash, gold and short-dated bond exposure means it has missed out on the majority of stock market gains.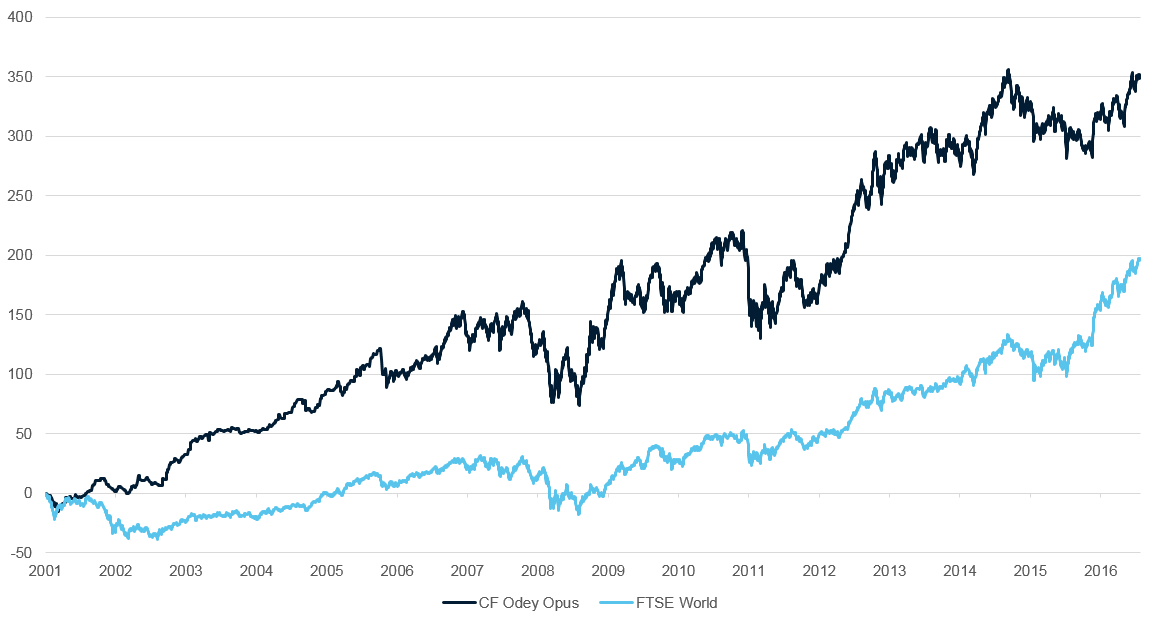 Past performance is not a guide to the future. Source: *Lipper IM to 28/02/2017
Annual Percentage Growth
Feb 12 -
Feb 13
Feb 13 -
Feb 14
Feb 14 -
Feb 15
Feb 15 -
Feb 16
Feb 16 -
Feb 17S
CF Odey Opus
21.07
16.12
6.8
-6.01
10.39
FTSE World
16.22
8.64
17.12
-1.51
37.35
Find out more about this fund including how to invest
Please read the key features/key investor information document in addition to the information above.
Important information
-
Please remember the value of investments, and any income from them, can fall as well as rise so you could get back less than you invest. This article is provided to help you make your own investment decisions, it is not advice. If you are unsure of the suitability of an investment for your circumstances please seek advice.
No news or research item is a personal recommendation to deal.
Want our latest research sent direct to your inbox?
Our expert research team provide regular updates on a wide range of funds.
---