Investments can go down as well as up so there is always a danger that you could get back less than you invest. Nothing here is personalised advice, if unsure you should seek advice.
A bias to high quality innovative companies, which are not beholden to the health of the global economy, remains
Oil & gas companies continue to be avoided by the manager, despite their recent recovery
We hold James Thomson in high regard and the fund retains its place on our Wealth 150
Our View
We rate James Thomson as a skilled and experienced stock picker and believe he has the potential to deliver attractive long-term returns. The manager tends to find the most exciting opportunities among medium-sized companies and invests considerably more in this area than his peers. He also occasionally invests in higher-risk smaller companies, although to a lesser extent.
The fund could therefore offer diversification and balance to a wider investment portfolio biased towards larger companies. The fund has tended to focus on developed markets, which means it could also sit well alongside a global fund with a bias to higher-risk emerging markets and Asia. Our analysis suggests the manager has added considerable value through his stock selection over the long term and we are happy to retain the fund on the Wealth 150 list of our favourite funds across the major sectors.
Manager's outlook
Many investors expect Donald Trump's election to the White House to result in a strong period of economic growth, given his proposed reforms to create millions of new jobs and cut taxes. An improved US economy often has far reaching effects on the health of the wider global economy. This has caused many investors to shift their focus to more economically-sensitive companies, such as banks and those in the commodity sector, which have tended to perform well during periods of stronger global economic growth.
James Thomson does not invest in these areas due to the unpredictable nature of these companies' earnings and their reliance on the health of the wider economic environment; although he has invested in a Swiss and a US bank that he believes are exceptions. The manager is also cognisant the new US President's policies will take time to come to fruition. He has therefore continued to focus on investing in quality, innovative companies capable of sustainable growth and more predictable earnings.
Performance
The fund grew 15.9%* in 2016 but lagged both its benchmark and the peer group, due to the fund's lack of exposure to stronger-performing economically-sensitive companies in the bank and commodities sectors. Please note past performance is not a guide to the future.
The share prices of mining companies have, on average, doubled in value over the course of the year, while banks soared almost 25% following the US election. Investors expect Trump's victory to result in faster interest rate rises, softer regulation and tax cuts, which is positive for the financial sector as banks are more profitable in this sort of environment.
The fund's performance was also held back by a number of stock specific issues. Norwegian Cruise Lines, for example, has suffered from reduced passenger numbers as the Zika virus put holiday makers off traveling to the Americas. Elsewhere, the share price of Primark owner AB Foods fell following the UK's vote to leave the EU over concerns sterling weakness would push up the cost of its imports. Both companies have since been sold from the portfolio.
The fund's long term performance has been exceptional and it has outperformed the IA Global sector by 200% over the manager's 13 year tenure, although this is not a guide to the future.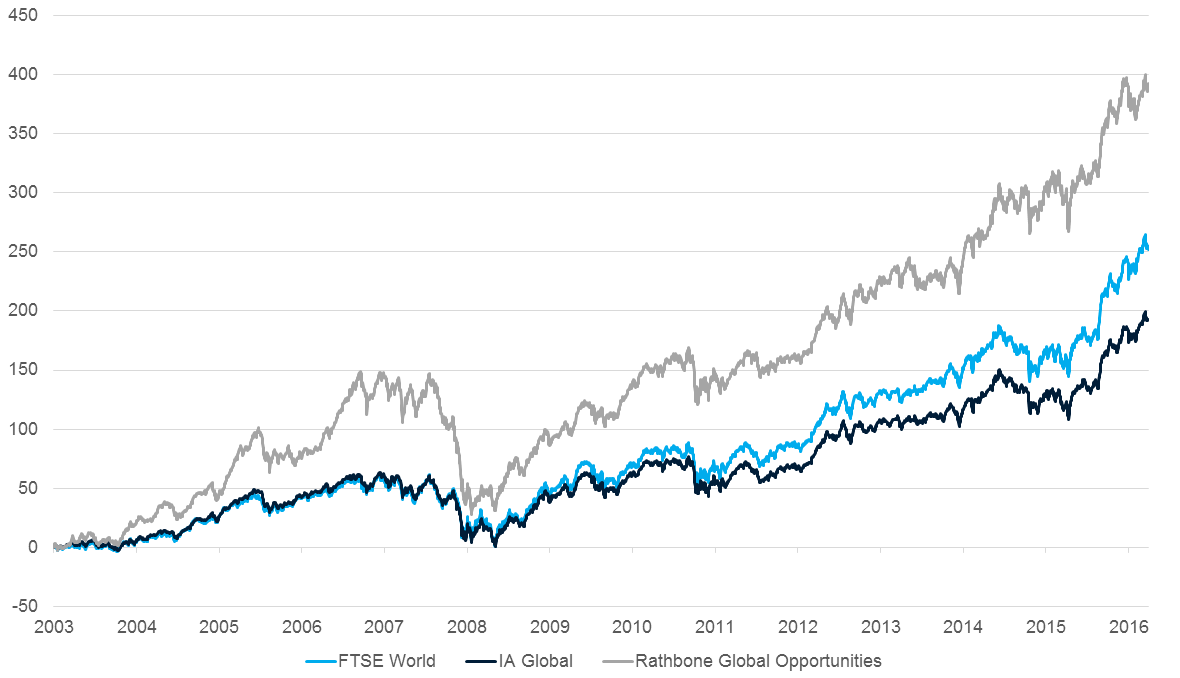 Past performance is not a guide to future returns. Source: Lipper IM * to 31/01/17
Annual Percentage Growth
Jan 12 -
Jan 13
Jan 13 -
Jan 14
Jan 14 -
Jan 15
Jan 15 -
Jan 16
Jan 16 -
Jan 17
Rathbone Global Opportunities
15.15
14.27
11.82
9
24.53
FTSE World
15.25
10.51
17.31
-0.07
33.62
IA Global
13.59
9.65
13
-3.43
32.59
Find out more about this fund including how to invest
Please read the key features/key investor information document in addition to the information above.
Important information
-
Please remember the value of investments, and any income from them, can fall as well as rise so you could get back less than you invest. This article is provided to help you make your own investment decisions, it is not advice. If you are unsure of the suitability of an investment for your circumstances please seek advice.
No news or research item is a personal recommendation to deal.
Want our latest research sent direct to your inbox?
Our expert research team provide regular updates on a wide range of funds.
---