Investments can go down as well as up so there is always a danger that you could get back less than you invest. Nothing here is personalised advice, if unsure you should seek advice.
Harry Nimmo continues to focus on good-quality companies with strong balance sheets and is currently finding plentiful opportunities in the technology sector
Profits taken from Fevertree following strong performance
Fund tends to lag a strongly rising market, but offer an element of shelter during more turbulent times
Our view
Harry Nimmo is one of the most successful investors in UK smaller companies. A focus on quality, robust businesses, with strong balance sheets and low debt, has historically stood the fund in good stead. We are confident in the manager's ability to deliver exceptional returns and the fund retains its place on the Wealth 150+ list of our favourite funds across the major sectors. The manager has the flexibility to use derivatives, which if used adds risk.
Performance
Harry Nimmo has managed this fund since its launch in 1997. Over this time, investors have been rewarded with gains of 1252.4% compared with 570.8% * for the average fund in the IA UK Smaller Companies sector. Past performance is not a guide to future returns.
The fund has tended to perform better than its peers when smaller companies have experienced a tougher time. However, it has lagged when share prices have risen strongly, as this is generally when the higher-risk companies Harry Nimmo avoids tend to perform well, although any investment in smaller companies is higher-risk.
Over the past five years, for example, share prices of smaller companies have generally risen strongly. Over this period, the fund has performed broadly in line with the peer group, capturing the majority of gains made, but not outperforming. We believe the ability to keep pace with a rising market, but not fall to the same extent during tough times can lead to attractive long-term returns, although this is not guaranteed.
Performance of the Standard Life UK Smaller Companies Fund over manager's tenure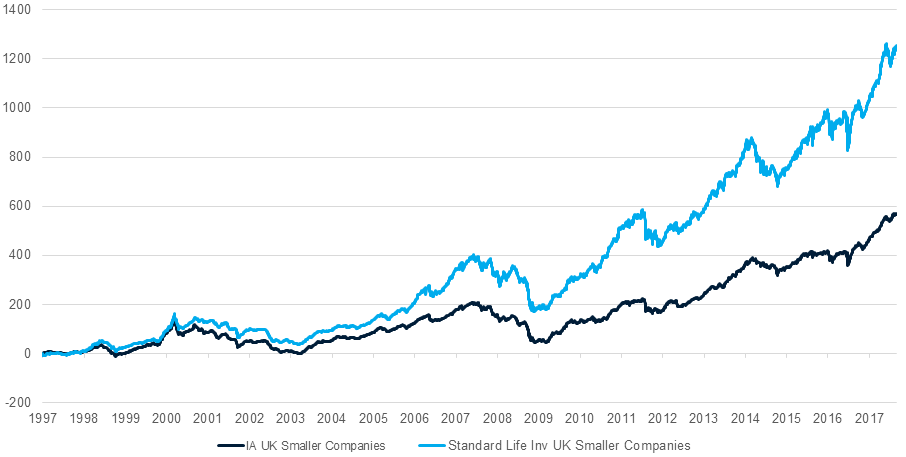 Annual Percentage Growth
Aug 12 -
Aug 13
Aug 13 -
Aug 14
Aug 14 -
Aug 15
Aug 15 -
Aug 16
Aug 16 -
Aug 17
Standard Life Inv UK Smaller Companies
32.49
4.37
15.39
9.67
23.62
IA Mixed Investment 20-60% Shares
31.69
13.01
9.01
5.84
26.31
Past performance is not a guide to future returns. Source: Lipper IM *to 31/08/17
Portfolio positioning
Although the fund is invested almost entirely in UK smaller companies, the fund's geographical exposure is more widespread. XP Power (a manufacturer of electrical power control components), for example, is listed in the UK but the company is based predominantly in Singapore, Vietnam and China. For this reason, it slides under the radar of many UK investors. However, Standard Life's proprietary screening tool, the Matrix, highlighted the company to Harry Nimmo as an investment opportunity. The company's electric motors are efficient, low-power, low-noise, and the business has positively contributed to performance over the period it has been held in the fund.
The fund has a bias to technology companies as Harry Nimmo has identified numerous investment opportunities in this area. Investments in this sector include Accesso Technology Group. This business develops queue technology for theme parks and visitor attractions, which represents a game changer for the entertainment industry, according to the manager. He believes the company has the potential to grow ahead of expectations and he values the business's predictable earnings. The manager also recently increased the fund's exposure to Alfa Financial Software. The computer services company initially started out in the UK but has expanded rapidly to become a world leader in its field. Harry Nimmo expects further expansion, and therefore greater growth potential, moving forwards.
Elsewhere, the manager recently increased exposure to Workspace, which offers a flexible work environment for entrepreneurs and smaller businesses. The company is a market leader in this expanding sector and the manager expects it to continue to grow in line with increasing demand. The company also pays a high dividend, which has risen over time.
Recent sales have focussed on trimming positions that have performed well. Fevertree, for example, has performed strongly in recent months as investors reacted favourably to its recent results. The manager continues to feel the business has a superior product, great brand and excellent management, but chose to take some profit following a 26% rise in the share price in July.
Please read the key features/key investor information document in addition to the information above.
Important information
-
Please remember the value of investments, and any income from them, can fall as well as rise so you could get back less than you invest. This article is provided to help you make your own investment decisions, it is not advice. If you are unsure of the suitability of an investment for your circumstances please seek advice.
No news or research item is a personal recommendation to deal.
Want our latest research sent direct to your inbox?
Our expert research team provide regular updates on a wide range of funds.
---