Investments can go down as well as up so there is always a danger that you could get back less than you invest. Nothing here is personalised advice, if unsure you should seek advice.
Wealth preservation has been top of the priority list at Troy Asset Management since it was established in 2000. Limiting losses in a falling market, so there is less ground to make up when they rise again, is a formula they have employed with great success; although past performance is not a guide to the future. Under Francis Brooke's careful leadership the Troy Trojan Income Fund has performed exceptionally well. This experienced and successful manager has stood at the helm since launch and aims to deliver a balance between capital growth and income over the long term. Important also is the growth of income over time.
This time last year widespread dividend cuts were expected across the UK stock market. When we recently met the manager it was interesting to note he feels the risk of falling dividends has now receded. A recovery in the oil price has been of help, as some of the UK's largest dividend payers are big oil companies (Shell and BP accounted for £1.50 in every £8 of UK dividends in 2016). Weaker sterling boosted the value of overseas earnings and enabled some companies to increase their dividends when they might otherwise have struggled.
The past year has highlighted the importance of understanding where income is coming from, in the manager's view. In the FTSE 100 Index almost half the income is generated by 10 companies. Many of these companies also feature in the Troy Trojan Income Fund. However, the manager prefers not to be overly reliant on a small number of businesses, so these 10 companies only account for around 34% of the fund's total income. The fund currently yields 3.65% (variable and not a reliable indicator of future income).
| Top 10 contributors to fund's income | Sector |
| --- | --- |
| ROYAL DUTCH SHELL | Oil & Gas |
| BP | Oil & Gas |
| LLOYDS BANKING GROUP | Financials |
| GLAXOSMITHKLINE | Healthcare |
| VODAFONE GROUP | Telecoms |
| UNILEVER PLC | Consumer goods |
| IMPERIAL BRANDS | Tobacco |
| CENTRICA | Utilities |
| ROYAL MAIL | Industrials |
| ASTRAZENECA | Healthcare |
The cash level in the fund is currently 5% as it provides Francis Brooke with the flexibility to add to holdings when an opportunity presents itself. He is currently bullish on Lloyds Bank, for example, and has used some of the fund's cash to steadily build exposure over the past few years. He feels the company has been undervalued by other investors and once the government relinquishes its stake in the business he expects the share price to rise rapidly and a dividend payment in excess of 6p per share to commence. The fund is concentrated at around 48 investments, which allows each to have a greater impact on performance, but is a higher risk approach.
Our view
Over his tenure, Francis Brooke's investment approach has not changed. He continues to seek stable or growing businesses with excellent cash flows and sustainable yields. His style was out of favour in the months following Donald Trump's election to the White House as investors flocked to more economically-sensitive options. However, the long term performance of the fund remains exceptional and Francis Brooke is one of very few managers with an unbroken record of raising the fund's dividend. It has grown by around 2% a year on average over the past decade. Please note income is variable and there are no guarantees it will be paid or rise in future. Like all funds the value can rise and fall so investors could get back less than they invest. The fund's charges are taken from capital, which can boost the income but limit the potential for capital growth. The fund retains its place on the Wealth 150 list of our favourite funds across the major sectors.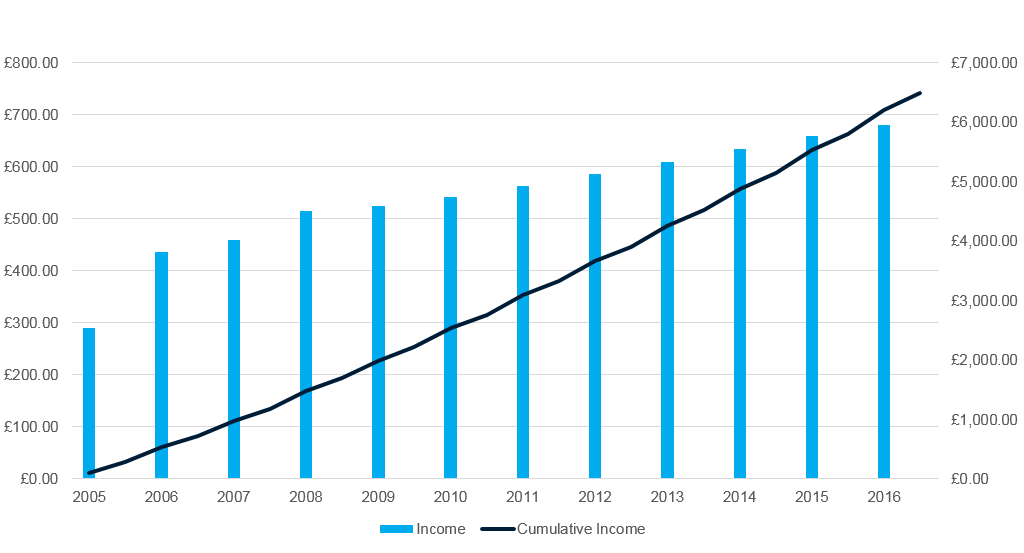 The annual income paid is not a reliable indicator of future income. Source: Hargreaves Lansdown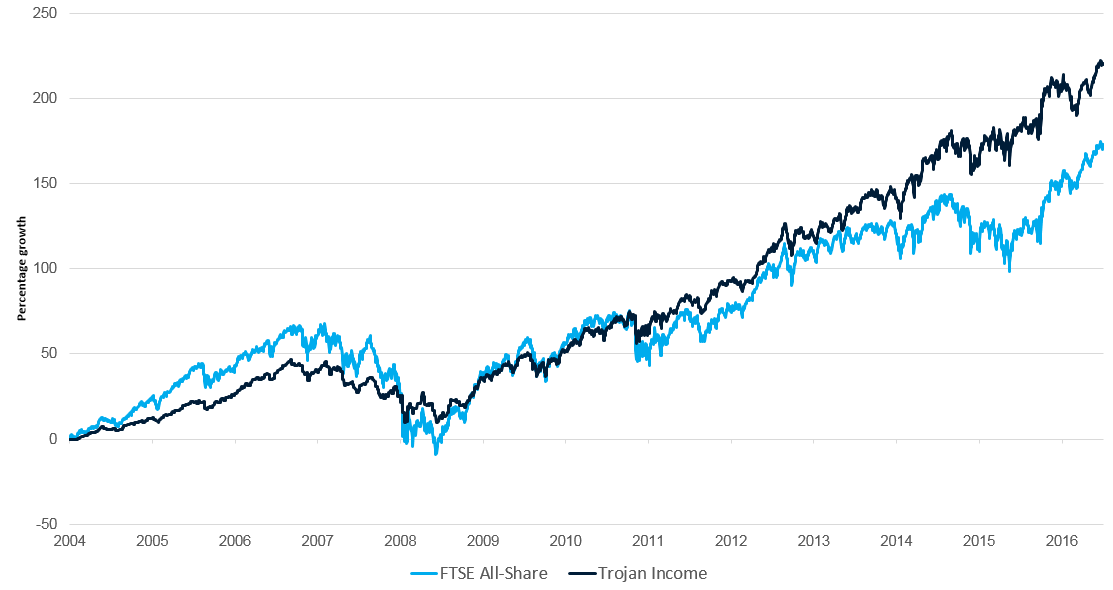 Past performance is not a guide to future returns. Source Lipper IM to 31/03/17.
Annual percentage growth
Mar 12 -
Mar 13
Mar 13 -
Mar 14
Mar 14 -
Mar 15
Mar 15 -
Mar 16
Mar 16 -
Mar 17
Troy Trojan Income
17.29
10.92
12.01
7.51
12.64
FTSE All-Share
16.77
8.8
6.57
-3.92
21.95
Past performance is not a guide to future returns. Source Lipper IM to 31/03/17.
Find out more about this fund including how to invest
Please read the key features/key investor information document in addition to the information above.
Important information
-
Please remember the value of investments, and any income from them, can fall as well as rise so you could get back less than you invest. This article is provided to help you make your own investment decisions, it is not advice. If you are unsure of the suitability of an investment for your circumstances please seek advice.
No news or research item is a personal recommendation to deal.
Want our latest research sent direct to your inbox?
Our expert research team provide regular updates on a wide range of funds.
---