How to buy and sell VCTs
How to invest in a VCT
In order to invest in a VCT you need to complete the application form found at the back of the relevant prospectus. You should always read the prospectus fully before investing. A prospectus can be obtained by telephoning our Helpdesk on 0117 900 9000 or by visiting our current VCT offers page. The completed form needs to be sent to us together with your cheque payable to the VCT (not Hargreaves Lansdown). You will then receive your share and tax certificates directly from the VCT company once the shares have been allotted. Please be aware that this often takes at least four weeks as shares are generally allotted, at most, once a month.
If you wish to transfer these shares into your Vantage Fund & Share Account, you can do so once you receive the share certificate.

How do I monitor performance?
Although VCTs are quoted on the stock market and listed under investment companies, for a variety of reasons the share price performance often does not reflect the value of the underlying investments. Looking at how the share price has or hasn't moved over the life of the VCT doesn't accurately show how a VCT has performed. VCTs are ultimately income producing assets. Dividends are paid out from the profits after realising one or more of the underlying investments. Looking at the current net asset value (NAV) and combining that with the dividends paid to date from launch will give you an indication of performance - please note that NAVs are often updated only twice a year.
How to sell VCT shares
You should not invest in a VCT with a view to selling the shares. The net asset value and share price may differ significantly. You should envisage getting your return predominantly via the tax free distributions.
If you do need to sell, you have two options open to you. The simplest and quickest way is to sell your shares via a stockbroker. Hargreaves Lansdown can provide this service. You should be aware that only one market maker may be offering to buy the shares and this could have a negative effect on the price. Alternatively the VCT company may offer to buy the shares from you. It is always worth investigating which is the most favourable option, as market conditions may dictate which is the best at the time.

Previous rule changes removed the option of deferring a capital gain into a VCT. However, many investors will have taken this option up in the past. One thing to remember when disposing of existing VCT shares is that if you deferred a capital gain, you could be liable for that gain when selling the VCT shares, meaning you may have to pay tax. In addition, don't forget if you sell your VCT in the first five years, you will have to pay your tax rebate back.
Important information
Please remember, VCTs are higher risk and should only be a consideration for those who can afford to take the risk, their value will fall as well as rise. You should hold them for the long term, but you could still get back less than you invested. Please remember, the value of tax savings will depend on your circumstances and tax rules can change over time.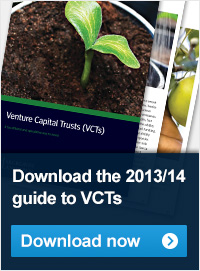 Have a question?
Call us on 0117 900 9000