Tax benefits of VCTs
It's in the government's interest to encourage investment in these fledgling firms. Some of the acorns of today will be the oak trees of tomorrow but, like acorns, a number will fail to grow and investors in these stand to lose their money.
A great way to encourage investment is to offer tax breaks. Indeed, the changes to pension tax relief and increases to Capital Gains Tax for higher earners may heighten investor interest. Generally, we believe it's important to invest for investment reasons alone, and treat the tax benefits as a bonus. However, Limited Life VCTs' primary source of return is the initial tax break, and thus you are making more of a tax decision rather than an investment decision. Please note: The tax benefits associated with investing in VCTs is subject to change and the exact value depends on your circumstances.

Up to 30% of your initial investment back
If you are a tax payer you will receive a tax rebate of up to 30% when investing in a VCT. For example, if you invest £10,000 you could either receive a cheque from the taxman for £3,000 or an adjustment in the tax you pay. Anyone can invest but note this is a tax rebate, it is restricted to the amount of income tax you pay (tax deducted at source on dividends is not eligible) and is subject to change. You can invest up to £200,000 each tax year but if you have only paid £5,000 in income tax you would only receive a £5,000 tax rebate. You must also hold onto the shares for five years to permanently keep the tax rebate. This rebate is only available when you invest in a new issue of shares in a VCT or a top-up, but it is worth noting that if you do buy VCTs on the secondary market in the same tax year these count towards the £200,000 allowance, despite the fact you don't get the income tax break.

Capital gains tax
When you eventually dispose of a VCT any gain will be exempt from capital gains tax. By buying shares in an existing VCT quoted on the stock market you become eligible for capital gains tax exemption and you do benefit from tax free dividends as they are paid. However, to obtain the 30% tax relief against income tax you must buy shares in a VCT via a new subscription. To summarise - if you buy a new issue of shares in a VCT you receive:
A 30% tax rebate (subject to your total income tax bill)
Tax free distributions and dividends
No capital gains tax on any capital profit on sale
Examples of VCT tax savings
Example A
Mr A decides to invest £200,000 in a VCT. In the 2011/2012 tax year he anticipates that he will pay £90,000 in income tax.
| | |
| --- | --- |
| Investment | £200,000 |
| Tax rebate | (£60,000) |
| Effective net cost | £140,000 |
| Tax rebate as percentage | 30% |
Example B
Mrs B decides to invest £10,000 after 6 April 2012, she earns £30,000 per year, so is a basic rate tax payer, and will pay approximately £5,000 in income tax. Please note Mrs B has a significant portfolio and this represents less than 10% in total.
| | |
| --- | --- |
| Investment | £10,000 |
| Tax rebate | (£3,000) |
| Effective net cost | £7,000 |
| Tax rebate as percentage | 30% |
Example C
Mrs C wants to invest £100,000. She earns £60,000 per year and is a higher rate tax payer. She has calculated that she will pay £16,200 in income tax in the tax year 2011/2012.
| | |
| --- | --- |
| Investment | £100,000 |
| Tax rebate | (£16,200) |
| Effective net cost | £83,800 |
| Tax rebate as percentage | 16.2% |
In the final example Mrs C has not paid enough income tax to reclaim the full 30% relief therefore she is entitled to only £16,200 which is the tax she will pay.
All tax treatments are subject to change and so can be varied. The exact value will depend on your circumstances and you have to hold your investment for at least five years to take advantage of the tax breaks. If the VCT Manager fails to meet the relevant investment rules, such as investing 70% of the fund within three years, the tax benefits could be withdrawn retrospectively.
How do I claim tax relief?
HMRC make this easy. When you complete your tax return, there is a special VCT section for completion and you will then be repaid the income tax by HMRC via your tax code, as a lump sum rebate or, if self-employed, a reduction in Schedule D tax.
Important information
Please remember, VCTs are higher risk and should only be a consideration for those who can afford to take the risk, their value will fall as well as rise. You should hold them for the long term, but you could still get back less than you invested. Please remember, the value of tax savings will depend on your circumstances and tax rules can change over time.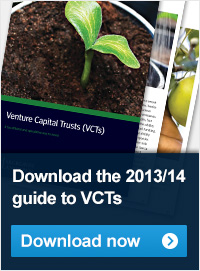 Have a question?
Call us on 0117 900 9000