Investments can go down as well as up so there is always a danger that you could get back less than you invest. Nothing here is personalised advice, if unsure you should seek advice.
The portfolio continues to concentrate on consumer, media and stock market related companies
Good stock selection continues to benefit performance
A new investment has been added to the portfolio
Our View
Nick Train and Michael Lindsell are among the most talented stock-pickers investing in the global equity space, in our view. We have conviction in their ability to identify companies well placed to succeed over the long term and our analysis suggests stock selection has played a key role in driving returns since launch.
Their high-conviction approach results in a concentrated portfolio of their best ideas, which is an approach we favour, as it means each holding can make a meaningful difference to the returns investors receive. However, it also increases the impact of a poorly-performing investment, so the approach is higher risk. The fund retains its place on the Wealth 150+ list of our favourite funds across the major sectors.
Performance and portfolio review
The managers invest in companies with strong brands and unique market positions that they feel will generate rising earnings and dividends over the coming decades. These companies are few and far between. While there are thousands of companies across the globe, they consider only a few to be truly exceptional. This means the managers make very few changes to the portfolio. Bar three exceptions, the fund's investments are unchanged since it launched in March 2011.
The portfolio largely consists of consumer-related companies, such as beverage and confectionery businesses Heineken and Kraft; internet and media companies, such as Nintendo; and stock market related businesses, such as the London Stock Exchange. A new addition to the portfolio within the latter category is an investment in Hargreaves Lansdown. The managers have made this investment to reflect their positive view of equity markets over the long term and in order to increase the portfolio's exposure to technological innovation. Please note we do not offer a view on the prospects for Hargreaves Lansdown shares.
The fund has performed exceptionally well over the past year, outperforming the FTSE World Index by 3.6% as many of the businesses in which the fund invests have performed ahead of the wider market. Nintendo, for example, recently performed well as it became clear its new game console – the Switch – is proving a success with consumers. Paypal has also positively contributed to returns as it adds more active customers than ever to its books, helped by the company's partnering with other providers that value its functionality. Remember past performance is not a guide to future returns and all investments can fall as well as rise in value, so investors could get back less than they invest.
The strong performance of the majority of the fund's investments have offset the weaker performance of a few. Pearson, for example, continued to languish; however, the managers remain confident the business will demonstrate that the decline in textbook sales will be less than the growth in its new digital offerings. Mondelez has also suffered over investor concern that new entrants to the food sector, such as Amazon, will heighten competition. The managers are less concerned as many of the products sold by Mondelez are impulse-bought snacks, and largely sold in geographies where there is less competition.
The fund has performed very well since launch, which our analysis attributes to the managers' strong stock-picking ability. Since its inception, the fund has grown 193.8% compared with 96.7%* for the average fund in the sector.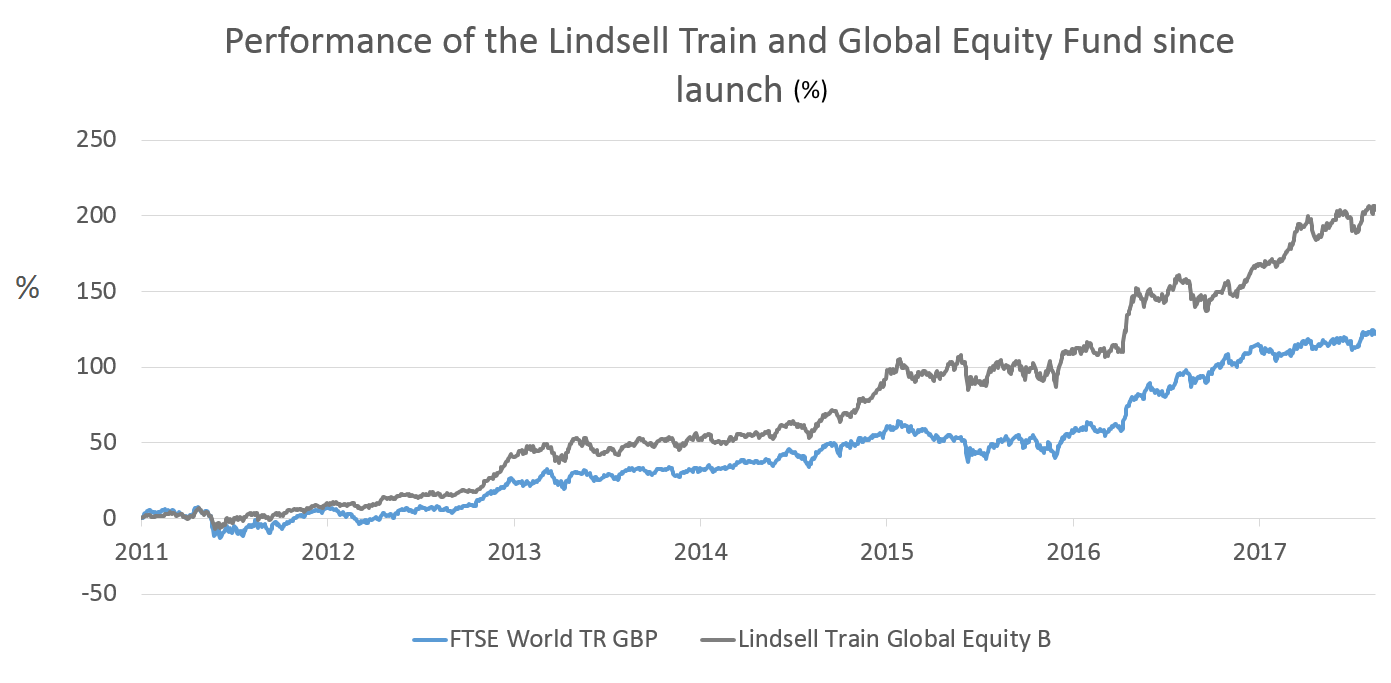 Past performance is not a guide to future returns. Source: Lipper IM *to 31/10/17
Annual percentage growth
Oct 12 -
Oct 13
Oct 13 -
Oct 14
Oct 14 -
Oct 15
Oct 15 -
Oct 16
Oct 16 -
Oct 17
Lindsell Train Global Equity
29.21%
8.45%
23.32%
26.97%
17.60%
FTSE World
25.32%
8.89%
4.63%
29.71%
13.72%
IA Global
24.21%
4.28%
6.00%
24.03%
14.01%
Find out more about this fund including how to invest
Please read the key features/key investor information document in addition to the information above.
Important information
-
Please remember the value of investments, and any income from them, can fall as well as rise so you could get back less than you invest. This article is provided to help you make your own investment decisions, it is not advice. If you are unsure of the suitability of an investment for your circumstances please seek advice.
No news or research item is a personal recommendation to deal.