Investments can go down as well as up so there is always a danger that you could get back less than you invest. Nothing here is personalised advice, if unsure you should seek advice.
Manager confident in an improved outlook for UK stock markets moving forwards
Performance has improved following a poor year
Investment in property companies has reduced
The UK has experienced more than its fair share of shocks over the past year, including the US and UK elections, ongoing Brexit uncertainty, and severe currency swings to name a few. Siddarth Chand Lall, manager of the Marlborough Multi-Cap Income, believes the outlook is brighter moving forwards. Growth in merger and acquisition activity indicates improved business confidence, in his view, and he expects currency movements to be less extreme over the coming year.
Our view
We rate Siddarth Chand Lall highly and he continues to benefit from the support of Marlborough's experienced UK Smaller Companies Team. The fund struggled during the months following last June's vote to leave the EU, however, the fund has returned to form so far this year and we expect even good active fund managers to experience short-term periods of underperformance. The manager has proven himself as a good stock picker and we continue to believe he will deliver good returns over the long term, although there are no guarantees. The fund remains on the Wealth 150+ list of our favourite funds with low charges. Please note a charge of up to 0.45% applies to hold funds on Vantage.
Performance
The fund underperformed the FTSE All Share Index in the immediate aftermath of the UK's vote to leave the European Union. The fund's focus on higher-risk small and medium-sized companies, which tend to be more economically-sensitive and domestically-focused than their larger counterparts, dragged on returns. This was the case for many funds investing in this area of the market.
Weaker stock selection also held back returns over the remainder of 2016. Investments in industrial, property and utility companies had a negative impact on performance as these areas faltered. Meanwhile a lack of exposure to more internationally-exposed commodity-related companies didn't help as these companies benefited from Brexit-induced sterling weakness. The manager tends to avoid these businesses due to a history of dividend cuts and debt issues, so the fund largely missed out on these gains.
Performance improved from January this year, and the fund has made strong gains over the first half of this year. Small and medium-sized companies have regained some of their lost ground and the fund's investments in financial companies have performed particularly well. This includes an investment in Polar Capital, where the share price has reacted favourably to a change in CEO. Past performance is not a guide to future returns.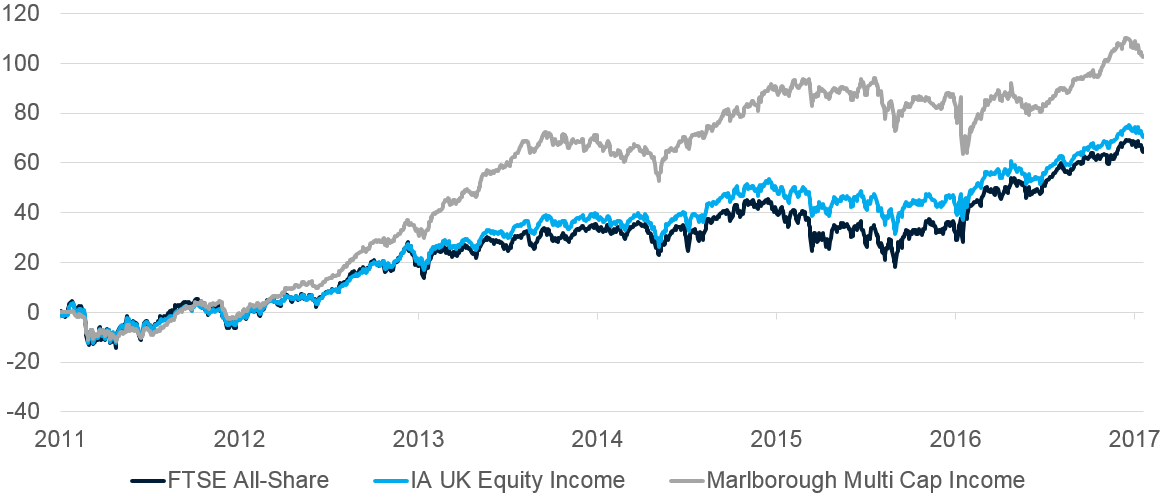 Past performance is not a guide to future returns. Source: Lipper IM to 30/06/17.
Annual Percentage Growth
Jun 12 -
Jun 13
Jun 13 -
Jun 14
Jun 14 -
Jun 15
Jun 15 -
Jun 16
Jun 16 -
Jun 17
Marlborough Multi-Cap Income
30.32
25.49
12.93
-10.29
20.29
FTSE All-Share
17.93
13.12
-2.6
2.21
18.12
IA UK Equity Income
20.75
13.79
6.46
-1.98
19.37
Past performance is not a guide to future returns. Source: Lipper IM to 30/06/17.
Income
The fund's income has grown in each year since launch. The yield is currently 4.23%, although this is variable and not a reliable indicator of future income. In addition to owning high-yielding companies, Siddarth Chand Lall also aims to hold some lower-yielding companies that he believes have strong income growth potential. This includes the purchase of a Real Estate Investment Trust (REIT) that specialises in buying land for retail use. Supermarkets typically occupy this land for long periods of time, which provides stable, inflation-linked income. The REIT typically favours plots large enough to allow the inclusion of fulfilment centres, for the online element of the supermarket, alongside the physical stores. This is an attractive proposition for a supermarket, so increases the likelihood of renewed leases, in the manager's view.
Portfolio review
Over the past six months, Siddarth Chand Lall has sold a number of companies where his conviction has reduced. Property companies, such as Berkeley Group, Galliford Try and McCarthy & Stone, were sold as he felt they were less attractive given the uncertainty surrounding Brexit. However, other property-related companies, such as Safestore, which manages self-storage facilities; and Empiric Student Property, which offers well-designed student properties in city centres and offers a good yield, have been retained.
These sales have therefore reduced the potential negative impact an interest rate rise could have on the portfolio (rising interest rates increase mortgage costs, which can hurt the sales of housebuilding companies). Meanwhile, exposure to areas that could benefit from an interest rate rise, such as utilities and banks (which earn more from lending when interest rates are higher), have been maintained or increased. The manager is positive in his outlook for Lloyds, for example, as it will shortly be in a position to resume business as usual when the PPI claim deadline is reached in 2019. Other investments, such as the Mortgage Bureau, will benefit from any change in interest rates – up or down – as its customers seek to ensure they gain the best mortgage rate available.
The fund's charges are taken from capital which increases the yield but reduces the potential for capital growth.
Find out more about this fund including how to invest
Please read the key features/key investor information document in addition to the information above.
Important information
-
Please remember the value of investments, and any income from them, can fall as well as rise so you could get back less than you invest. This article is provided to help you make your own investment decisions, it is not advice. If you are unsure of the suitability of an investment for your circumstances please seek advice.
No news or research item is a personal recommendation to deal.
Want our latest research sent direct to your inbox?
Our expert research team provide regular updates on a wide range of funds.
---