Investments can go down as well as up so there is always a danger that you could get back less than you invest. Nothing here is personalised advice, if unsure you should seek advice.
Chris Rice continues to position the fund according to where he feels Europe is in the business cycle
A lack of exposure to stocks with more stable growth, and a focus on lowly-valued and out-of-favour companies, held back recent performance
We continue to believe the fund offers something different to many of its peers
Our view
Chris Rice, manager of the TM Sanditon European Fund, uses a business cycle approach to investing. By forming a view of the wider economic environment, he aims to identify when the next stage of the business cycle will arrive and the types of companies that will prosper.
This approach often relies on the manager identifying trends ahead of his peers. He is occasionally early in making these calls and, until these views come to fruition, the fund's performance can sometimes look pedestrian against its benchmark – this has been the case over the past year.
Over the longer term Chris Rice has built a strong track record. He has typically been good at anticipating periods of economic or market weakness, and investing accordingly. Our analysis suggests his funds have tended to provide an element of shelter during periods of market volatility, but perform in line with a rising market. Please remember past performance is not a guide to future returns.
The fund is currently biased towards lowly-valued and out-of-favour areas of the market. We therefore feel the fund offers something different to its peers and could provide diversification to a wider portfolio invested in Europe. A small portion of the fund has also tended to be invested in smaller companies, although it should be remembered they are higher risk.
The fund currently features on the Wealth 150+ list of our favourite funds at the lowest ongoing fund charge. The Vantage fee of up to 0.45% p.a. also applies.
Is there any value left in the market?
Chris Rice believes there are few areas of value left across global stock markets and we recently met the manager to find out more about his views.
In response to the damage caused by the 2008 global financial crisis, governments and central banks across the globe undertook huge quantitative easing (QE) programmes and slashed interest rates to record lows. Huge sums of money subsequently entered the financial system, due to the large swathes of QE and from income-hungry investors dissatisfied with cash deposit accounts. This has led to rising share prices and investors have largely favoured so-called "growth" stocks, which typically demonstrate earnings stability and relatively low levels of volatility.
Chris Rice believes we are currently in the slowdown phase of the business cycle and in this environment he typically favours growth businesses. However, the extension of QE and subdued interest rates means many of these companies have continued to perform well and has led to higher valuations. He has therefore maintained lower exposure to this type of company, which means the fund has missed out on some of the gains made.
Instead the manager has focused on the shares of companies he believes offer greater value, including those in the telecoms, pharmaceuticals, utilities and retailing sectors. Yet many have remained out of favour with other investors and languished behind their more sought-after growth rivals. In weaker market conditions, Chris Rice believes these companies are more likely to provide some resilience, given their lower valuations have limited scope to fall much further from current levels.
The manager's cautious outlook means he has also maintained a relatively high cash weighting, which is currently around 5%, although it has been as high as 10%. This has also dragged on returns in an environment of rapidly-rising share prices.
What will be the catalyst for value stocks to outperform growth?
Chris Rice is not the only fund manager to be caught out by unpredictable central bank policy. Those adopting the growth style of investing have tended to perform better in recent years, yet this means there is significant value waiting to be unlocked in some of the more overlooked areas of the market.
According to Chris Rice, growth stocks will begin to lose their shine once central banks start to withdraw QE and increase interest rates. At this point he believes the perceived stability and regular dividends these companies offer will appear less attractive. Instead he expects investors will favour some of the unloved and undervalued areas of the market that the fund has focused on. We would expect the fund to perform well in this environment, although there are no guarantees.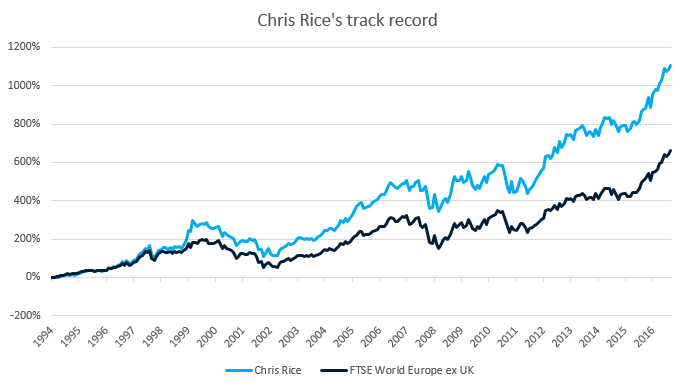 Past performance is not a guide to future returns. Source: Lipper IM to 31/08/17
Annual Percentage Growth
Aug 12 -
Aug 13
Aug 13 -
Aug 14
Aug 14 -
Aug 15
Aug 15 -
Aug 16
Aug 16 -
Aug 17
TM Sanditon European
n/a
n/a
n/a
10.5
23.2
FTSE World Europe ex UK
26.3
10.4
1.3
15.4
26.0
Past performance is not a guide to future returns. Source: Lipper IM to 31/08/17
Full year past performance data prior to August 2015 is not available.
Find out more about this fund including how to invest
Please read the key features/key investor information document in addition to the information above.
Important information
-
Please remember the value of investments, and any income from them, can fall as well as rise so you could get back less than you invest. This article is provided to help you make your own investment decisions, it is not advice. If you are unsure of the suitability of an investment for your circumstances please seek advice.
No news or research item is a personal recommendation to deal.
Want our latest research sent direct to your inbox?
Our expert research team provide regular updates on a wide range of funds.
---