Mortgage repayment in your 50s unlocks the door to supercharging retirement
Average monthly mortgage repayment is £633
58% of those who have paid off their mortgage did so in their 50s
Research carried out by Hargreaves Lansdown, shows the impact re-directing your mortgage re-payments to your pension when you become mortgage free can make to your retirement plans. The research uses survey data collected by Censuswide in October 2017 around current mortgage patterns from a sample of 1,000 people aged 55-65.
Average monthly mortgage repayment is £633
31% of 55-65 year olds who have had a mortgage are still paying it off
Re-directing these contributions to your pension when the mortgage is repaid at age 50 gives you £218,548 more in your pension pot by age 65
Doing the same at age 55 gives a pension boost of £125,676
Flexibility retained
Nathan Long, Senior Pension Analyst at Hargreaves Lansdown:
'To spend or to squirrel, that is the question facing those on the cusp of repaying their mortgage. There are a million and one fun ways you could spend the amount you were paying on the mortgage when it is finally repaid. Re-directing the monthly payments to your pension may not seem fun but can supercharge your retirement by scooping up valuable tax relief.
Most people repay their mortgage in their 50s, reinforcing the decade between age 50 and 60 as the most important for pension planning. Decisions made here can still have a big impact to your pension, keeping you firmly in control of your passage from work to retirement.
It is important that saving for retirement is made clear early enough to make a difference but when it still relevant. Employers have a key part to play in flagging these issues nice and early in the workplace, as does the Government who are rumoured to be supportive of plans for people to receive a mid-life financial MOT.'
How re-directing contributions pays off
With £633 per month saved on average when the glorious day of mortgage freedom arrives, the temptation may be to go on a spending splurge. However, a switch of focus to supercharging your pension can be hugely beneficial as a last chance to scoop up valuable tax relief on the run in to retirement.
The below table shows the impact for a basic rate tax payer of paying £633 per month into a pension starting at age 50, 55 and 65. The figures account for investment returns of 6% and charges of 0.5% every year.
| Start saving | Net Cost | Tax Relief | Growth | Total Pot at 65 |
| --- | --- | --- | --- | --- |
| Age 50 | £113,940 | £28,485 | £76,122 | £218,548 |
| Age 55 | £75,960 | £18,990 | £30,726 | £125,676 |
| Age 60 | £37,980 | £9,495 | £7,043 | £54,519 |
It could be even more.
If you are employed, upping your own contributions may attract additional pension contributions from your employer meaning more money getting put aside for retirement.
Higher rate and additional tax payers can benefit from additional tax relief through their tax return.
Whilst the extra pension pot you can amass if you switch contributions at 50 may well put you in a position to purchase a dream sports car, even starting at 60 gives you enough to cover the average amount spent by UK households in eating out every week. This is because a pension pot of £54,519 will buy an annual annuity income of £2,924 (single life, level payments). After tax, this is enough to cover the £42.50 weekly cost of eating out for the average household according to ONS.
When people pay off their mortgage
Of those who have paid off their mortgage, 85% did so in their 50s. There is undoubtedly a risk that this starts to creep later and later as people are delayed getting their foot on the housing ladder, but for the current generation approaching retirement, there is a very real possibility that they will have wriggled free of their mortgage responsibilities in their 50s.
The chart below shows the pattern of when mortgages were repaid based on the responses to the survey.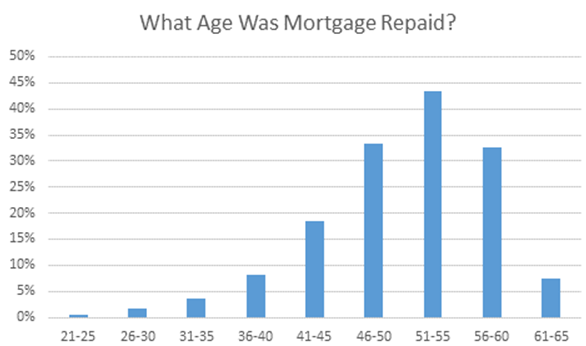 There is a tendency to assume that a huge group will opt to take a lump sum from their pension to re-pay their mortgage, however the research found only 6.9% plan on taking this course of action.
The people with mortgage outstanding
Almost a third (31%) of 55-65 year olds who have ever had a mortgage are still paying it off.
A couple of trends appeared amongst the group still repaying:
Those people who have been in their current home for only 1-2 years are most likely to be mortgage free, as opposed to those with a tenure of 10-19 years who are most likely to still have mortgage outstanding. This shows downsizing really helps when shoring up your finances on the run in to retirement. The reality is few people end up doing this as it becomes a hugely emotional decision. For many people leaving the area they have lived in, their friends, the home they have built memories in and losing a base for the grandchildren to come and visit makes the idea of downsizing excruciating when push comes to shove.
People who are single or divorced are more likely to have paid off their mortgage, presumably because they have a need for smaller homes.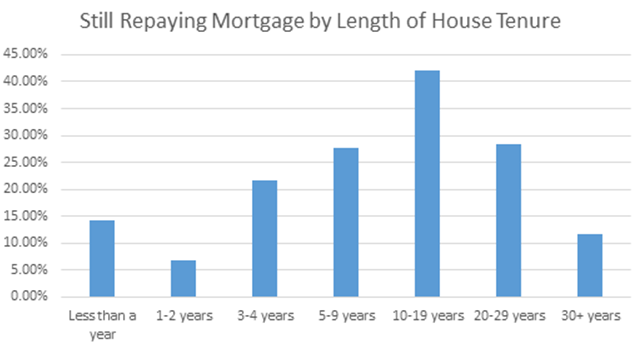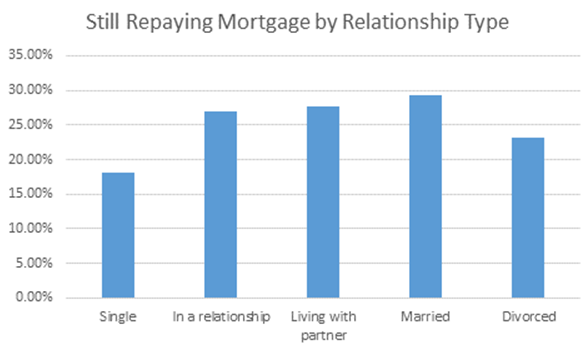 Flexibility retained
Supercharging your pension in your 50s will not benefit you as much as taking the same approach in your 20s or 30s. However in your younger years locking your money away for such a long time can often be gut wrenching, especially when your earnings are often lower and you have more immediate priorities. The same is not true in your 50s. With access to pensions currently available from age 55 those looking to store money away have the ability to access the money in the near term should their circumstances change.
What's more, the current pension tax system rewards those who make their contributions whilst they are higher and additional rate taxpayers – much more likely in your 50s than your 20s or 30s.