Sterling Outlook 2017: FREE Report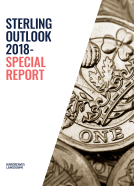 Get your FREE Sterling Outlook 2017 now - simply enter your details below
Find out what leading experts think will happen to sterling and other major currencies in 2017.
Hargreaves Lansdown PLC group companies will usually send you further information by post and/or email about our products and services. If you would prefer not to receive this, please do let us know. Your personal data will remain confidential, and will never be passed to any other company, unless required by law.
Discover what some of the UK's leading economists, fund managers and analysts forecast for the pound, euro and dollar in 2017.
If you're sending money abroad in 2017, the exchange rate you receive will have a huge effect on how much it costs you.
This new special report reveals:
Outlook for sterling post-Brexit
Why sterling could be set to struggle again against the dollar
Which factors could influence currency markets next year
10 key events for the pound in 2016
The contents of the report should only be used for reference and do not constitute personal advice to buy or sell any of the currencies mentioned.
The Hargreaves Lansdown Currency Service is a trading name of Hargreaves Lansdown Asset Management Ltd which is authorised by the Financial Conduct Authority (FCA) as a Payment Institution under the Payment Services Regulations 2009. The Firm Reference number is 115248. You can look this up on the
FCA register website
. The marketing of the service is not regulated by the FCA.

Verified by VeriSign
VeriSign has verified the rightful owner and operator of this web page. The seal verification also shows that this page has passed a daily malware scan.