Sterling Outlook 2018: special report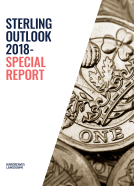 Download your free report – simply enter your details below.
See how experts see the pound performing in 2018.
This guide is not personalised advice.
Discover what some of the UK's leading economists, fund managers and analysts think of the pound's prospects in 2018
Including:
The main drivers behind sterling's performance in 2017
Where experts see exchange rates moving in 2018 and reasons why
Key events that could affect the value of sterling
Plus:
How you could make substantial savings when sending money abroad
The content of the report should only be used for reference and do not constitute personal advice to buy or sell any of the currencies mentioned.
The Hargreaves Lansdown Currency Service is a trading name of Hargreaves Lansdown Asset Management Limited, which is a wholly owned subsidiary of Hargreaves Lansdown Plc, One College Square South, Anchor Road, Bristol, BS1 5HL. Company Registered in England & Wales No. 1896481. It is authorised by the Financial Conduct Authority (FCA) as a Payment Institution under the Payment Services Regulations 2009. The Firm Reference number is 115248. You can look this up on the
FCA register website
. The marketing of the service is not regulated by the FCA.