Currency market orders: claim your free factsheet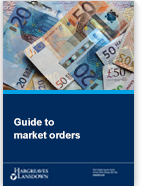 Download your free factsheet - simply enter your details below
This factsheet contains essential information about the benefits of using market orders, so you don't miss out on the rate you want.This guide is not personalised advice.
This guide is not personalised advice.
Hargreaves Lansdown PLC group companies will usually send you further information by post and/or email about our products and services. If you would prefer not to receive this, please do let us know. Your personal data will remain confidential, and will never be passed to any other company, unless required by law.
Don't miss out on the rate you want
If you have a specific exchange rate in mind for your currency transfer, it can be difficult to keep a watchful eye on the market.
This essential factsheet reveals:
What a market order is
How a market order works
When a market order might be useful
An example of a market order in practice
Advantages and disadvantages of market orders
This guide is not personalised advice.
The Hargreaves Lansdown Currency Service is a trading name of Hargreaves Lansdown Asset Management Limited, which is a wholly owned subsidiary of Hargreaves Lansdown Plc, One College Square South, Anchor Road, Bristol, BS1 5HL. Company Registered in England & Wales No. 1896481. It is authorised by the Financial Conduct Authority (FCA) as a Payment Institution under the Payment Services Regulations 2009. The Firm Reference number is 115248. You can look this up on the
FCA register website
. The marketing of the service is not regulated by the FCA.