Investments can go down as well as up so there is always a danger that you could get back less than you invest. Nothing here is personalised advice, if unsure you should seek advice.
Ross Teverson adopts a high-conviction, unconstrained investment approach
A bias to smaller companies held back performance over the past year
We would like to see the manager build a longer track record
Our view
We like Ross Teverson's high-conviction and unconstrained investment approach. He invests in a concentrated number of companies in his Jupiter China Fund, which is biased towards small and medium-sized companies. We believe this offers opportunity to identify areas of value missed by other investors and differentiates the fund from its peers focused on larger companies. That said, the fund's focus on a single emerging country; a small number of investments; and small and medium-sized companies increases risk and the potential for volatility.
Ross Teverson joined as Jupiter's Head of Global Emerging Markets in 2014 and assumed responsibility for this fund in January 2015. While he has prior experience managing portfolios of emerging markets shares, we would like to see him build a longer track record at Jupiter and in running a portfolio focused on a single country. The fund does not currently feature on the Wealth 150 list of our favourite funds across the major sectors, although we will continue to monitor performance and inform investors if our views change.
Fund update
Economic data continues to improve in China. There has been a recent pickup in economic activity and China's manufacturing PMI (an indicator of the economic health of the manufacturing sector) recently reached its highest level for the first time in almost five years.
That said, economic developments are far less important to Ross Teverson than the long-term investment opportunities in the Chinese stock market. He focuses on businesses he believes have been underappreciated by other investors and masked by wider economic and political issues, but are undergoing positive change that is yet to be reflected in the share price.
Under Ross Teverson's management the fund has grown 20.6%, although it has underperformed the 26.1% delivered by the broader Chinese market. Over the past year, the shares of smaller companies have grown in value but lagged their larger counterparts. This dragged on the fund's performance given its bias to the smaller end of the market. Please remember past performance is not a guide to future returns.
Annual Percentage Growth
Apr 12 -
Apr 13
Apr 13 -
Apr 14
Apr 14 -
Apr 15
Apr 15 -
Apr 16
Apr 16 -
Apr 17
Jupiter China
13.0
-1.4
47.4
-21.9
27.5
FTSE China
9.5
-10.0
66.9
-26.7
37.6
Past performance is not a guide to the future. Source: Lipper IM to 30/04/2017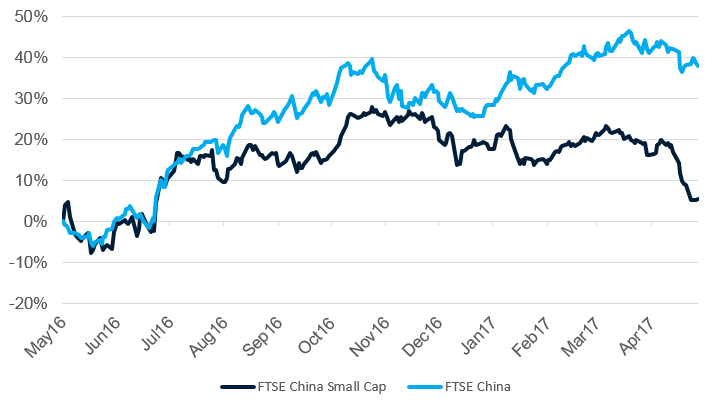 The fund has also faced some stock-specific issues. An investment in Boer Power, which manufactures electrical equipment and offers solutions to improve energy efficiency, detracted from performance. According to the manager, the company has historically delivered consistent earnings growth and could benefit as businesses and other centres, such as hospitals, seek to become more energy efficient. However, its share price suffered due to a change in accounting and business practice, which impacted investor confidence. The manager has lost confidence in the business and sold the stock from the portfolio.
More recently the fund has benefited from a number of technology-related investments, including Hangzhou Hikvision, which provides video and audio surveillance. The company has delivered good earnings growth and continued to see strong demand for its products both domestically and overseas.
Netease, an online service provider, has also recently been supported by strength in its mobile games division. The company is in a unique position, in the manager's view, as it is benefiting from both industry change, as mobile phones help broaden the appeal of games, and company-specific change, including a strengthening ecommerce business; a strong games pipeline; and opportunity to expansion overseas.
Find out more about this fund including how to invest
Please read the key features/key investor information document in addition to the information above.
Important information
-
Please remember the value of investments, and any income from them, can fall as well as rise so you could get back less than you invest. This article is provided to help you make your own investment decisions, it is not advice. If you are unsure of the suitability of an investment for your circumstances please seek advice.
No news or research item is a personal recommendation to deal.
Want our latest research sent direct to your inbox?
Our expert research team provide regular updates on a wide range of funds.
---