Fund prices & research
Search funds

The list of what we believe are the best funds in each sector.
For more guidance, Wealth 150+ funds offer what we consider the ultimate combination of first-class management and low charges.

This corporate bond fund's cautious approach could help provide some stability and a regular income to many bond portfolios.
Ready-made fund portfolios
Choose from five ready-made portfolios for investors with different atitudes to risk.
Invest in an actively managed portfolio of funds with a single investment.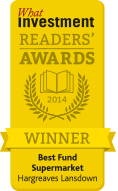 Why invest with Hargreaves Lansdown?
Award-winning fund dealing service
Wide investment choice of more than 2,500 funds
Free fund dealing
Expert fund research
Invest from £100 or just £25 per month