Fund prices & research
Search funds


The list of what we believe are the best funds across the major sectors.
For more guidance, Wealth 150+ funds offer what we consider the ultimate combination of first-class management and low charges.

In the view of Nick Train and Michael Lindsell, managers of the Lindsell Train Global Equity Fund, there are many good companies in the world, but very few great ones.
Ready-made fund portfolios
Choose from five ready-made portfolios for investors with different attitudes to risk.
Invest in an actively managed portfolio of funds with a single investment.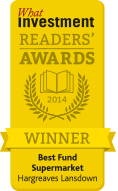 Why invest with Hargreaves Lansdown?
Award-winning fund dealing service
Wide investment choice of more than 2,500 funds
Free fund dealing
Expert fund research
Invest from £100 or just £25 per month