Portfolio Management Service
If you're not able to give your portfolio the attention it deserves, we have a solution: The Portfolio Management Service.
Let us do the work for you

Our experienced investment managers work closely with our research analysts to continually find the best fund managers for our portfolios. The portfolios are constantly reviewed by the manager and rebalanced to maintain the investment objectives. Where necessary, changes are made to the portfolios by the investment manager.

Peace of mind

There is always an expert looking after your money, starting with Hargreaves Lansdown Financial Advisers. They will listen and recommend the most suitable portfolio for you and continue to review its suitability for your financial needs.

Here for the future


Hargreaves Lansdown offers a personal level of service and has the strength to still be here in the years to come. We will regularly send you newsletters and updates on your account and the market in general. You can also obtain current valuations and information online whenever suits you. It's easy to contact us should you have any queries or concerns. The Portfolio Management Service is backed by a superb administration team should you require further information.

This service has been designed for investors lacking the time, inclination or expertise to manage their portfolios. Find out more about how the Portfolio Management Service works.
Mr Hussey, County Down


The Portfolio Management Service is informative, its people are efficient, very professional when spoken to and our local adviser Nigel is very professional/competent too. Most of all it's making money!
The Portfolio Management Service was designed with you in mind.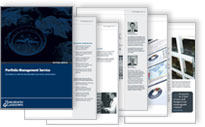 Any questions?
Please call our advisory helpdesk

0117 317 1690
Mon-Fri 8.30am - 6pm