Top

How To Invest In The Stock Market
A plain-English introduction to investing in stocks and shares
Stocks and shares for beginners
For newcomers to investing, the world of shares and the buzz of the stock market, can all seem a bit daunting.
But the stock market has the potential to offer a real return on your investment, rarely seen with cash savings. Unlike cash investments, however, shares can fall as well as rise in value so investors could make a loss.
Our simple guide to investing in the stock market is designed to help first-time investors get started share dealing – and feel confident in their investment decisions.
This guide will help you to...
Understand the basics
Find out why share prices move
Why buy shares?
Get started dealing shares
Explore your simple guide to investing in the stock market
Helping you understand the basics of share dealing
---

1. What is a share?
What is a share?
You may also hear the terms 'stocks' or 'equities', though here in the UK, 'shares' is the most common term.

A share represents part-ownership of a company. When you own a share in a Public Limited Company (PLC), you literally have a 'share' of the business. A share is a portion of a company that an investor can buy. Shares have monetary value, which means that they can be bought and sold.
When you buy a share in a company, you become a shareholder. It used to be the case that you were given a certificate as physical proof of ownership of any shares. That isn't necessary anymore, and shares can be held electronically. Our service allows you to view and manage your account online in a manner not dissimilar to internet banking.
Being a shareholder gives you certain rights and benefits; for example the right to vote on company matters at the Annual General Meeting and the potential benefit of receiving dividend payments.
A dividend is a payment by the company to shareholders, and usually represents a share of the profits. Companies do not have to pay a dividend, although many do. Successful companies can raise their dividend payments over time, as profits increase. There are no guarantees though, and always remember that both dividends and the value of shares can fall as well as rise.
---

2. What is the stock market?
What is the stock market?
As the name suggests, the stock market is a marketplace for the trading of stocks or shares.

There are many stock markets around the world, and the UK's main exchange is The London Stock Exchange (LSE).
You might conjure up an image of lots of people shouting at each other and waving pieces of paper on a packed trading floor, but today the stock market is far more sedate, as many processes are now automated.
Market Indices
To form a market index, company shares are grouped together, and their value is combined as a weighted average (the bigger the company the larger its effect on the value of the index) resulting in a figure. Generally, companies of similar size and value are grouped together.
Often you hear the market being up or down. This relates to stock market indices rising and falling.
The main indices are:
FTSE 100

An index of the 100 biggest companies in the UK. Many of these companies are multi-national and have international interests.

FTSE 250

An index representing the next 250 largest UK companies. Since these companies are smaller than those in the FTSE 100, this index usually better reflects the fortunes of the UK's economy.

FTSE All-Share

An index of shares listed on the LSE's main market. It includes all shares in the FTSE 100, FTSE 250 and FTSE Small-Cap indices.
Dependent on what industry or company size an index represents, a market index value gives a good indication of movement within markets. Thus, it is a particularly useful tool for investors and economists alike to describe the market, and to compare the value of similar shares or their own particular investments against.
---

3. Why buy shares?
Why buy shares?
The simple answer is to make money. There are two ways this can happen.

1. Share price appreciation
If the value of the share itself rises, you might be able to sell the shares for a profit. Alternatively, you can keep holding the shares, and if the company continues to be successful the value of your shares could rise.
2. Dividends
If a company you hold shares in pays dividends, you'll receive dividend payments. If a company is successful and manages to grow profits over time, the amount it pays out as a dividend can increase.
Investing in dividend paying companies can in fact be deceptively simple and surprisingly powerful.
Find out more about the power of dividends
Since there is no obligation for companies to pay a dividend at all, you should always remember that dividends can go down as well as up, and there is no guarantee a company will increase its dividend, even if it is doing well.
Similarly, even if a company is successful, and is growing profits each year, its share price could still go down as well as up. It is therefore important to stress that investing in shares carries risk – you might get back less than you invest.
Performance of shares and cash over the past 30 years
A glance at the graph below, which shows the total value of all the shares on the London Stock Exchange's Main Market over the 30 years from October 1987 to October 2017, shows how much shares have gone up and down in the past.
Source: Lipper
Past performance is not a guide to future returns
Further, the graph shows that over the long term investing in shares has produced a much better return for investors than saving cash in an instant access savings account. Please remember, however, that cash accounts will of course offer a greater level of security, and that past performance is not a guide to future returns.
Data from the Barclays Equity Gilt Study 2016 shows that in each rolling 10 year period from 1905 - 2015, shares have generated higher returns than cash savings. History also tells us that the longer an investment in shares is held for, the better chance it has of beating the return offered by a normal savings account. This is why we always recommend taking a long-term view when investing in shares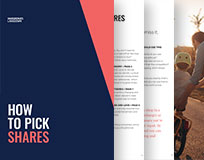 New to selecting shares?
Discover six common sense methods to picking shares.

Claim your guide
---

4. Share prices explained
Share prices explained
So why do share prices go up and down? The price of a share is determined by supply and demand.

Demand for a share is essentially the number of people who would like to buy, and supply is the number who want to sell. This will depend on what investors think about the future prospects of the company. Are things set to improve or get worse?
If the outlook is improving, more people might want to buy the shares and the share price might increase. However if a company's prospects are less rosy, people might look to sell shares, causing the price to fall.
What makes share prices move?
Factors that can affect the demand for a share include, but are by no means limited to:
The national or global economy.

For example, an increase in consumer confidence can lead to extra spending, raising the prospects for future profitability.

Sector specific events.

A mining company, for example, is open to changes in the price of the commodity it mines.

Competition.

If the company is doing better or worse than its competitors, this can serve to support or depress the share price. For instance, if Sainsbury's is struggling, this could mean shoppers are going elsewhere, so Tesco could be in line to benefit.

Company-specific factors.

These could include management, strategy changes or speculation.
This means it is important to keep up to date with current news on the companies whose shares you own. To help, Hargreaves Lansdown offer research and comment on around 100 of the most widely-held shares in the UK.
The Hargreaves Lansdown website includes a factsheet for every share that you can buy and sell with us. At the top, you will see the 'buy' and 'sell' prices, quoted in pence (if it is a UK company). It will look something like the below example: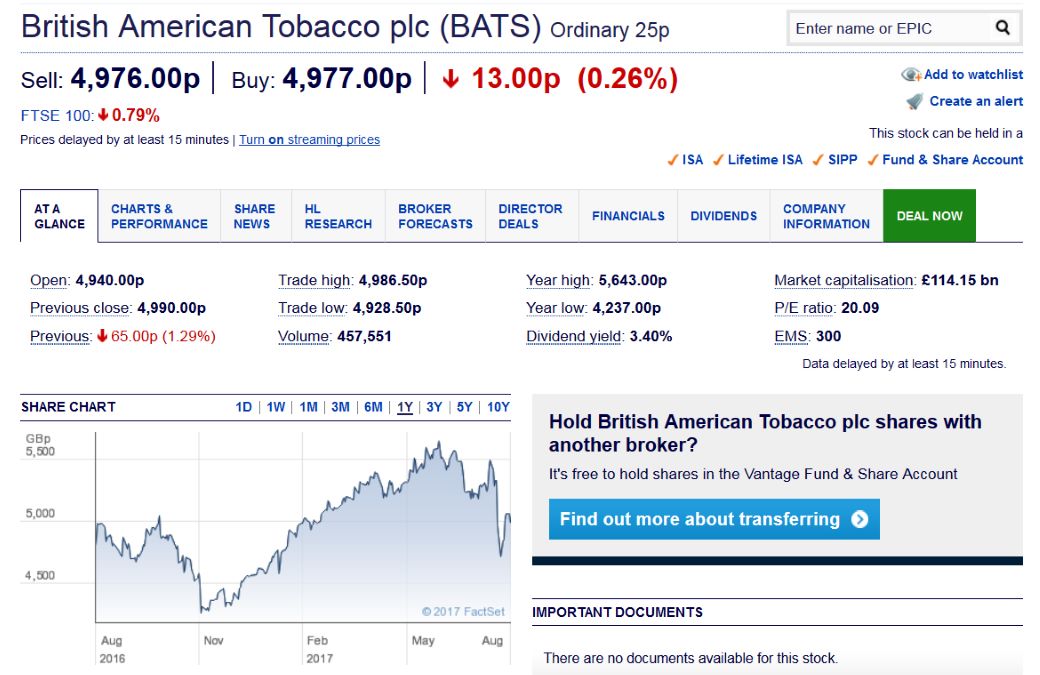 In this example, you can buy the shares for 4,977p each and sell them for 4,976p each. This small difference is because trades are usually placed through a 'market maker' – an organisation which is always ready to buy or sell shares at a publically quoted price, ensuring that you can buy and sell your shares easily.
The number on the right of the prices is the daily movement. This shows that, since the last time the market opened, the share has fallen in price by 13.0p, a decline of 0.26%. The graph underneath the prices, charts the share price over the previous 12 months.
Shares are traded very frequently, and on most business days the UK stock market is open for trading between 8am and 4.30pm. During this time, the price of a company's shares will move up or down depending on market conditions.
All share prices and performance charts are free to view on the Hargreaves Lansdown website. Watch our share charting video below, to understand how these charts can be used to look at a particular share's performance.
How to chart shares with Hargreaves Lansdown
---

5. How can I buy shares?
How can I buy shares?
While shares are most frequently traded on the stock exchange, the first opportunity investors get to buy shares is when they are first created.

How to invest in the stock market
Initial Public Offerings (IPOs)
When shares in a company are issued for the first time, the ownership of the company, which may have been family owned or in private hands, is split into shares. These shares are then offered for sale to the public.
If this is happening for the first time, it is called an 'Initial Public Offering' (IPO), which is also known as 'floating' or 'listing' on the stock market. Once the shares have been issued, anyone can buy and sell them.
There are many reasons why companies do this. It could be to raise money to fund future investments or so that an early investor can withdraw some of their money. Shares are issued at the start of a PLC's life, though further shares might be issued later to raise more money.
The secondary market
Once a company has created shares, they can be bought and sold via the stock exchange. Because buying and selling shares in this way comes after the IPO stage, it is known as the secondary market.
When you buy shares on the secondary market, you do so by using the services of a stockbroker. The vast majority of accounts are held online offering a range of ways to deal shares.
Stockbrokers usually offer three levels of service:
---

1. Execution-only

Execution-only is DIY investing. Investors make their own investment decisions and place instructions with a broker, often online, who will then 'execute' those instructions. This way of investing usually has the lowest costs.

You can find out more about Hargreaves Lansdown's execution-only dealing services here.

---

2. Advisory

An advisory service involves taking advice from a financial expert based upon your personal circumstances, attitude to investment risk and financial goals. Your adviser will suggest investments based on your investment goals and financial position.

The cost of financial advice will vary based on how much advice you need and the amount of money you have available to invest.

---

3. Discretionary management

Discretionary management means leaving the management of your investments to the experts, with all investment decisions being made on your behalf. Discretionary management is suitable for those with larger portfolios and limited time or expertise.

The cost of discretionary management services will depend on how much money you have to invest and the types of investments made.

---
Different ways to invest in shares
A common misconception is that you have to have a large sum to start investing. While investing a lump sum is certainly possible, you can also regularly invest smaller sums, known as regular savings.
Regular savings
You can open a Hargreaves Lansdown account with as little as £25 each month through a regular savings plan. Not only is this an affordable route into building an investment portfolio, but it can help to reduce risk.
By investing little and often, you have the potential to smooth out market fluctuations, as investing monthly can 'average-out' the price paid for shares. This means the share price going up and down can actually benefit you as you could end up purchasing more shares, but conversely it should be remembered that if the share price rises and never looks back, fewer shares are purchased via regular savings and investors could have been better served by investing a lump sum.
Lump sum investment
Many people find themselves with a lump sum at some point in their lives. This could be through inheritance, a bonus or cash from the sale of a home.
Lump sum investing doesn't have to involve a six-figure amount. When investing in funds, Hargreaves Lansdown accounts have a minimum starting lump sum of just £100, and there is no set minimum for investing in shares.
Next steps
Now you're clear on what shares are, how markets change, your options and how to get going, you'll need to set up an account if you want to start investing. You can find out which Hargreaves Lansdown account is best for you below.
---

6. Getting started share dealing
Getting started share dealing
Buying shares is quick and easy through Hargreaves Lansdown. You can open an account in under 5 minutes and start dealing shares immediately. Find out more

Our award-winning service is designed to be simple and easy to use, and it puts you in control of how much you want to invest, where. You can open any account with a lump sum using a debit card or by starting a monthly direct debit.
Our Fund & Share Account is flexible and has no investment limits to allow you to access your money at any time.
Our Stocks & Shares ISA allows you to shelter up to £20,000 from tax this tax year, as well as being easy to manage.
---
Unsure which shares to buy?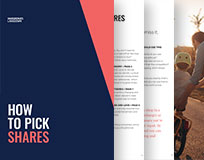 For some ideas on how to pick which shares to invest in, check out our guide to selecting shares or for more information on getting started with investing generally, you can read our Guide to Investing for Beginners.